You control your data
We use cookies to tailor the experience of creating resumes and cover letters. For these reasons, we may share your usage data with third parties. You can find more information about how we use cookies on our Cookies Policy . If you would like to set your cookies preferences, click the Settings button below. To accept all cookies, click Accept.
Cookie settings
Click on the types of cookies below to learn more about them and customize your experience on our Site. You may freely give, refuse or withdraw your consent. Keep in mind that disabling cookies may affect your experience on the Site. For more information, please visit our Cookies Policy and Privacy Policy .
Choose type of cookies to accept
These cookies allow us to analyze our performance to offer you a better experience of creating resumes and cover letters. Analytics related cookies used on our Site are not used by Us for the purpose of identifying who you are or to send you targeted advertising. For example, we may use cookies/tracking technologies for analytics related purposes to determine the number of visitors to our Site, identify how visitors move around the Site and, in particular, which pages they visit. This allows us to improve our Site and our services.
These cookies give you access to a customized experience of our products. Personalization cookies are also used to deliver content, including ads, relevant to your interests on our Site and third-party sites based on how you interact with our advertisements or content as well as track the content you access (including video viewing). We may also collect password information from you when you log in, as well as computer and/or connection information. During some visits, we may use software tools to measure and collect session information, including page response times, download errors, time spent on certain pages and page interaction information.
These cookies are placed by third-party companies to deliver targeted content based on relevant topics that are of interest to you. And allow you to better interact with social media platforms such as Facebook.
These cookies are essential for the Site's performance and for you to be able to use its features. For example, essential cookies include: cookies dropped to provide the service, maintain your account, provide builder access, payment pages, create IDs for your documents and store your consents.
To see a detailed list of cookies, click here .
This site uses cookies to ensure you get the best experience on our website. To learn more visit our Privacy Policy
Cover Letter Templates
Click on a cover letter template, fill it online, and download in seconds. Build a professional cover letter in a few clicks . Just pick one of 18+ cover letter templates below, add ready-made content, and get the job.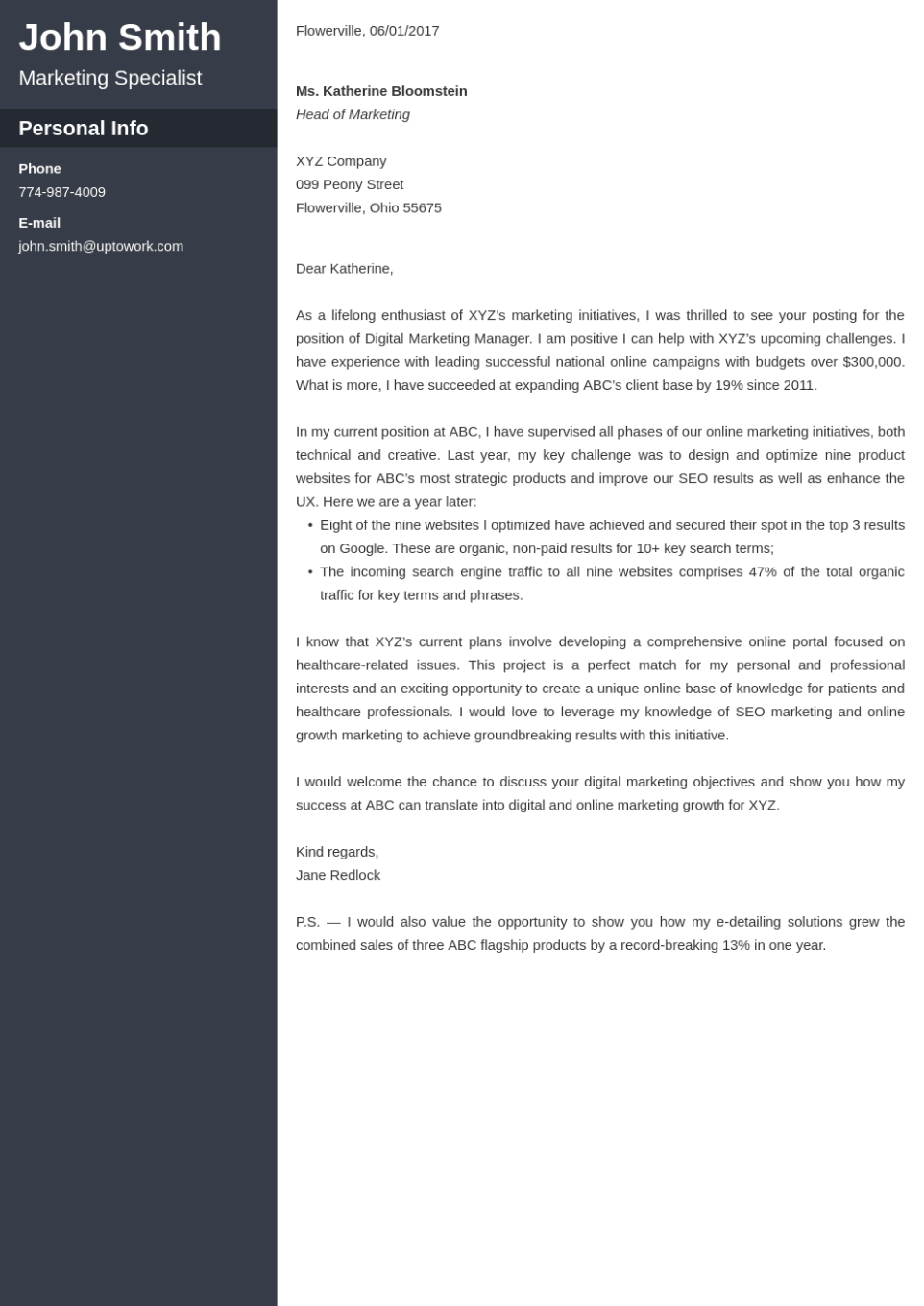 Professional cover letter template with a column for contact information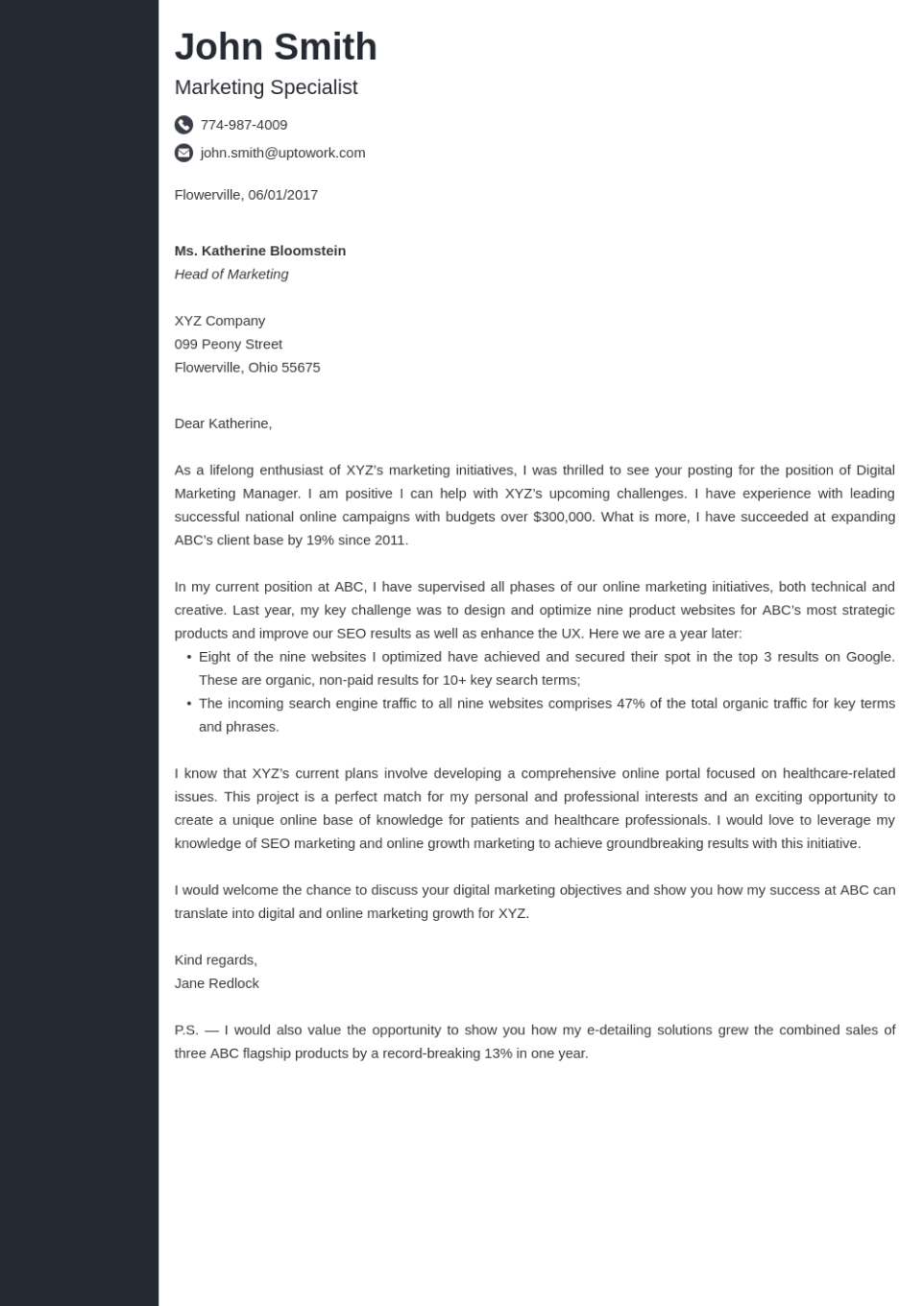 Modern cover letter template with delicate icons for contact information.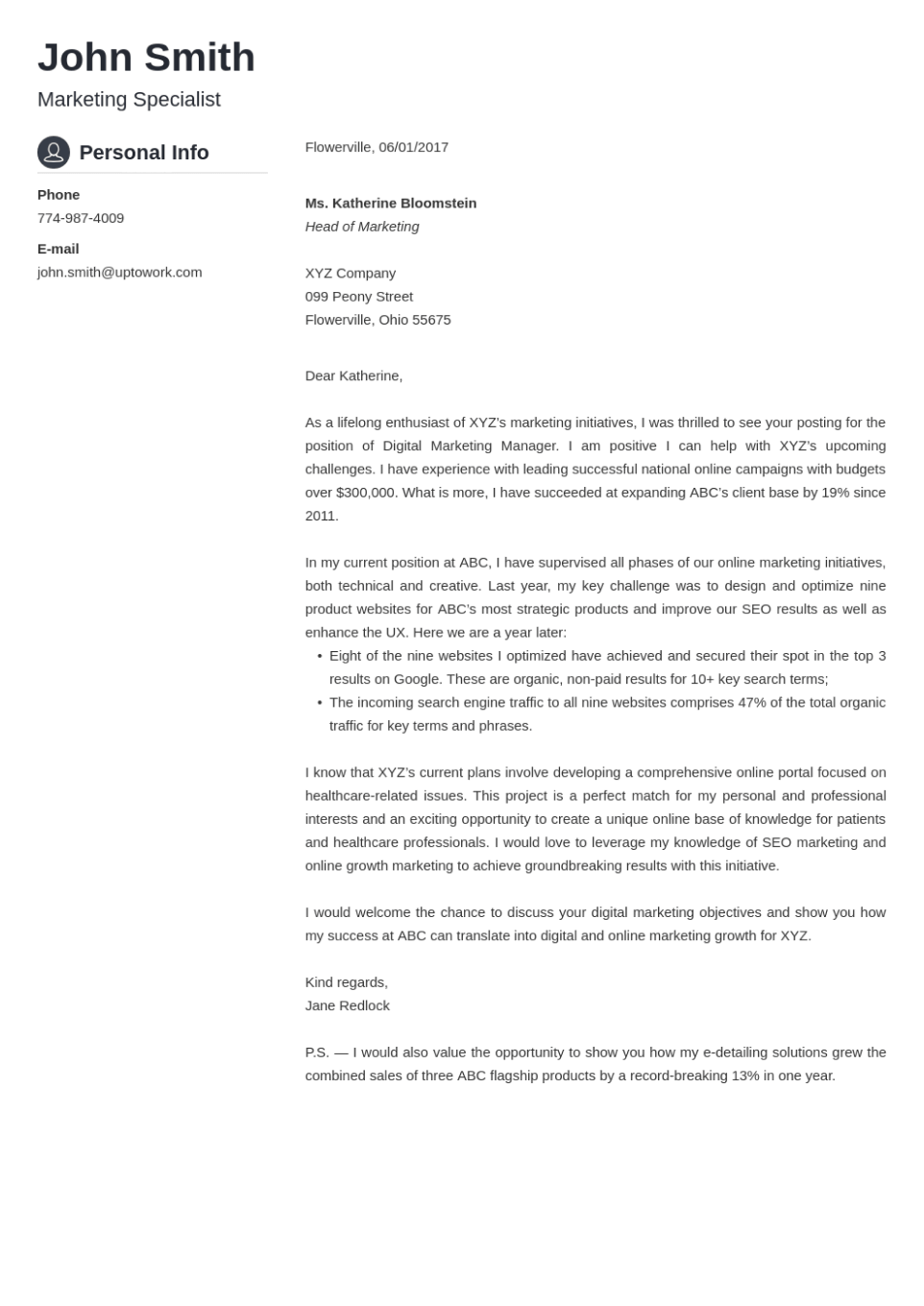 Creative cover letter template with graphic elements and two columns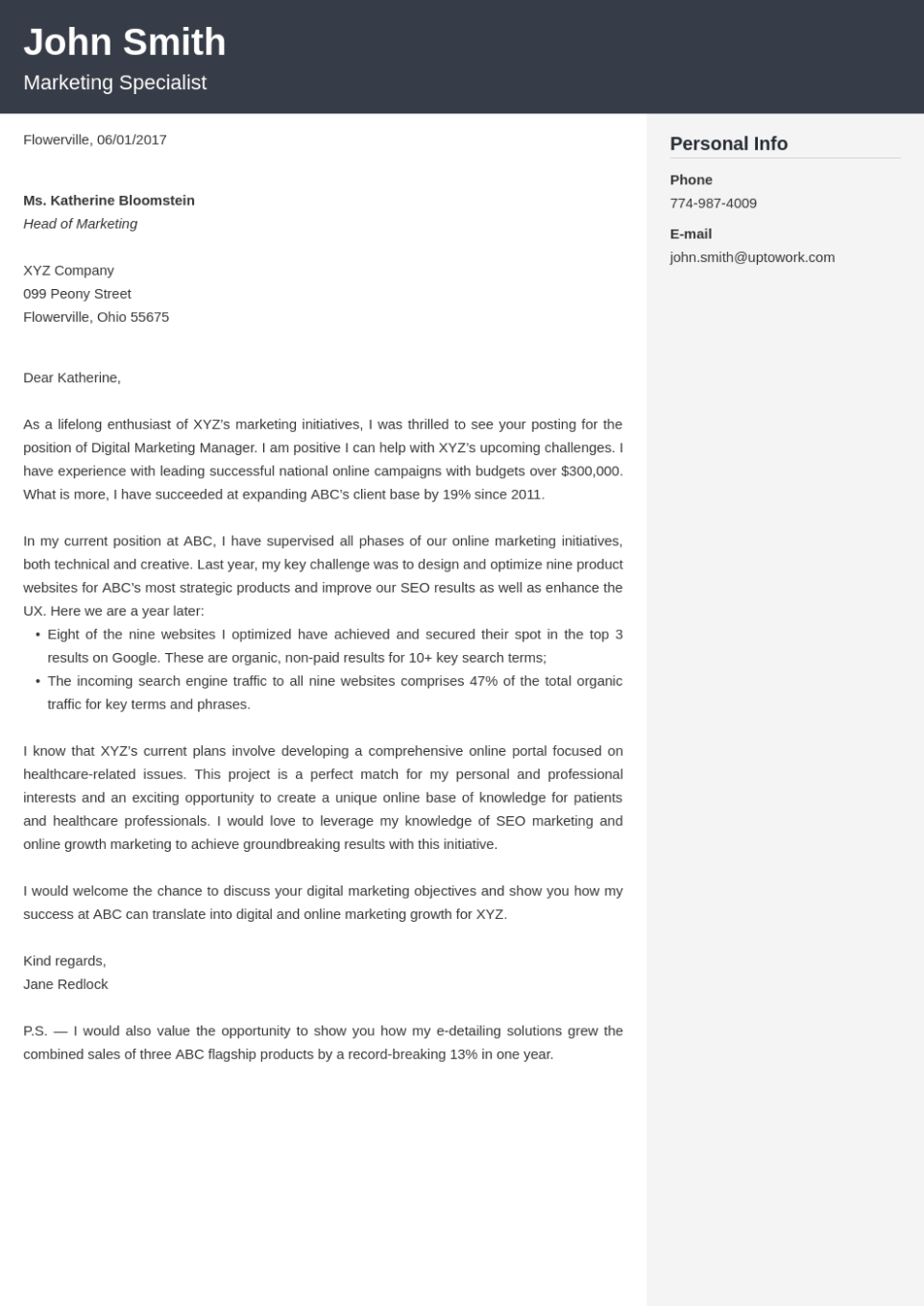 Perfect cover letter template with a dash of color and a structured layout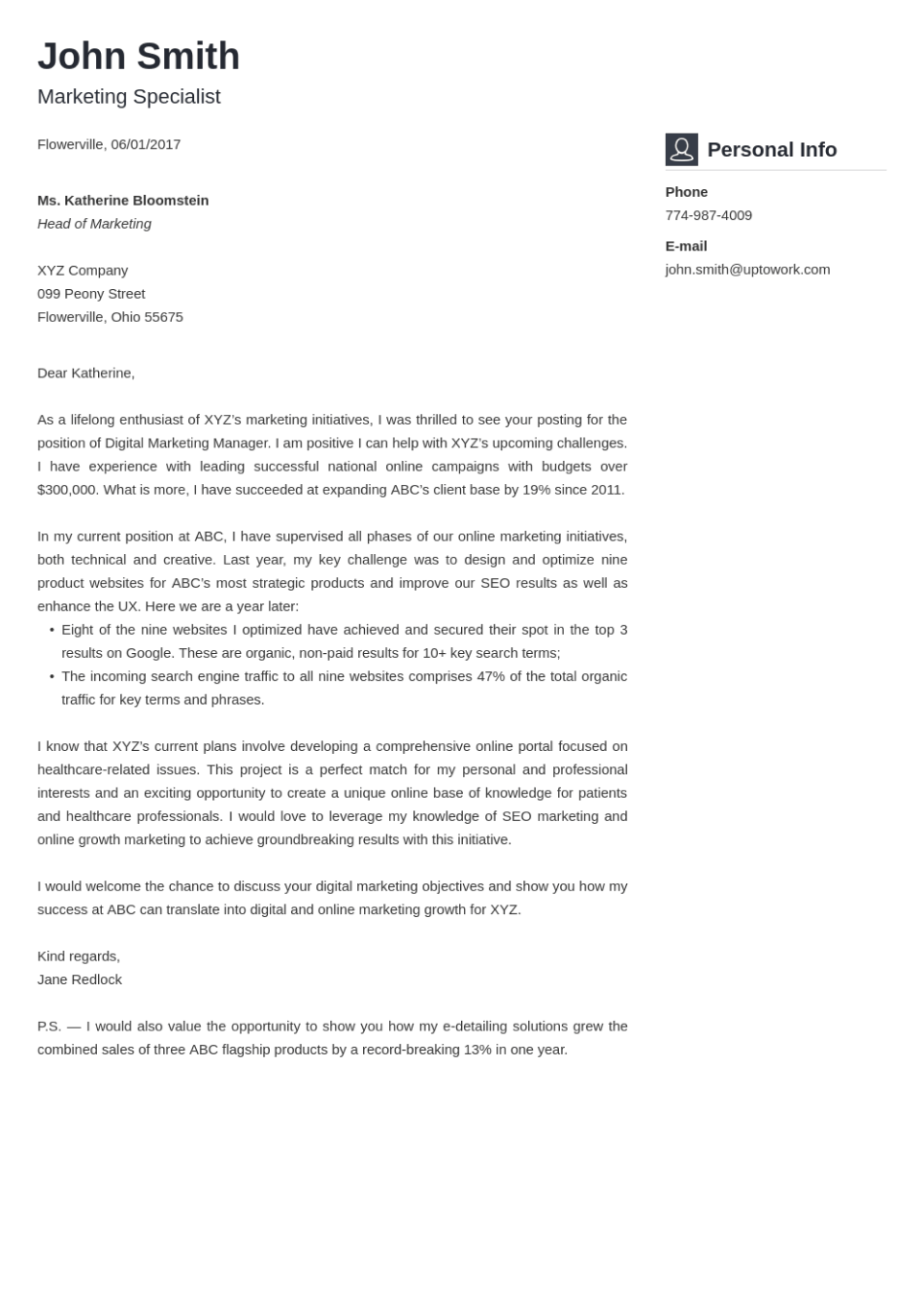 Sleek cover letter template with a light feel and color accents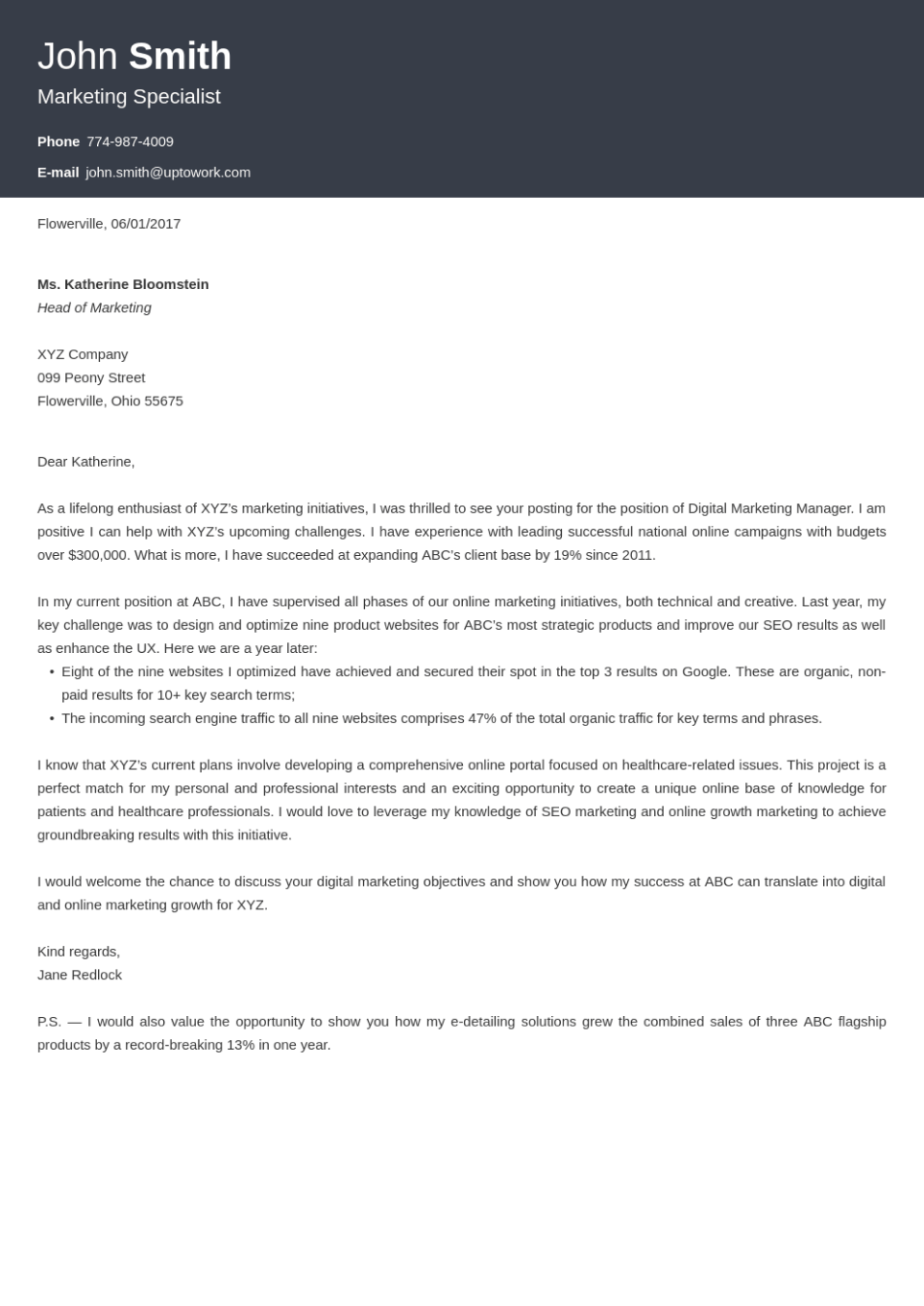 Classic cover letter template in a one column layout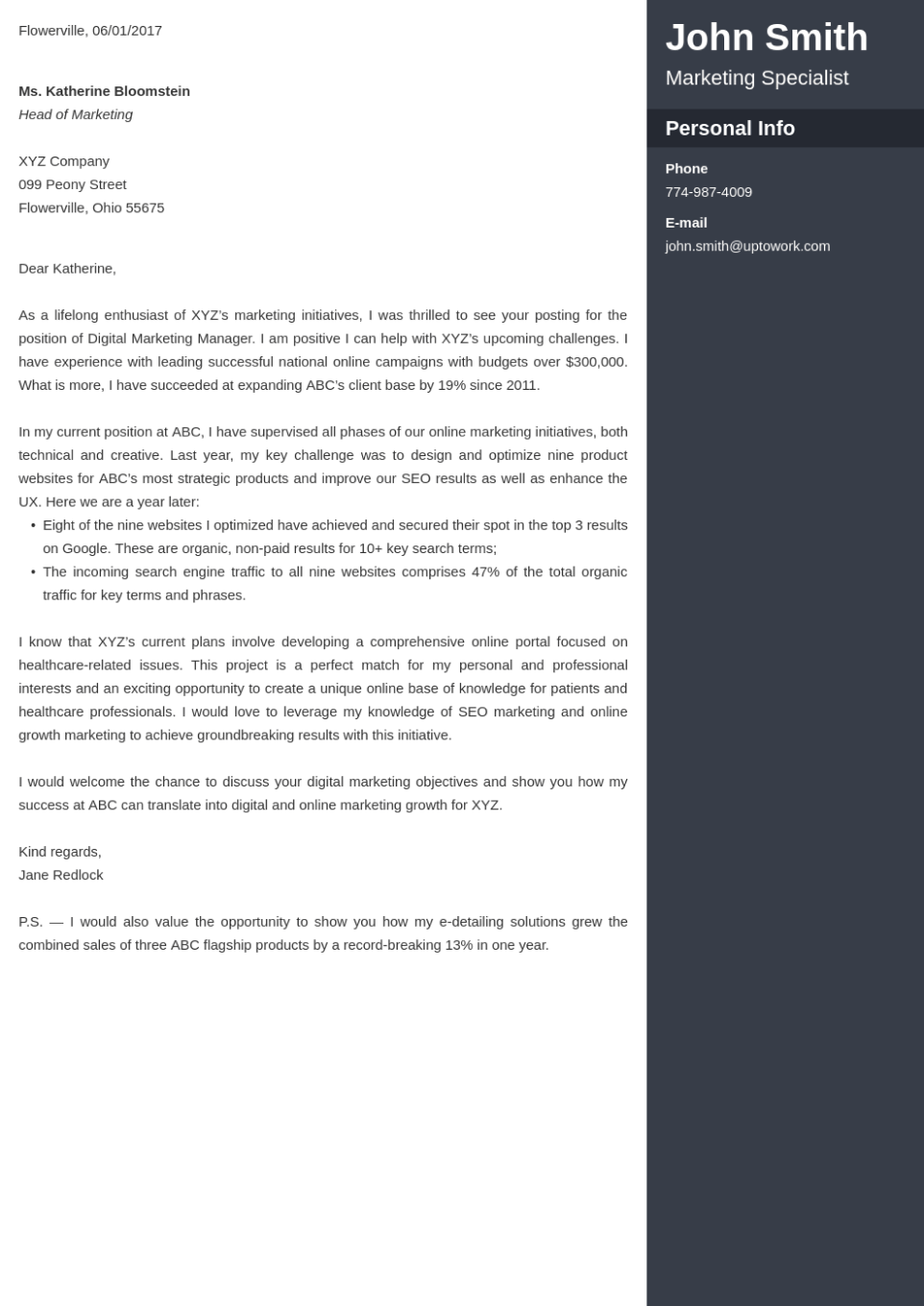 Two column cover letter template with contact information highlighted on the right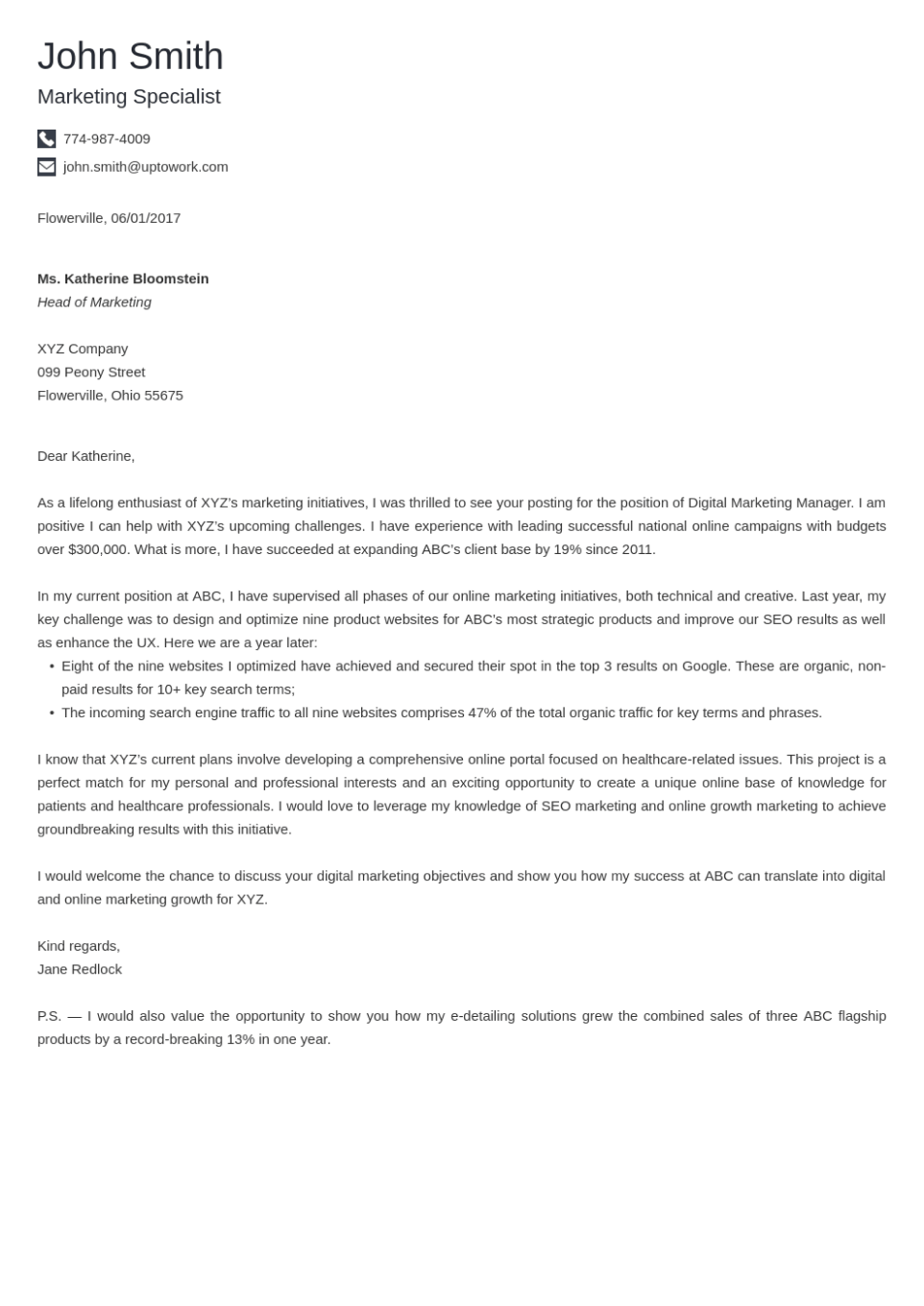 Clean cover letter template with plenty of whitespace and a layout that feels complete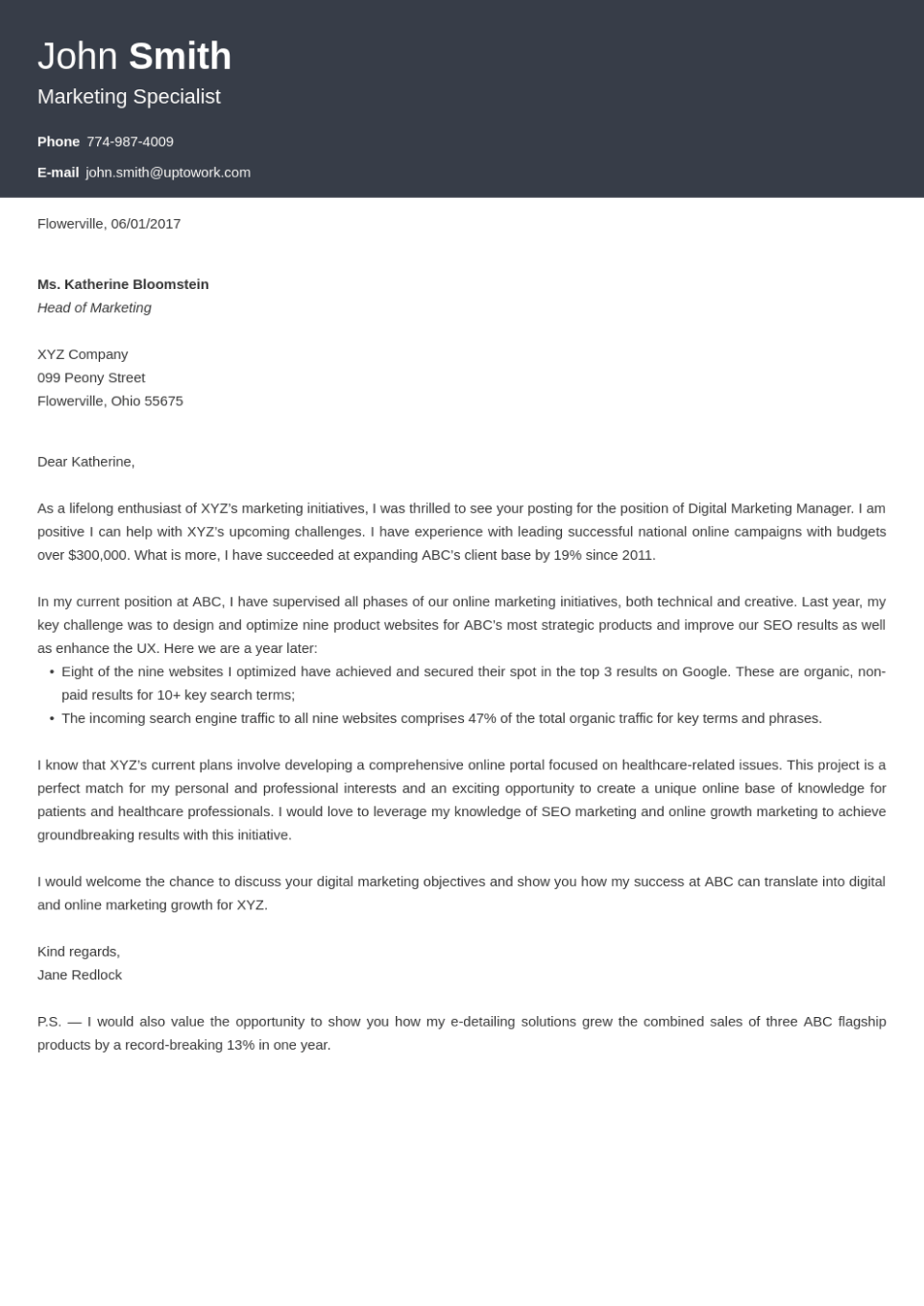 Elegant cover letter template with a single column classic feel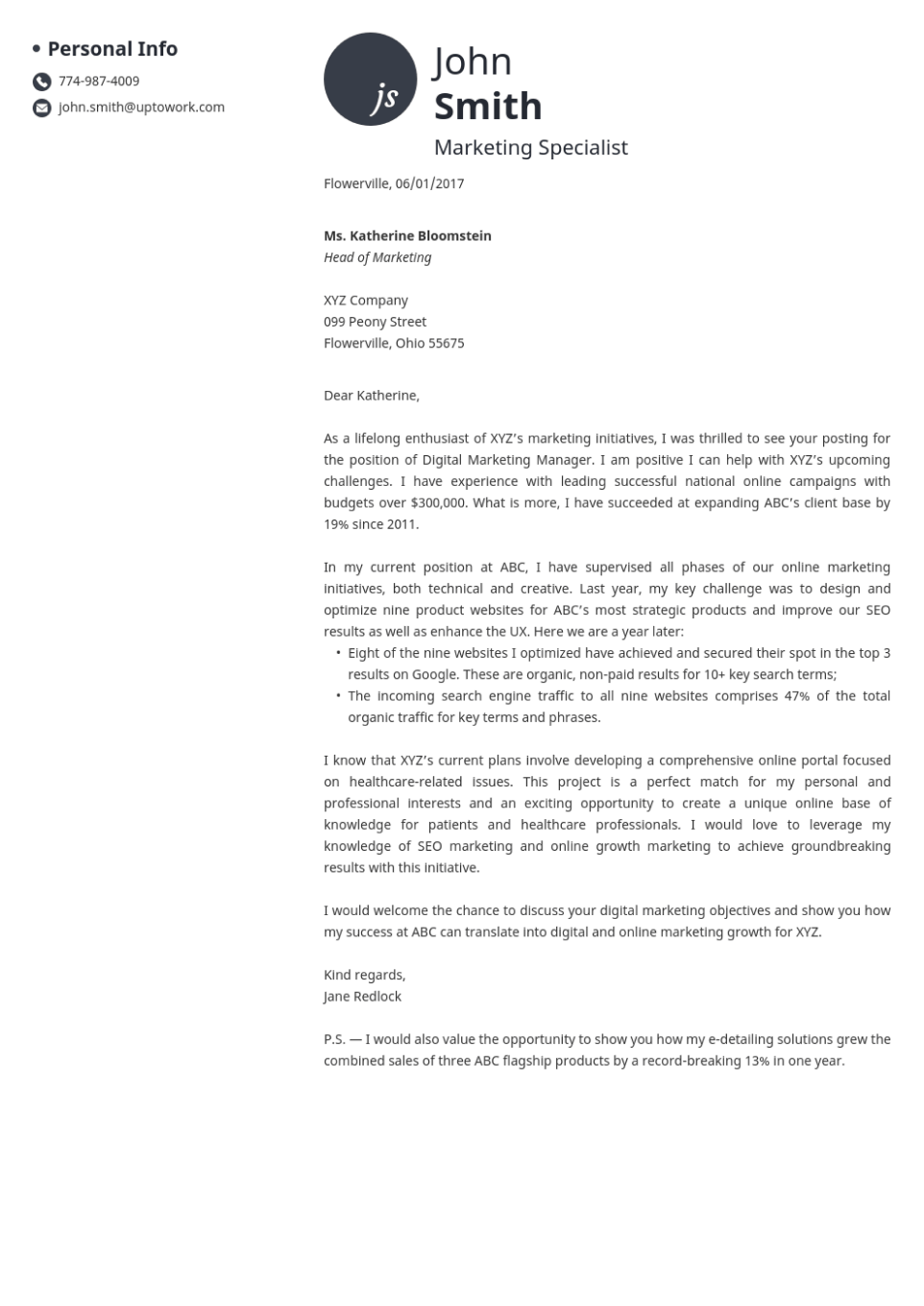 Unique cover letter template with your initials on top and icons on the left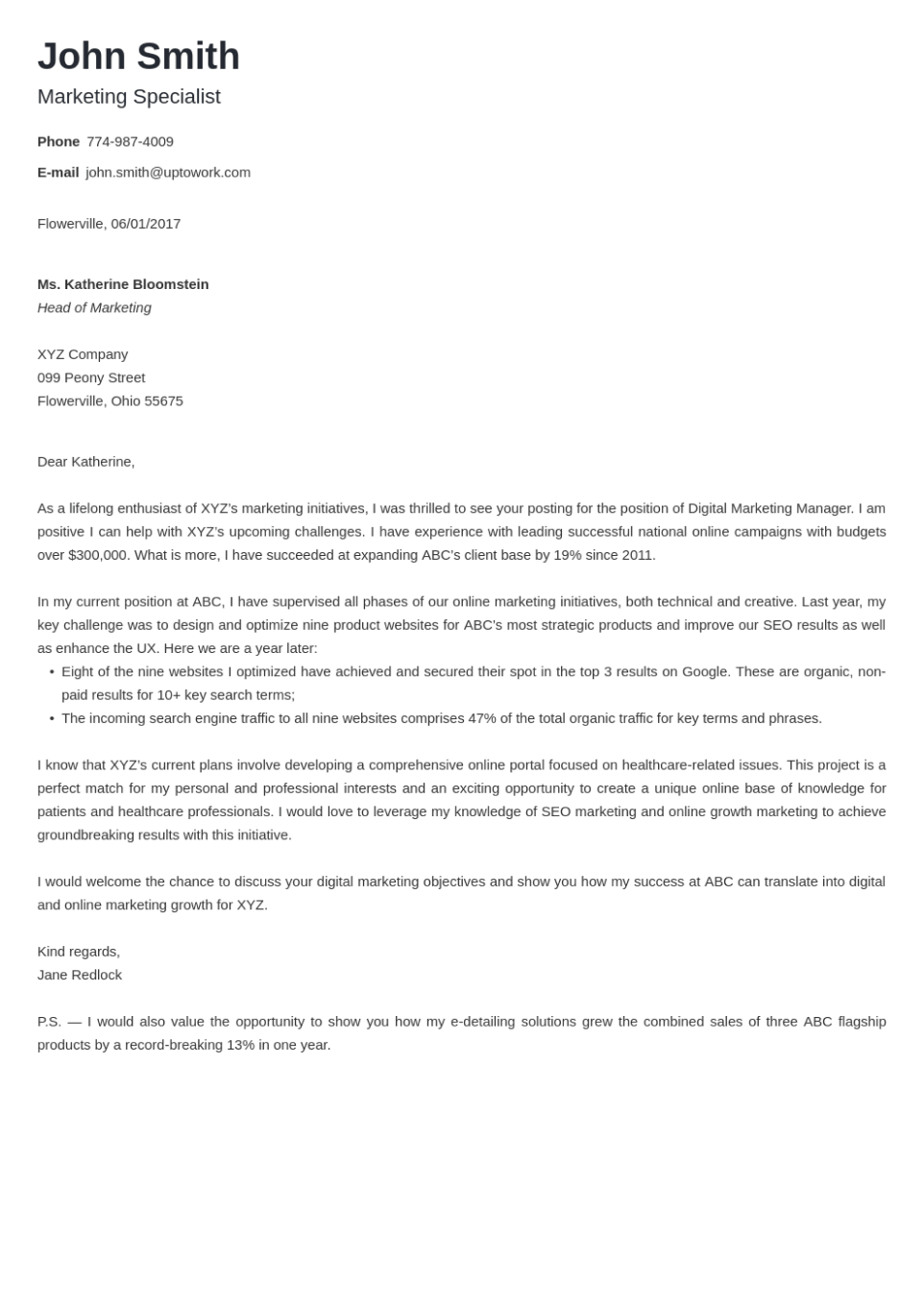 Elegant cover letter template with great readability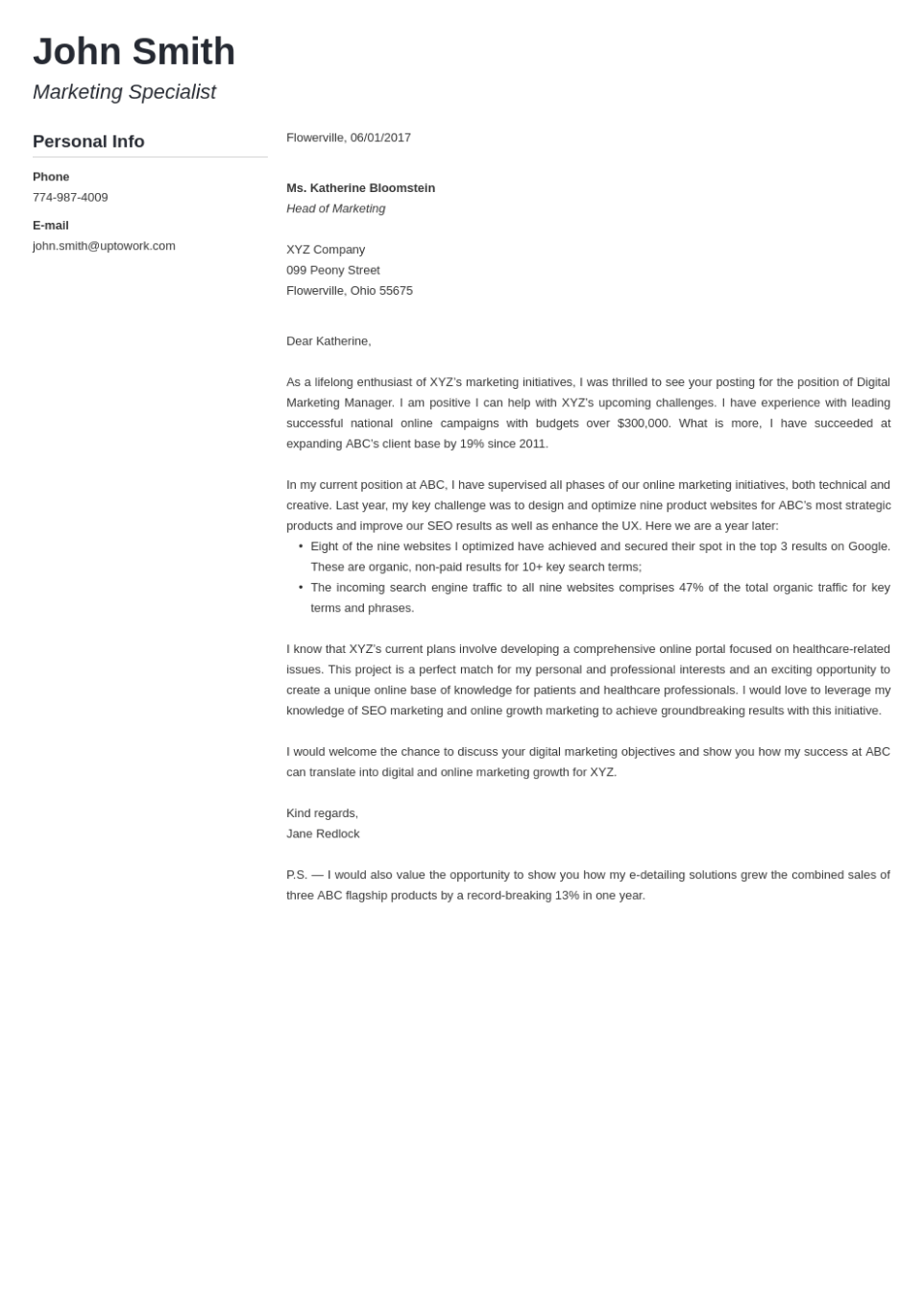 Two column cover letter template with a neat structure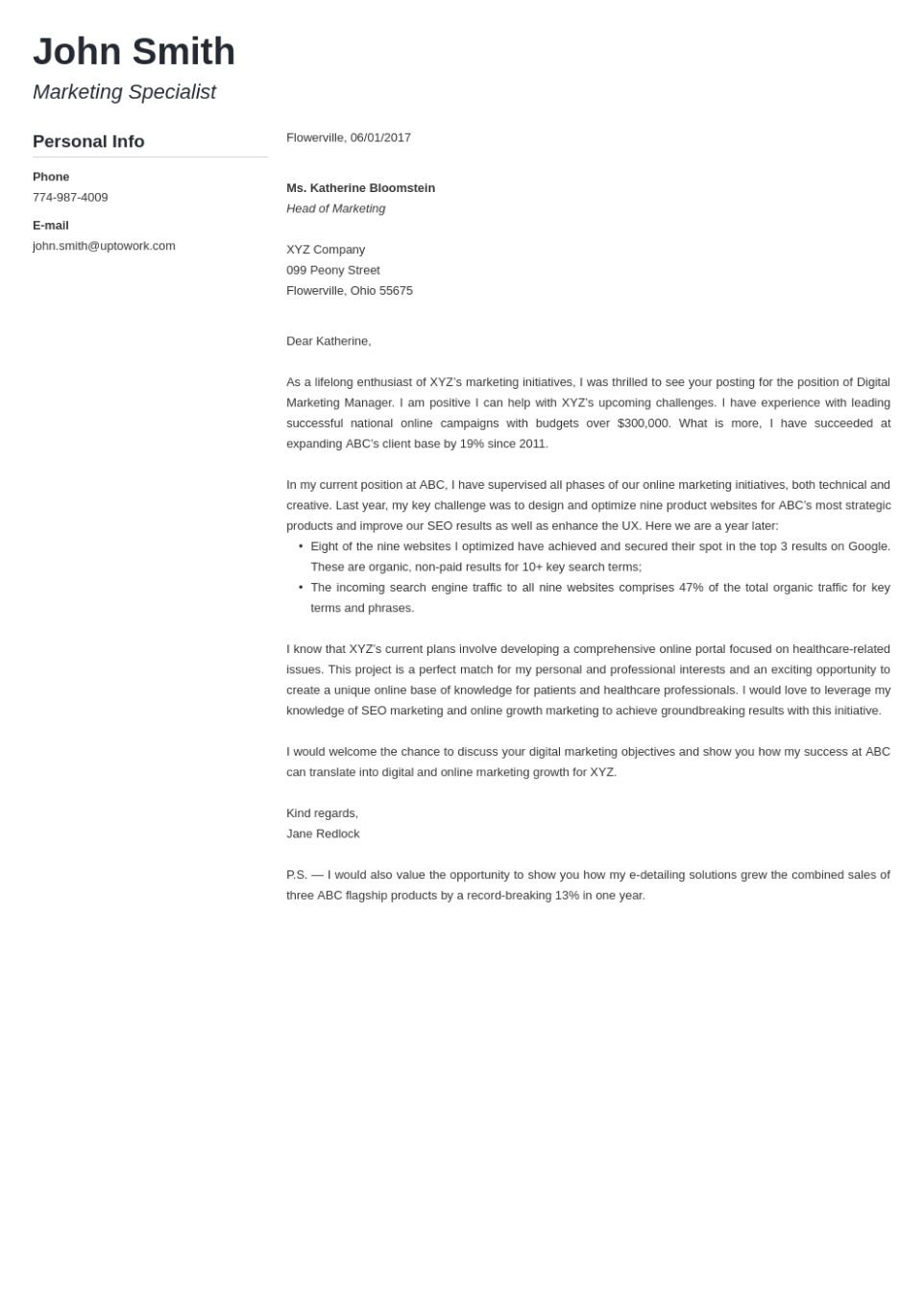 Modern cover letter template with a clean-cut layout and two columns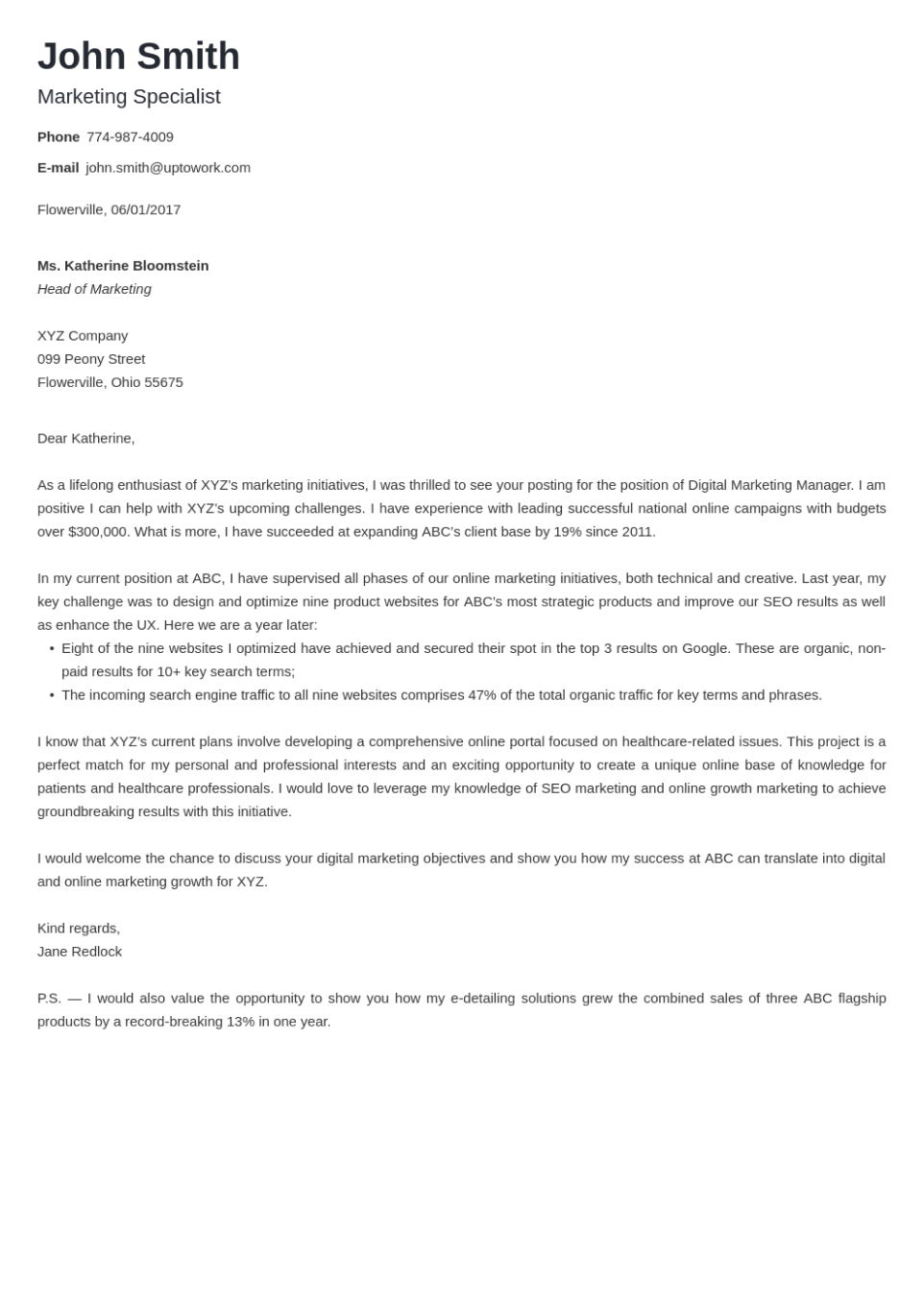 Elegant cover letter template with a top-bottom structure and clean sections.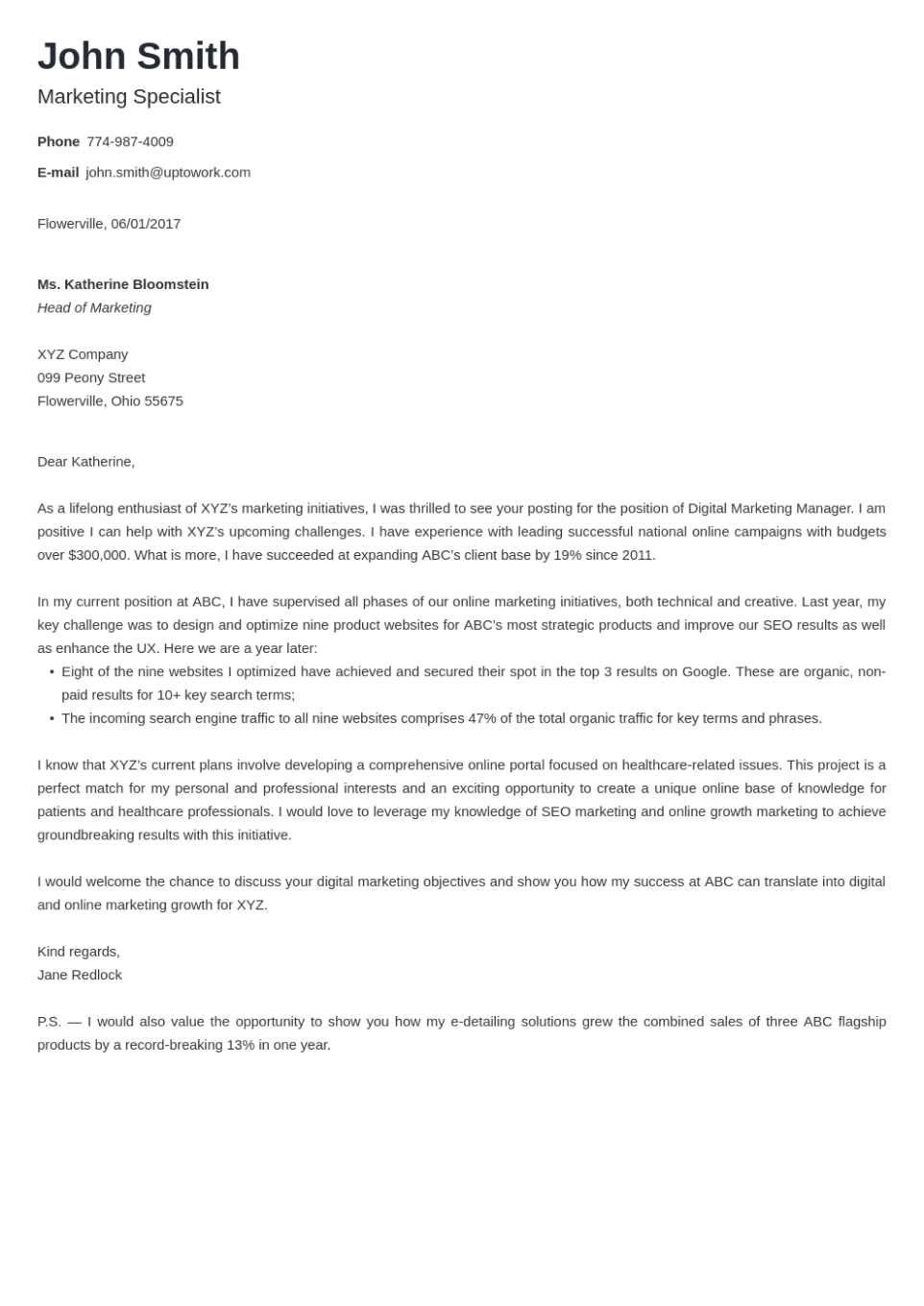 Elegant cover letter template with appealing typography and flow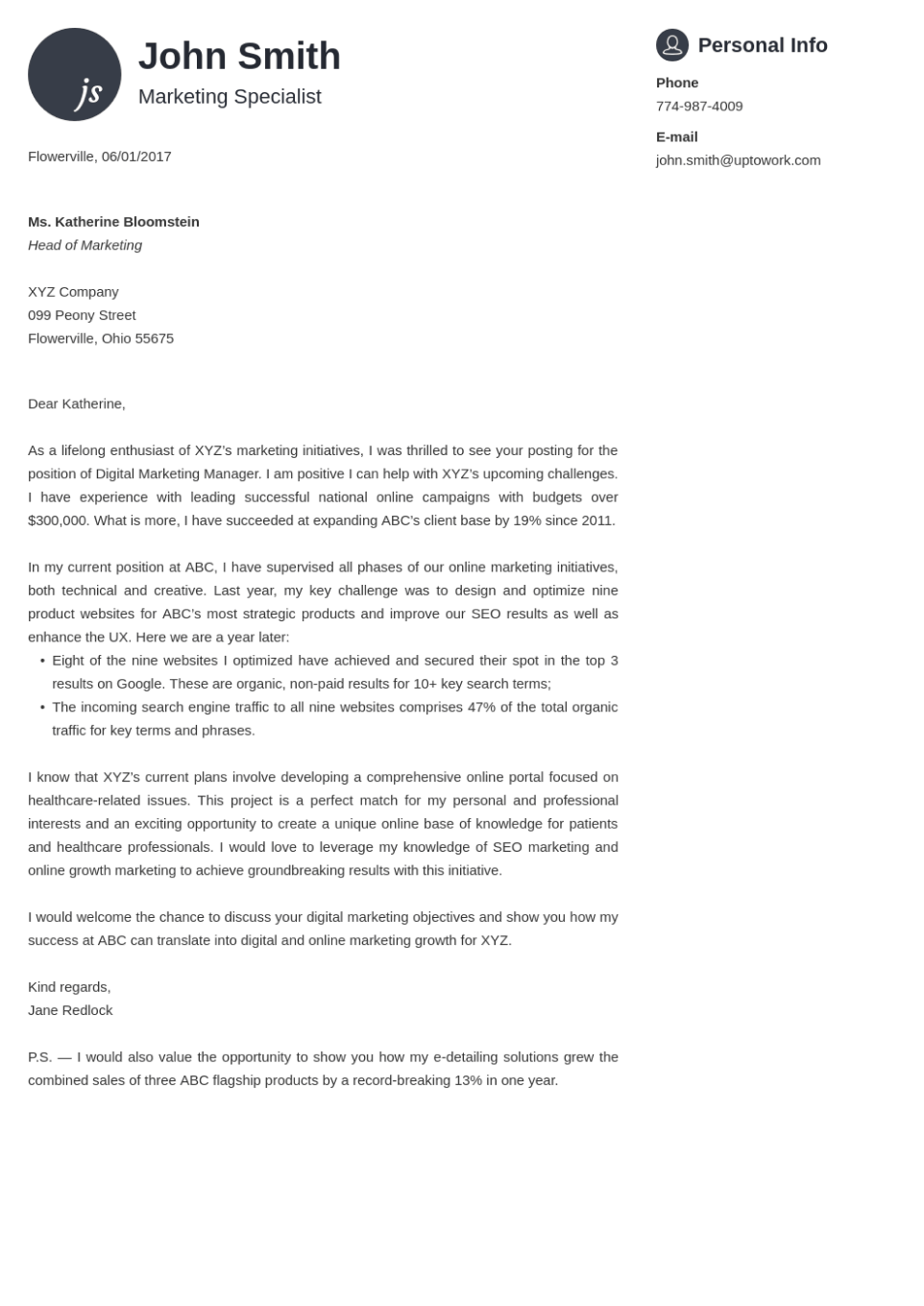 Creative cover letter template with initials as the logo and delicate graphic accents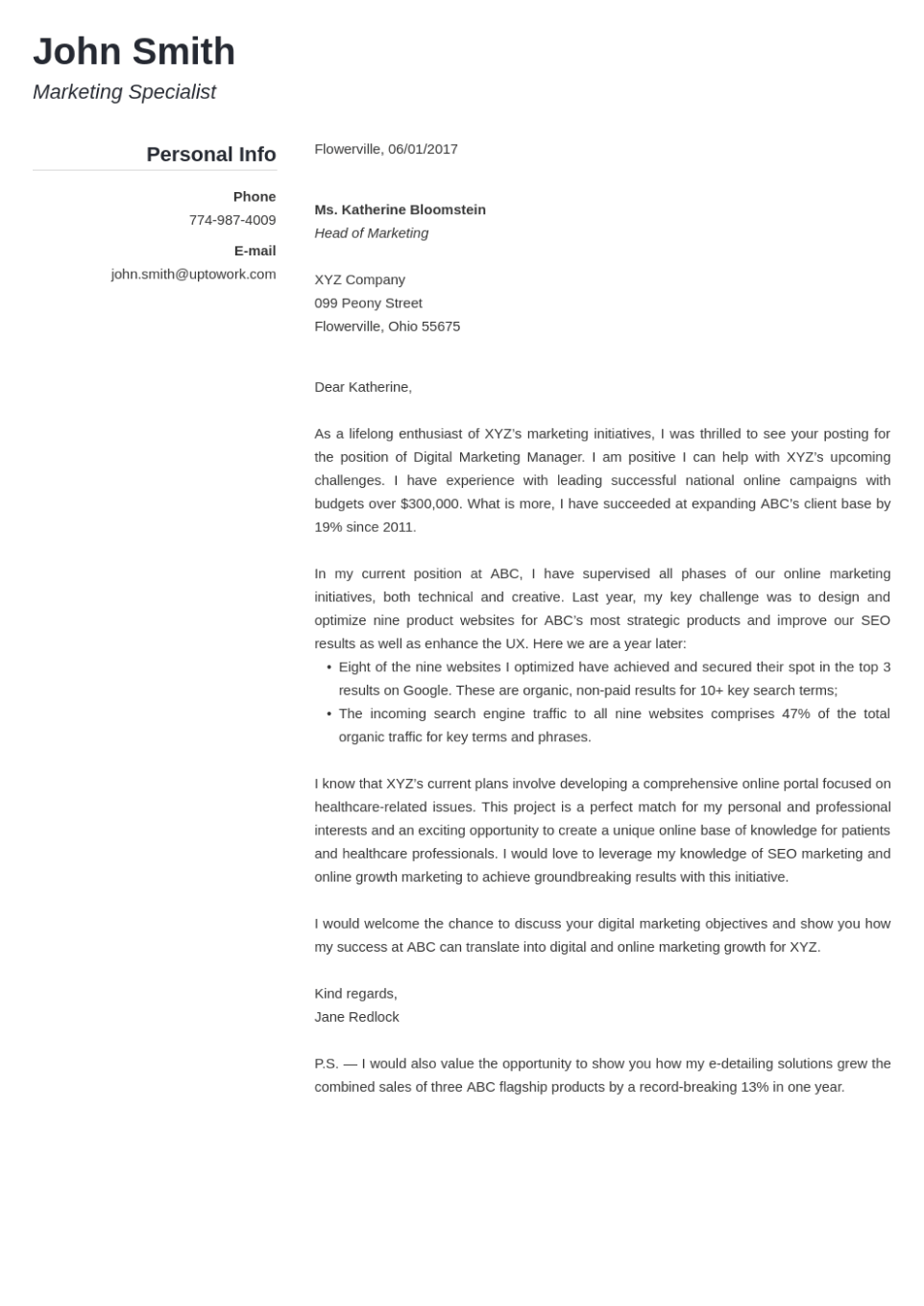 Simple cover letter template that draws attention to your title and personal story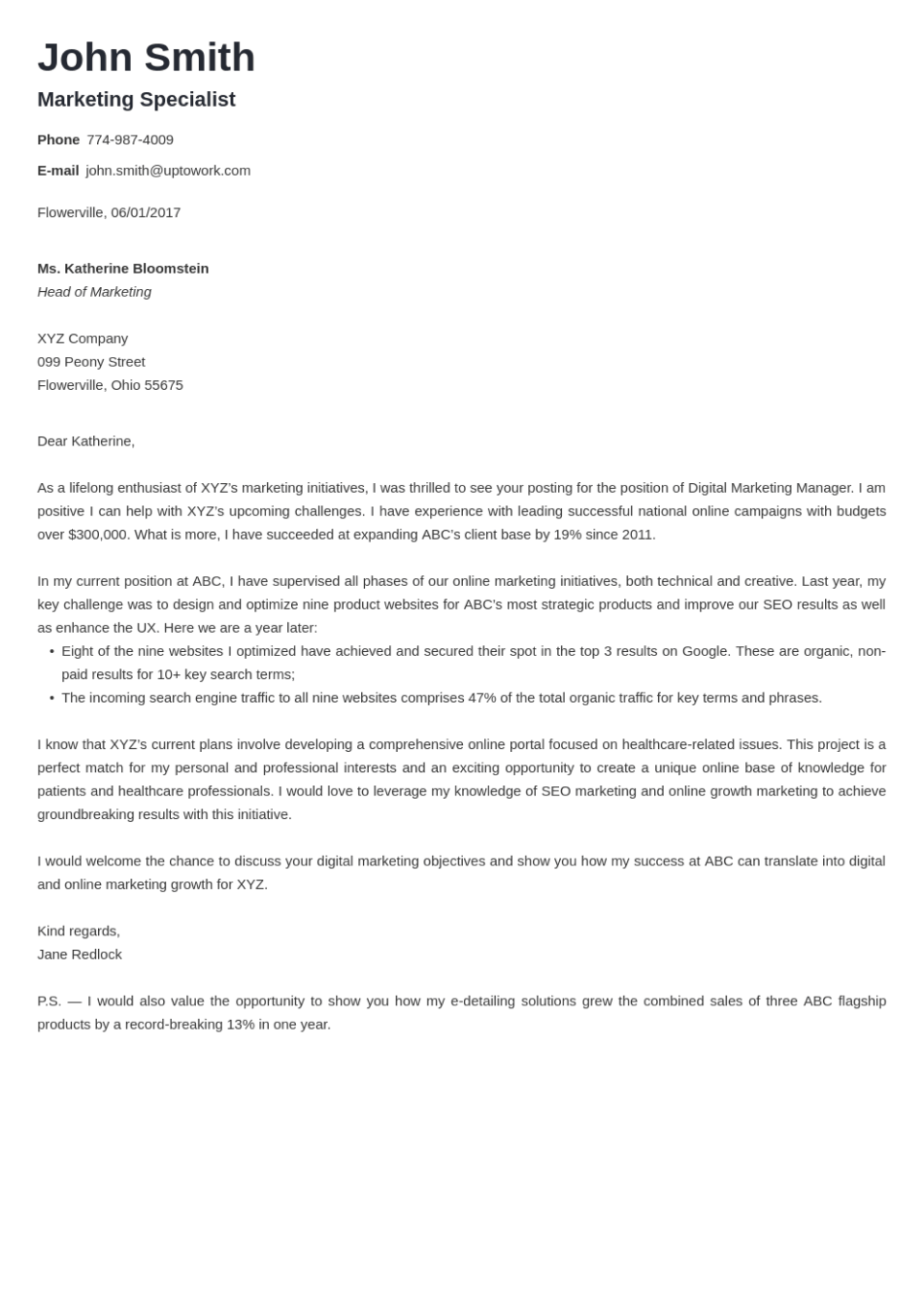 Traditional cover letter template with minimal design, but a finished feel
Rated Excellent on Trustpilot
Need text samples of cover letter templates, free cover letter template to copy and use.
Your Name Your Address Your City, State Zip Code Your Phone Number Your Email Date Hiring Manager's/Recruiter's Name Hiring Manager's/Recruiter's Title Organization/Company Name Address City, State Zip Code Dear Mr./Ms. [Hiring Manager's/Recruiter's Last Name]
When I found the opening for the [Position] with [Organization/Company Name] I felt as if it was addressed to me. In my current position as [Position] at [Organization/Company Name], I've improved [achievement] by [%] in [months/years] which resulted in [Number + Result]. I'm sure I can use my expertise to bring similar results for [Organization/Company Name].
In my current position as a [Position] with [Current Organization/Company Name], my key challenge has been [Main Responsibility]. Here are some of my recent results:
Succeeded at expanding [Achievement] by [%] since [Year].
Skyrocketed [Achievement] scores by [%].
Optimized [Achievement], saving the company [$/hours] a [month/quarter/year].
Led a team of [Number] employees to increase [Organization/Company Name] revenue by [%] in [Number] years.
My team has scored [Achievement] [Number] months/years in a row
I know that [Organization/Company Name]'s current plans involve [Company's Plans]. It would be an exciting opportunity for me to use [Your Skill] developing [Company's Project].
Can we schedule a meeting [Date] to discuss my solutions for boosting [Organization/Company Name]'s [Revenue/Traffic/Customer Satisfaction] by [%] in the next quarter?
Sincerely/Best regards, Your Full Name Your Phone Number Your Email Address Your LinkedIn Account
Best cover letter templates for any situation
A cover letter for a resume or application is a brief presentation of your experience and skills in narrative form. The purpose of a cover letter is to highlight the most important information from your resume and add extra reasons why you should be hired. It's about looks and contents. And Zety will help with both—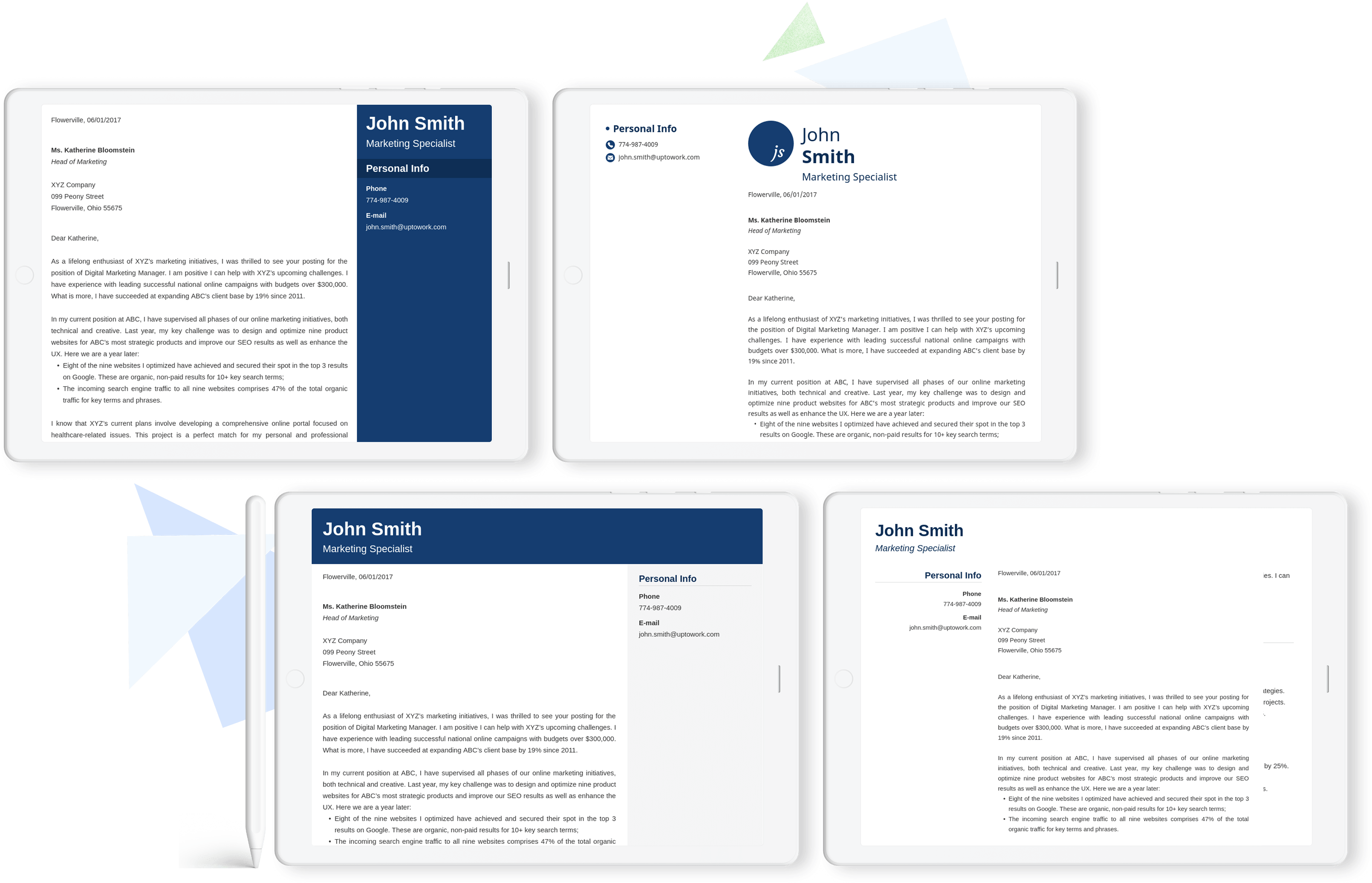 Professional design
These resume cover letter templates match Zety's resume templates and give your documents a polished look. Highlight key achievements in bullet points, use color and style to draw attention to what matters to employers. Writing a cover letter feels like doing homework assignments, but not with Zety—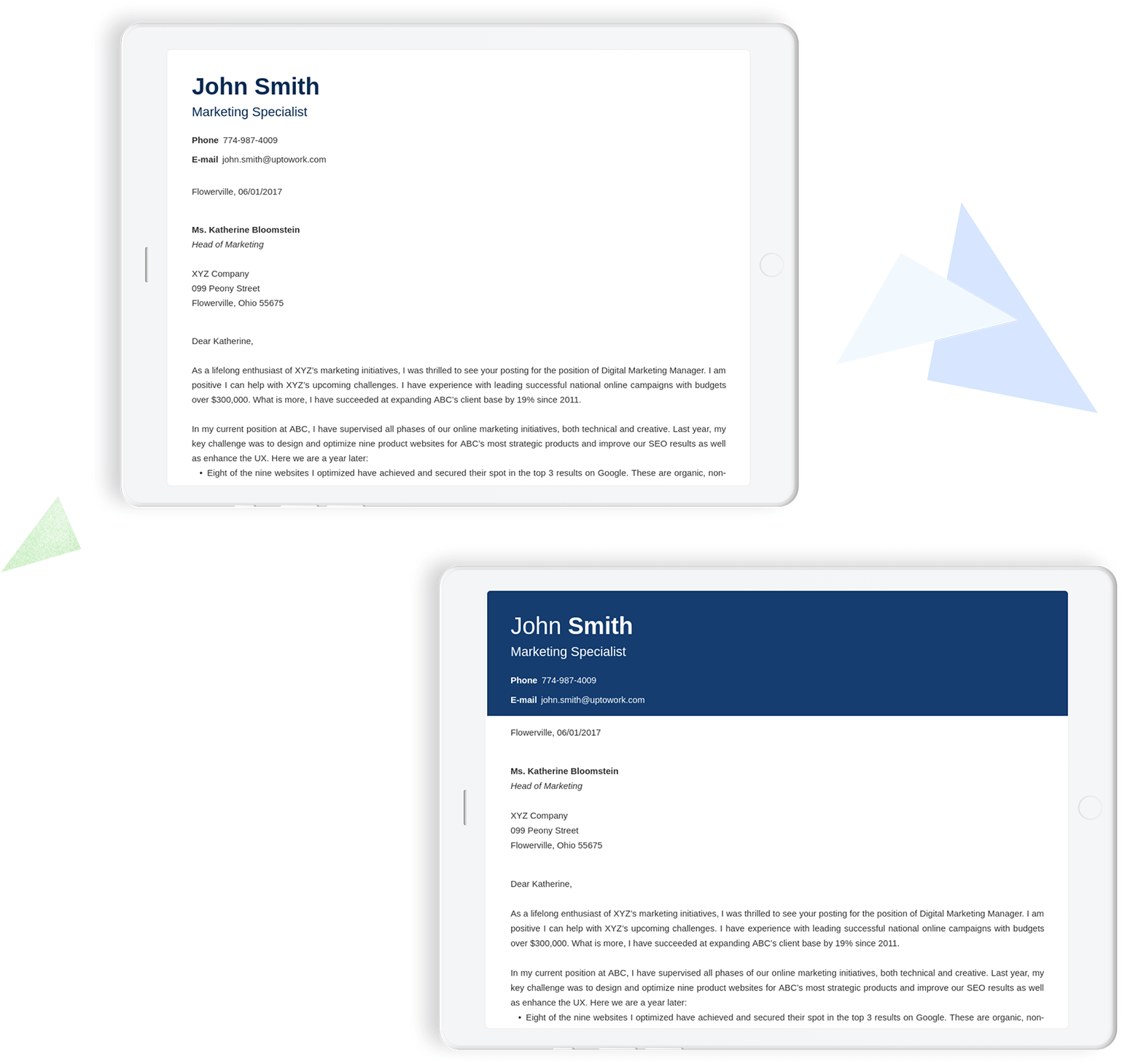 Ease of use
Fill in any of these professional cover letter format templates with help from our app. Simply tell the wizard a few things about yourself, and get a ready cover letter sample in a few clicks. Stop worrying about every single word you use and focus on what matters: your future job.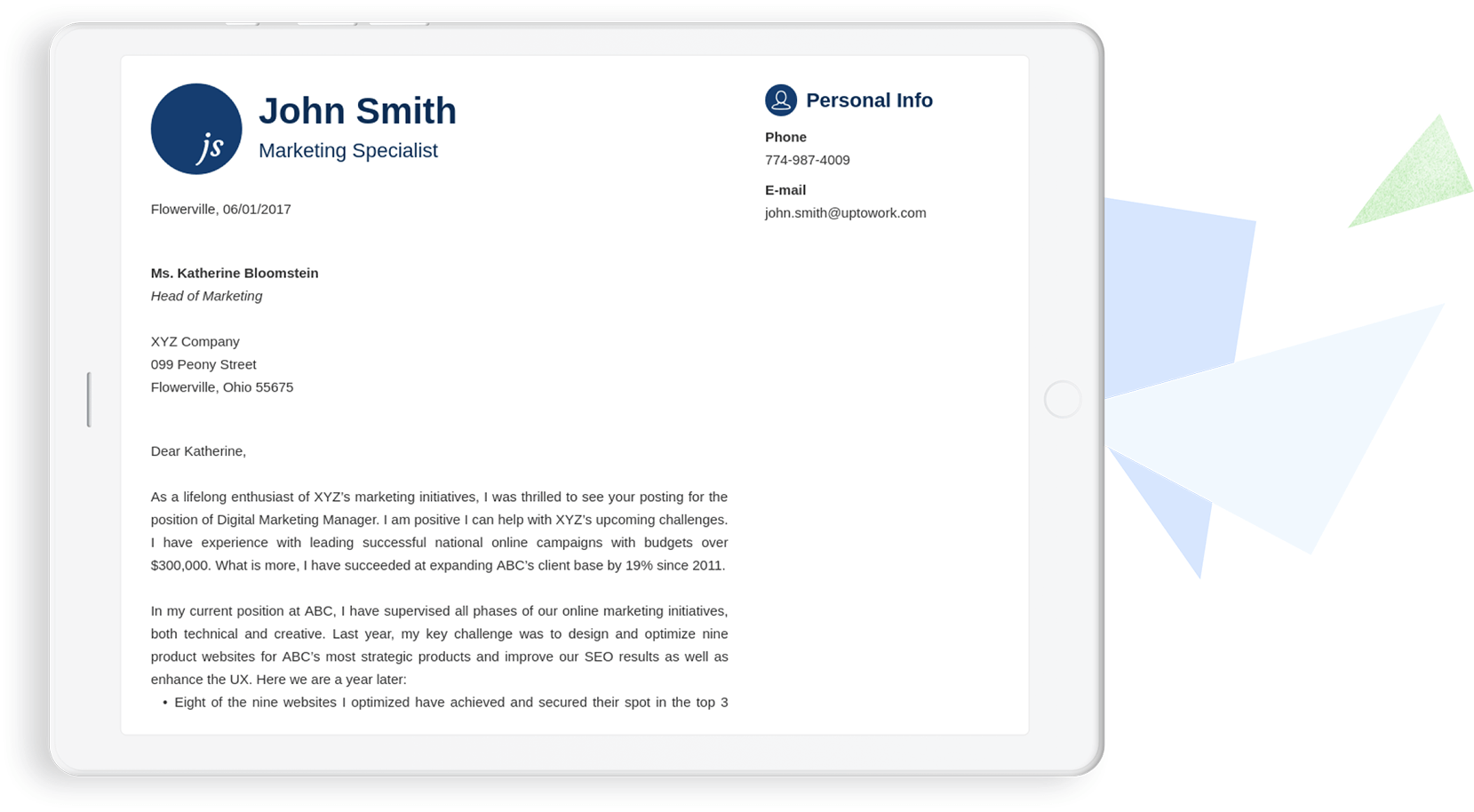 These user-friendly cover letter templates will save you hours of painful work. Remember the last cover letter sample you downloaded and got stuck filling out? This won't happen again. Choose between different sample cover letter layouts, click a few buttons, and you're done. Download your cover letter template in pdf or Word format.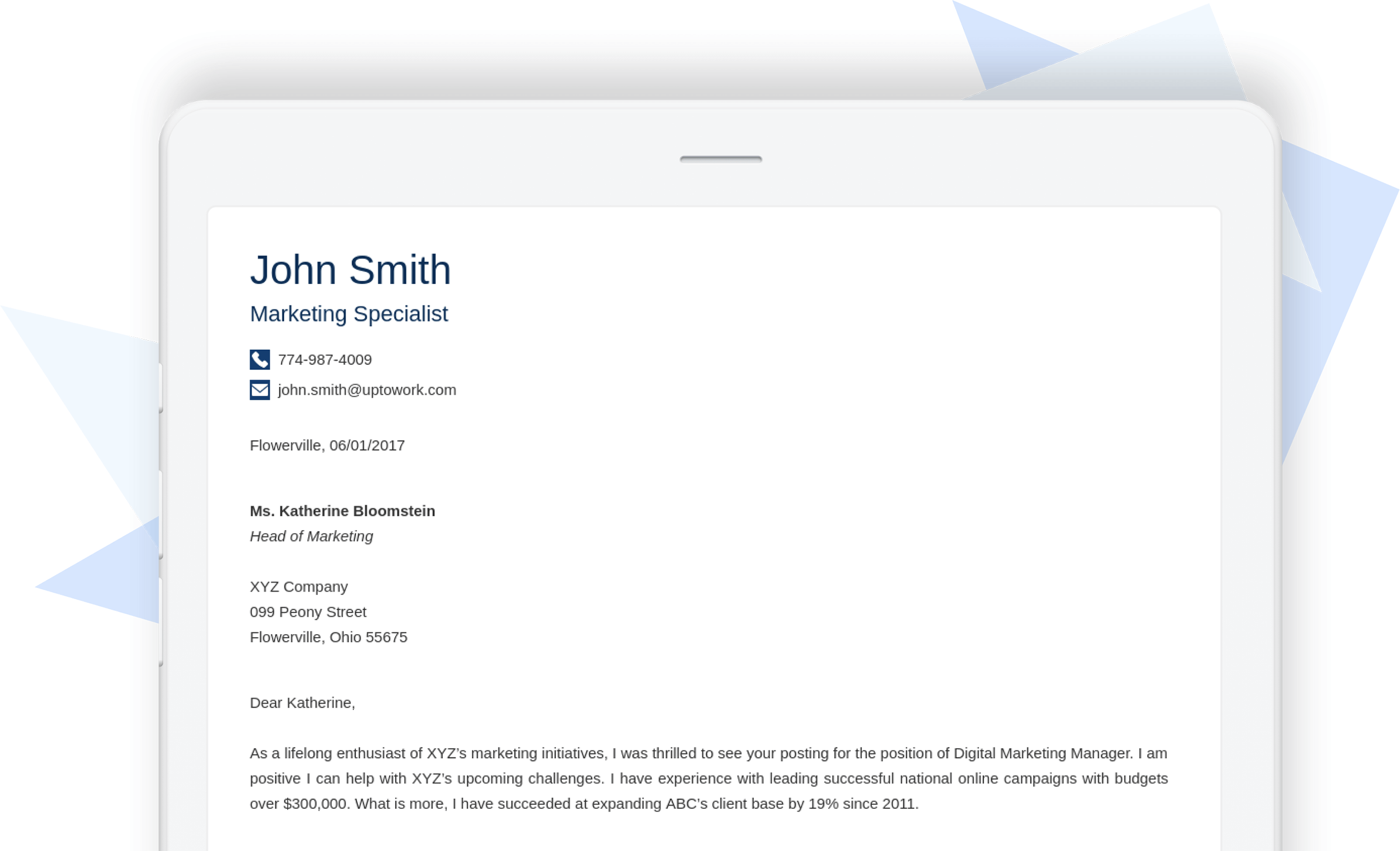 Confidence boost
Don't ignore your cover letter. About 20-50% recruiters expect you to write one even if they don't read it . Writing a cover letter from scratch feels like a chore, but it doesn't have to. You can create a cover letter for a job of your dreams in minutes. Employers will recognize you for who you are: the ideal candidate.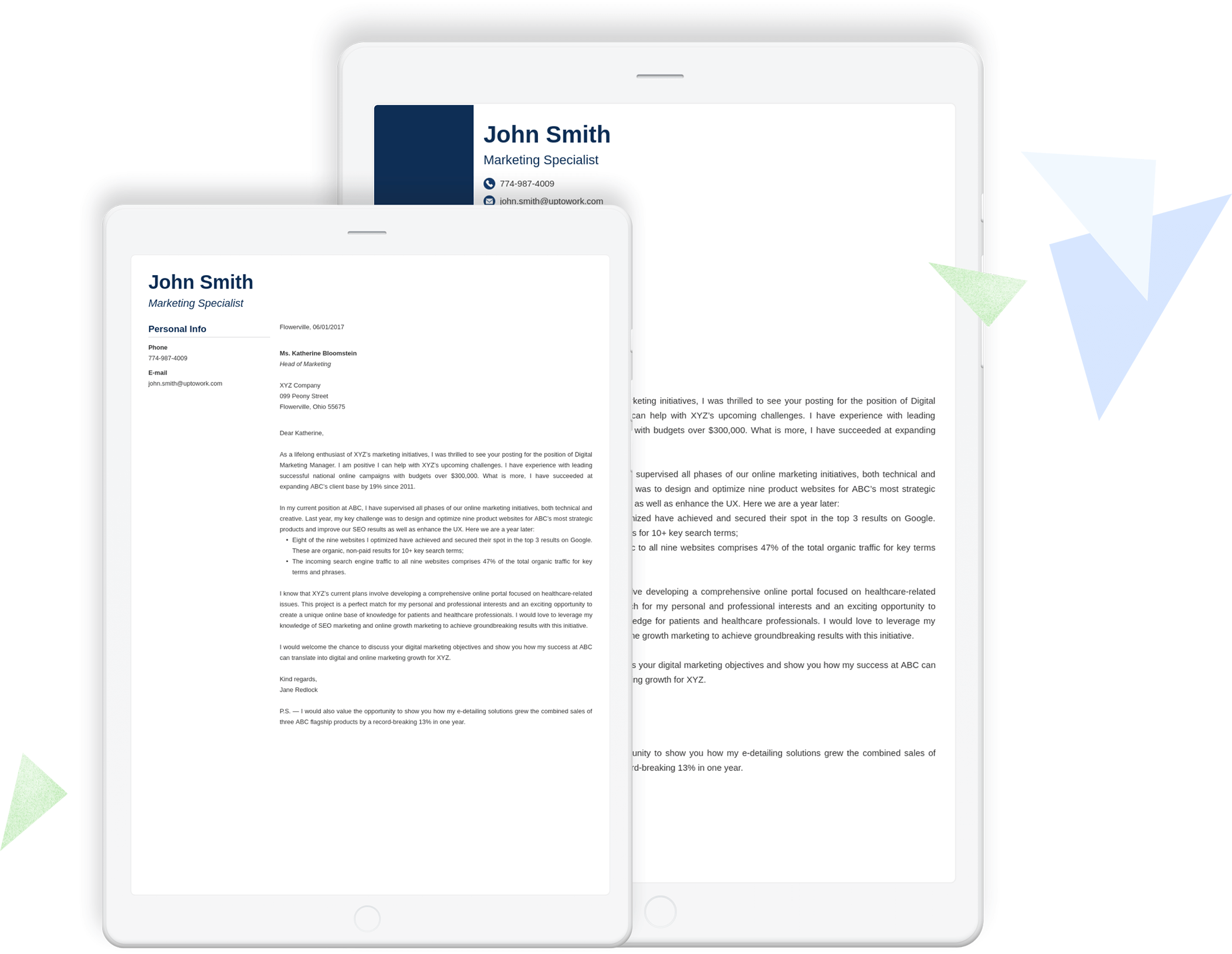 Proven effectiveness
A Zety resume and a cover letter is your one-two punch that will help you beat the competition. Only 20% of all applications contain cover letters and with Zety you'll stand out as the best candidate. Creating a cover letter can be simple, fast, and is proven to get jobs. It's surprising how little effort you need.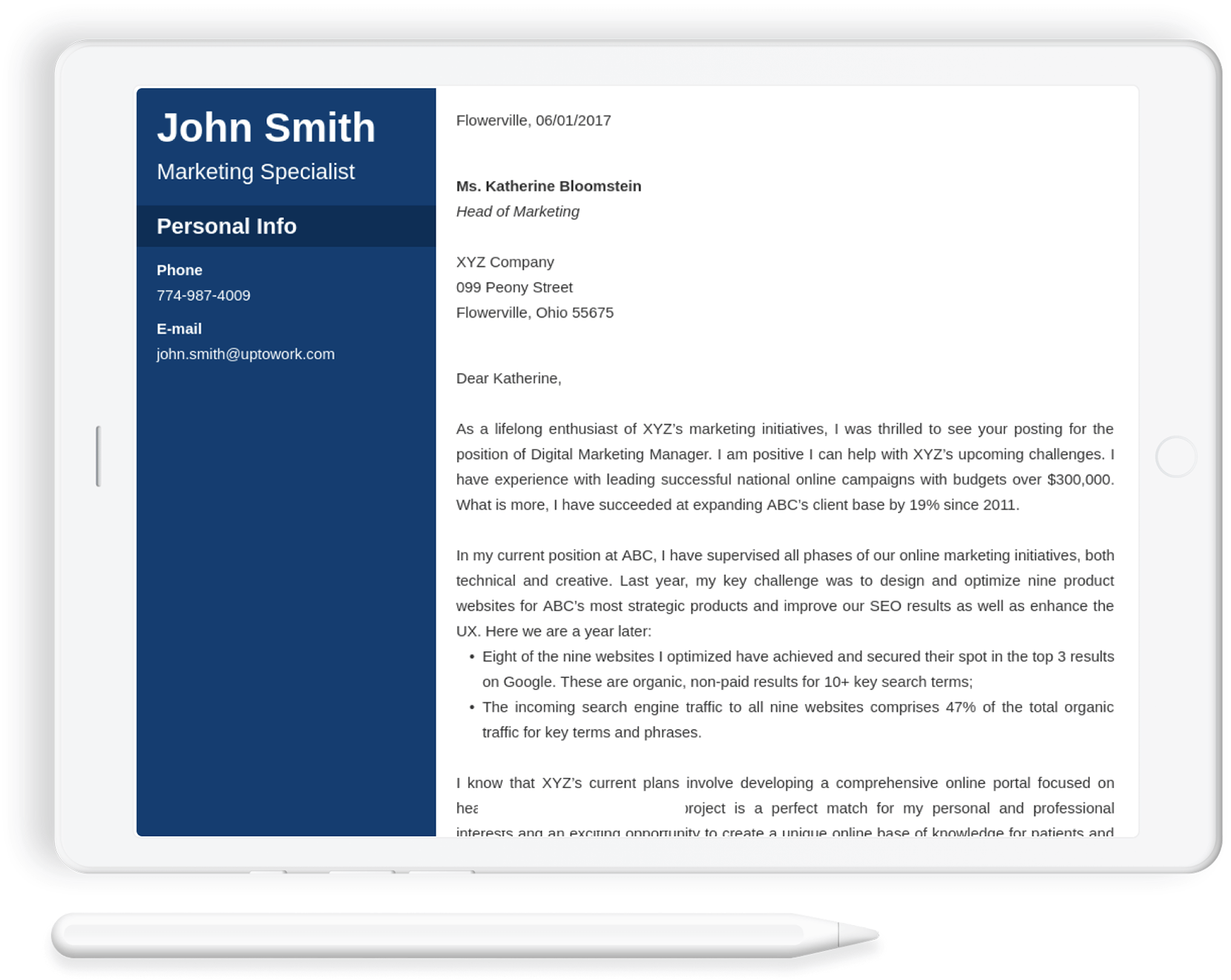 Frequently Asked Questions about Cover Letter Templates
What is a cover letter for a resume.
A cover letter for a resume is a document attached to your job application that will support your resume, by explaining your motivation and providing more details about the past jobs and skills that are listed on your resume. It is strongly advised to use a cover letter template matching your resume template for an optimal application. Get a professional resume template here , to go with your cover letter. Note that a cover letter for a resume can also work for a CV – here's a selection of professional CV templates (and here's the difference between a resume and a CV ).
What is the best cover letter template in 2023?
All our covering letter templates are equally adapted to modern HR trends and will appeal to recruiters. The best cover letter template is one that will allow you to write your personal details and list your strongest skills, while looking professional and simple . To pick the best cover letter template, focus on what will look perfect based on your industry, experience level, and preferences. Here's more on what a cover letter should look like in 2023.
How to format a cover letter?
While formatting a cover letter is not as complicated as finding the best resume format , you still need to follow the expected cover letter etiquette . Typically, cover letters are formatted with a lot of empty space on the page (double spaces between paragraphs), left-aligned text, and sufficient margins. For more tips, read our guide on how to format a cover letter the right way .
Do I really need a cover letter for a job in 2023?
Although resumes can be sent without a covering letter, every recruiter prefers receiving one, to have more options and details . Cover letters are not always necessary and read , but they are a serious advantage in case other candidates didn't send one.Besides, a professional cover letter shows your motivation, and allows you to say more about your projects and abilities.By sending a cover letter with your resume in 2023, you gain the lead over your competitors.
What to include in my cover letter?
A cover letter is made of several parts . The main ones are the cover letter header and the body . In the cover letter header, list the following information:
Your phone number
Your email address
The name of the hiring manager
In the cover letter body, here's what should be available:
Cover letter greetings
Catchy cover letter opening paragraph
Main strength and skills
Motivation to join the company
Closing cover letter paragraph and sign off
Those lists are not exhaustive; you can add more information for a better chance of success, such as your title or a post-scriptum. Read more about all the important things to include in a cover letter here .
How long should a cover letter be?
A cover letter should be one-page long , on a single-page cover letter template, and composed of around 4 paragraphs, along with contact information in the header. 400 words is a good limit, as more could mean no recruiter will read your document, and not enough will not make it seem worth the attempt. Depending on your experience, industry, and circumstances, the amount of information to write can vary. We encourage you to read our post on the ideal cover letter length in 2023 .
Do I need a unique cover letter for every job?
While writing a different cover letter for each job may sound tedious, it is a necessary step to increase your chances of being hired . A cover letter is impactful only when it is not generic, and when it surprises the recruiters with important and interesting details about you and your reasons to apply. Each cover letter must therefore be unique . However, you can save precious time by using our online cover letter builder , which allows you to duplicate, modify, save, and download your cover letters with just a few clicks. Besides, it offers pre-written content that you can use to write different application letters in no time.
Should I use a PDF or a Word cover letter template?
Just like your resume should be sent in PDF format , it is best to download your cover letter in PDF, too. The PDF format allows your cover letter layout to remain unchanged, whatever the device used by recruiters. Our cover letter templates all match our resume templates, and can be exported in Docx (Word), for you to modify them later, or in PDF for you to send them immediately.
Can I email my cover letter instead of sending a cover letter template?
For job offers that don't request a cover letter, and when you don't have time to write one, you can write a short cover letter directly in your email's body .Before choosing that option, we'd like to point out that our online cover letter application can generate a cover letter template with pre-written content for you, making the process faster and easier. If you still prefer to send a letter in text form rather than a cover letter template, here are all our tips on how to email a cover letter successfully.
Do you have cover letter examples for my template?
Our cover letter templates can be filled online using pre-written content. You'll only have to input your job title and generate content quickly and conveniently.Adapt what matters, and copy the rest to save time and speed up your job hunt.To help you adapt your cover letter and make it perfectly targeted, we have written hundreds of cover letter examples that you can find here .
How to make a cover letter with no experience?
A cover letter template can seem hard to fill with useful information when your resume itself is quite light on job experience and hard skills . But it is in those cases that your cover letter is even more important. Entry-level candidates can't rely on experience, and must therefore make the most of their soft skills , projects and original ideas. To start with, we encourage you to make a resume with no experience , and then write an entry-level cover letter that will complement it.
Are Zety cover letter templates free?
All our cover letter templates are free-to-use, and entirely customizable online. You don't have to pay to create as many cover letters as you want, until you are satisfied with the result.Zety follows the 'try before you buy' rule, and will never ask you for payment until you are 100% certain your cover letter template is pixel-perfect and ready to be sent to employers.
Try Zety's professional cover letter builder now
How To Write an Information Technology Cover Letter
Updated February 16, 2023
The Indeed Editorial Team comprises a diverse and talented team of writers, researchers and subject matter experts equipped with Indeed's data and insights to deliver useful tips to help guide your career journey.
The information technology (IT) field continues to grow as more companies use more advanced technology. IT specialists assist companies with technology, including collecting and storing data, selecting and installing software, troubleshooting and handling information security. If you're interested in finding a job as an IT specialist, a personalized cover letter can help showcase your IT skills and achievements to employers. In this article, we define an information technology cover letter, list what to include, describe how to write one and provide an example and template to help you craft an effective letter of your own.
What is an information technology cover letter?
An information technology cover letter is a formal one-page message to a potential employer that expresses your interest in an available IT position. You typically submit a cover letter alongside your resume to provide a comprehensive review of your skills and achievements. Unlike your resume, however, your cover letter includes more detail about your accomplishments and what skills you can offer a company. It's important for an information technology cover letter to include relevant skills, highlighting both proficiency in software and communication aptitude.
What to include in your information technology cover letter
Here are some components of an effective IT cover letter:
Your current contact information: At the top of your cover letter, include updated information about who you are and how to contact you, such as your name, email and phone number.
A salutation: This is a direct address to the person reading the letter. Use "Dear _ _ _ _ _ _ " unless you can't find a name for the hiring personnel, in which case use "To Whom It May Concern," or a similar general salutation.
An introduction: This is the first sentence of the first paragraph and clearly communicates what the purpose of the letter is. Though the format of this sentence can vary, include what position you're interested in.
Your information technology qualifications: Use the body of the cover letter to showcase your abilities, including proficiency in software, hardware and your soft skills like communication, collaboration and adaptability.
A closing: Your closing sentence is your call to action. After showing your qualifications and why you're a great fit for the company, express that you're looking forward to meeting with them to further discuss the position.
Your signature: Finish your cover letter with a professional, properly formatted signature.
How to write an information technology cover letter
Follow these steps to write a strong information technology cover letter:
1. Research the company and position
Before you write your technology information cover letter, it's important to research the company and the specific position you're applying for. Be sure to understand the company's culture and atmosphere so you can mirror that in your cover letter. This research includes knowing who on the hiring team or in human resources is most likely to be reading over your cover letter, so you may address the letter directly to them.
2. Format your cover letter
Most cover letters are one page long and contain about four paragraphs. The letter is your first impression on your potential employer, so try to make it clean and appealing. Use a professional font, like Times New Roman or Georgia, in font size ten or twelve. Your contact information goes at the top of the page, aligned to the right side. Align the rest of the letter, including the company's information, body text and your signature, to the left.
3. Use keywords from the job listing
Many companies use application screening technology to make the first selection of resumes and cover letters, and they may not look at the applications that don't pass this screening. Reviewing the job listing and choosing keywords based on the most frequently listed qualifications or requirements separates your cover letter from the other candidates, both by being more closely matched and showing your understanding of keywords.
4. Highlight qualifications from your resume
Your potential employer is looking for candidates that have specific qualifications they're looking for. To avoid writing a full summary of your resume, select the most relevant qualifications to highlight in your cover letter. Consider reviewing the job listing, finding the repeated and prominent qualifications, then explaining how you meet or exceed them in the body of your information technology cover letter.
5. Describe how you can contribute to the company
Next, explain to your potential employer how you can contribute to their company in detail. For example, if you implemented a software that allowed your previous company to retain 20% more customers, mention this and that you are confident you can do the same for your potential employer. Showcase relevant skills and be specific about how they can increase productivity, efficiency and profit.
6. Conclude your letter
In the final sentences of your information technology cover letter, include a summary of your strengths, thank the hiring manager for their time and include a call to action. When briefly recounting your skills and achievements, try to avoid repeating what you've already said and instead succinctly condense your attributes. Your call to action encourages the hiring manager to contact you and schedule a time to meet and further the hiring process.
Information technology cover letter template
This is a standard information technology cover letter template. Consider using it as inspiration while writing your own:
[ Date ] [ Current address ] [ Phone number ] [ Professional email address ]
[ Recipient's name ] [ Recipient's job title ] [ Recipient's organization ] [ Address of organization ]
Dear [ Name ] ,
As a long-time fan of the work of [ company ] , I'm excited to be contacting you about my interest in the position of [ job title ] , which I found through [ source that referred you ] .
I have [ number ] years of experience working [ in a relevant industry or as the same or similar role ] . Most recently, I worked as a [ job title ] at [ organization ] , where my responsibilities included [ list two to three tasks that align with the job to which you are applying ] . While there, I [ list an accomplishment that showcases your value as an employee, using quantifiable data if possible ] .
I am [ committed to/passionate about ] providing excellent information technology support. For example, [ specific experience from a prior job that shows your ability to create positive results for your employer or customers ] . [ You can also include a sentence about any specialized training, education or skills you have that you believe enable you to excel at the job ] .
Thank you for your time and consideration. I am excited about the opportunity to join your organization as a [ position ] because [ reasoning for your interest in the job ] . [ You can also include a sentence about how you specifically hope to help their company achieve its goals. ] I look forward to hearing from you about the next steps in the application process.
[ Your name ]
Example of an information technology cover letter
This is an example of an information technology cover letter:
March 25, 2021 1362 Ward Street Seattle, WA (783)-562-9901 [email protected]
Aliyah Nguyen Hiring Manager Schaffer Industries 500 Millennium Drive Seattle, WA
Dear Ms. Nguyen,
As a long-time fan of the work from Schaffer Industries, I'm excited to be contacting you about my interest in the position of IT security specialist, which I found on your site.
During my five years as an IT specialist for Harken Inc., I've developed proficiency in both software and communication. I spearheaded the implementation of a new email screening software, increasing the information security at Harken Inc. by 30% and decreasing the total information breaches by over 200 instances per year. I frequently provided software support to both the company and the clients, promptly and effectively troubleshooting and solving software issues.
I am passionate about providing excellent information technology support. For example, I provided information technology onboarding for over ten new staff members in the same week, assisting them in understanding how to use the company's complex technology. I am also a certified information systems security professional (CISSP), so I can bring information security and peace of mind to your workplace.
Thank you for your time and consideration. I am excited about the opportunity to join Schaffer Industries as an IT security specialist because I admire Shaffer Industries' products and team. I'm excited about the opportunity to help bring higher information security to the company and I look forward to hearing from you about the next steps in the application process.
Carla Garcia
Tips for writing a strong information technology cover letter
Use these tips to craft a compelling information technology cover letter:
Use current information
When applying for multiple positions or using a cover letter template, it's easy to miss outdated or incorrect information. Make sure your contact information is updated and correct so the hiring manager can easily contact you.
Write a genuine letter
If you're applying to multiple jobs at a time, be sure to take the time to write a cover letter for each position. A unique letter can show the hiring manager you're truly interested in their position.
Use keywords from the resume
As an information technology professional, you know the importance of keywords. Keywords show the hiring manager you read the listing closely and can help your application get through any automated screening the company has set up.
Thoroughly proofread
Ask a trusted friend, relative or colleague to look through your cover letter for spelling errors, grammatical mistakes and formatting issues. Your cover letter is your potential employer's first exposure to your attention to detail, so it's important to show them you've put in the effort.
Avoid information technology jargon
It's not likely that another information technology professional is going to be the first to read your cover letter, so be sure it's not full of complex terms and specific jargon. This is your chance to communicate to the hiring manager that you know how to communicate about technology to a variety of different audiences.
Show your soft skills
Being an information technology professional is also about communication with people who don't know as much about computers and software as you do. Your potential employer is likely looking for someone with the soft skills to make their technical abilities useful, so don't omit them when writing your cover letter.
Explore more articles
13 Forensic Psychologist Careers (With and Without a Degree)
Animal Science Careers: What You Can Do With Your Degree
10 Skills Needed To Become a Home Health Aide
Learn About 20 Manufacturing Companies in San Antonio
How To Become a Pharmaceutical Chemist in 6 Steps (With Salary Info)
61 Alternative Jobs You Can Get With a Law Degree (Plus Salaries)
List of High-Paying Jobs: 30 Careers to Consider
14 Pros and Cons of Being a Chiropractor (Plus Duties)
12 Pros and Cons of Being an Independent Case Manager
Learn About 22 Engineering Companies in Florida
55 Online Work-From-Home Jobs That Pay Weekly
Skip to main content
Skip to primary sidebar
Skip to footer
Resume Genius
The World's Smartest Resume Builder
Home Cover Letter Examples Information Technology (IT) Cover Letter
Information Technology (IT) Cover Letter Examples
June 7, 2021 | By the Resume Genius Team | Reviewed by Samuel Johns, CPRW
Information technology cover letters serve as human interfaces between the technical terminology of a resume and the person behind said technical expertise. Use the IT cover letter examples below to better connect with hiring managers.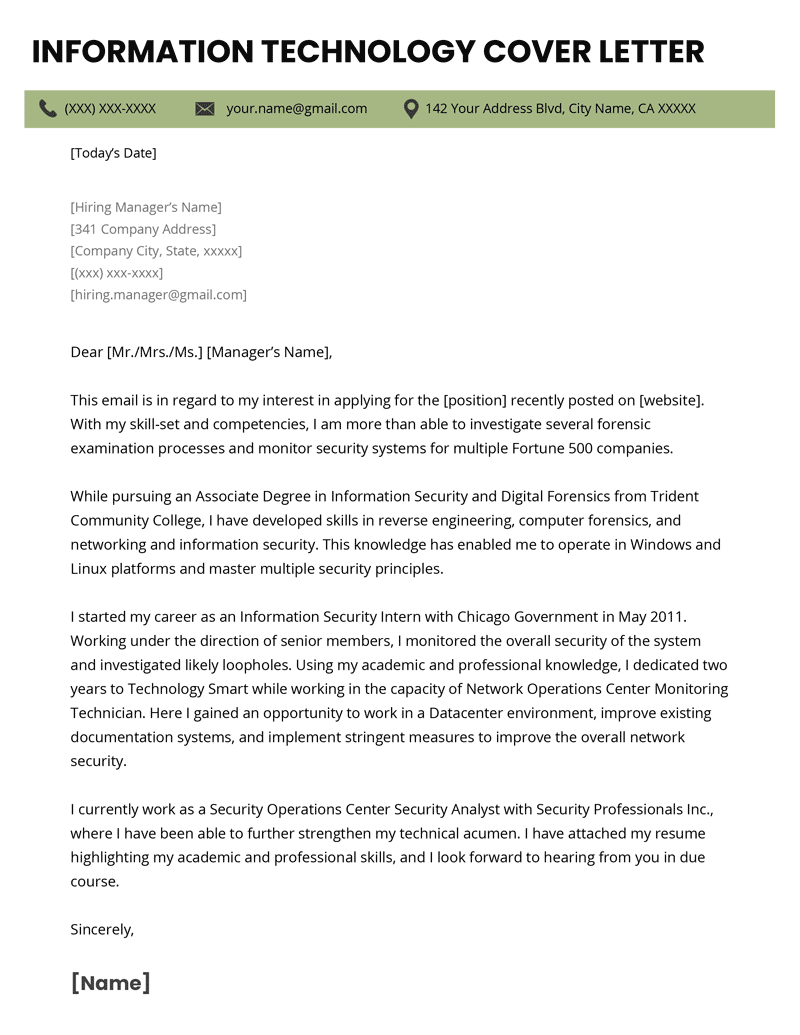 If you want to give your application a unique look, use a fresh template for your cover letter .
Samples Similar to an Information Technology (IT) Cover Letter
Front end developer cover letter, computer science cover letter, full stack developer cover letter, programmer cover letter, ux designer cover letter.
Cyber Security Cover Letter
Software Engineer Cover Letter
IT Project Manager Cover Letter
IT Cover Letter Template (Text Format)
Follow established cover letter formatting rules so that it looks polished and easy to read.
August 7, 2021
Hiring Manager's Name 341 Company Address Palo Alto, CA 12345 (xxx) xxx-xxxx [email protected]
Dear [Mr./Mrs./Ms.] [Manager's Name],
This email is in regard to my interest in applying for the [position] recently posted on [website]. With my skill-set and competencies, I am more than able to investigate several forensic examination processes and monitor security systems for multiple Fortune 500 companies.
While pursuing an Associate Degree in Information Security and Digital Forensics from Trident Community College, I have developed skills in reverse engineering, computer forensics, and networking and information security. This knowledge has enabled me to operate in Windows and Linux platforms and master multiple security principles.
I started my career as an Information Security Intern with Chicago Government in May 2011. Working under the direction of senior members, I monitored the overall security of the system and investigated likely loopholes. Using my academic and professional knowledge, I dedicated two years to Technology Smart while working in the capacity of Network Operations Center Monitoring Technician. Here I gained an opportunity to work in a Datacenter environment, improve existing documentation systems, and implement stringent measures to improve the overall network security.
I currently work as a Security Operations Center Security Analyst with Security Professionals Inc., where I have been able to further strengthen my technical acumen. I have attached my resume highlighting my academic and professional skills, and I look forward to hearing from you in due course.
IT Cover Letter: 5 Tips for Writing Professional Cover Letters for IT Jobs
Learning how to put together a cover letter for the specific job(s) you want will help you land more interviews.
1. Translate technical skills for non-technical reviewers
While most cover letters only rephrase the qualifications written on the resume, your IT cover letter must also rephrase your qualifications so that a layman can understand them.
Remember, applications are screened by multiple people, and in large corporations this includes a human resources manager as well as a department head. Your cover letter should communicate the same qualifications to an HR manager who isn't as familiar with technical terms as an IT specialist department head.
For these reasons, it's good to mix different key strengths into the cover letter instead of listing only hard or soft skills . For example, listing team collaboration skills alongside Python development skills shows a great balance between technical know-how and social ability. Such a combination helps you stand out from other competitors.
2. Implement professional cover letter formatting
Whether you're writing a cover letter for an entry-level IT job or a cybersecurity management position, use professional cover letter formatting . Sloppy formatting distracts the reader from your qualifications and makes you seem careless.
Here's how to format each section of a cover letter for an IT job application:
Your contact information:  Make it easy for the hiring manager to contact you by writing your name, email address, phone number, and relevant online profiles in your cover letter's header.
The hiring manager's contact information:  Show the hiring manager that you've thoroughly read the job ad by including their name, company name and address, phone number, and email address below your contact information.
Salutation:  Address your cover letter to the hiring manager, using this format:
Dear Mr./Mrs./Ms. [Hiring Manager's Last Name],
If you don't know the hiring manager's gender, use their full name. When you don't have a contact name, address the department or company name to avoid the overused " To Whom It May Concern " salutation.
Body:  Explain your qualifications in 3–4 paragraphs.
Signature: Begin your cover letter's valediction with a formal term like "Sincerely" or "Best regards," followed by a comma. Then write your full name on a new line.
3. Configure an impressive opening paragraph
Your cover letter's opening paragraph must include the following information in 2–3 sentences:
Your strongest argument for why you're qualified to catch the hiring manager's attention and improve the chances they read your full cover letter
The name of the company and the title of the position you're applying for so the hiring manager knows how to evaluate your qualifications
Here's an example of how to start a cover letter :

4. Quantify your skills with data
As an IT specialist, you know how to use data. Put that knowledge to work by quantifying your technical skills with hard numbers to provide context to your achievements and show hiring managers what you're capable of.
For example, when you're writing your cover letter's body paragraphs, don't simply say that you're an expert in cybersecurity. Instead, show how you applied that expertise with a statement like this:
At my current company, I developed and implemented new network security measures, reducing cyber attacks by 25%.
5. Troubleshoot for typos
Just like a single error can destroy an entire page of code, one minor typo can ruin your whole cover letter. Even the smallest miscue can cause hiring managers to assume you lack the attention to detail required for an IT job.
Follow these steps to ensure a grammatical error doesn't derail your application:
Run your word processor's spellcheck feature
Proofread for mistakes the spellchecking software missed
Ask someone else to proofread your cover letter
Take another look to ensure any edits you or your friend made are typo-free
Extra Information Technology (IT) Cover Letters, Resumes, & CVs:
Cover letters:.
Data Scientist Cover Letter
Help Desk Cover Letter
System Administrator Cover Letter
Technical Cover Letter
Computer Technician Resume
Cyber Security Resume
Data Engineer Resume
Database Administrator Resume
Desktop Support Resume
Entry Level Cyber Security Resume
Entry Level Help Desk Resume
Help Desk Resume
IT Director Resume
Click to rate this article
Related Articles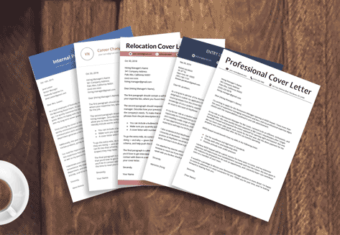 Cover Letter Examples for All Job Applications in 2023
February 2, 2023 | By Conrad Benz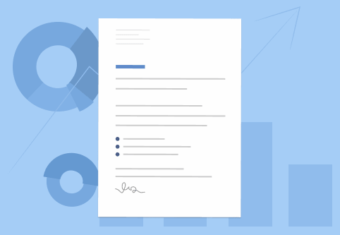 Cover Letter Statistics for 2023
January 12, 2023 | By Rebecca Tay, Ph.D.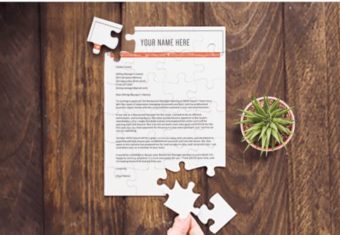 How to Write a Cover Letter for a Job
December 22, 2022 | By Ida Pettersson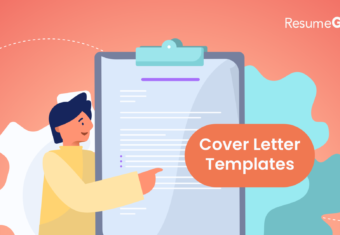 September 18, 2022 | By Pauline Delaney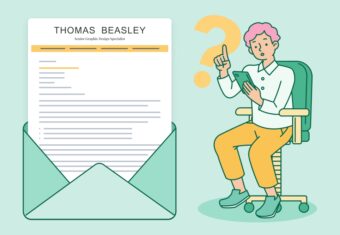 Are Cover Letters Necessary in 2023?
January 11, 2023 | By Corissa Peterson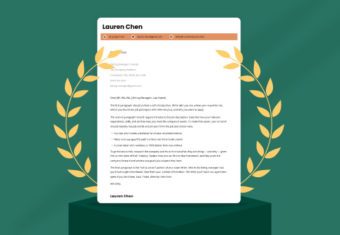 Best Cover Letter Examples of 2022 & Why They're So Good
May 18, 2022 | By Aaron Case, CPRW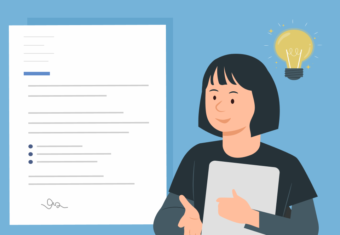 How to Write a Cover Letter With No Experience
July 26, 2022 | By Eva Chan, CPRW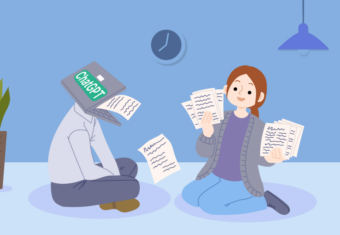 Making a ChatGPT Cover Letter: The Good, Bad, & Ugly
March 9, 2023 | By Eva Chan, CPRW
Resume Tools
Resume Builder
Resume Templates
Resume Examples
How to Make a Resume
Resume Format
Resume Summary Generator
Resume Help
Cover Letter Tools
Cover Letter Builder
Cover Letter Examples
How to Write a Cover Letter
Cover Letter Format
Cover Letter Help
What Is a CV?
How to Write a CV
CV Templates
CV Examples
Career Tools
Thank You Note Samples & Templates
Resignation Letter Samples
Letter of Recommendation Templates
Business Letter Formats
Career Advice
Forgot Password
Terms & Conditions
Privacy Policy
Accessibility
© 2023, Sonaga Tech Limited. All rights reserved
ResumeGenius.com is owned and operated by Sonaga Tech Limited, Hamilton, Zweigniederlassung Luzern with offices in Luzern Switzerland.
Resumes Resume Builder Resume Templates Creative Resume Modern Resume Basic Resume Professional Resume Traditional Resume ATS Resume High School Student Resume Word Resume Resume Examples Resume Formats Hybrid Resume Functional Resume Chronological Resume How to Write a Resume Skills Summary --> Resume Objectives Work History list References Resume Skills
Cover Letters Cover Letter Builder Cover Letter Templates Cover Letter Examples Cover Letter Formats How to Write a Cover Letter
CV CV Templates
Job Overviews
Resources Career Guides How to Become
Resume Builder
Cover Letter
information technology
IT Specialist Cover Letter Examples
IT Specialists assist companies with constructing and managing their internal networks, as well as protecting said networks from security threats. Typical IT Specialist work activities include regularly assessing infrastructure to assure quality standards, managing the day-to-day operations of the IT department, developing new procedures and strategies to increase efficiency, protecting proprietary data through regular security updates and presenting IT key performance indicators to non-technical stakeholders.
Not exactly what you are looking for? Check our complete library of over 1000 cover letter examples .
Rate This Template:

For help with your resume, check out our extensive IT Specialist Resumes .
Improve your chances of getting noticed with a powerful cover letter. Take a look at our guide to create the best cover letter in 2023 .
Include These IT Specialist Skills
Bachelor's degree in Information Technology or a related field
Computer network acumen
IT knowledge
Ability to perform multiple IT roles
Ability to supervise others
Logic and reasoning
Complex problem solving skills
Analytical skills
The IT Specialist sample cover letter below showcases most of these skills and qualifications.
Dear Ms. Clothier,
I am writing to apply for the position of IT Specialist. My Bachelor's degree in Information Technology and four years of experience constructing, managing, and improving computer networks makes me a solid candidate for your organization.
My professional experience includes developing and managing the day-to-day operations of the internal network at Grey Technologies. I am certified in several IT languages, including Ruby and Perl C++. I think I can be a great asset at Silver Technologies with my education and set of skills.
Here are my most relevant skills and accomplishments:
Bachelor's degree in Information Technology from Stanford University
Developed and implemented infrastructure inspection plan to assure network quality
Installed and hardwired hardware and infrastructure upgrades
Performed regular network security checks and updates
Analyzed network KPIs and regularly presented findings to non-technical stakeholders
Surely you'll come across candidates with similar qualifications, but I think what sets me apart is my adaptability. I pride myself on being able to wear many IT hats and using my skills to meet the ever-changing needs of the organization. If you are interested in learning more about how I can be an asset to Silver Technologies, then I'd be happy to schedule an interview. Thank you in advance for your consideration.
Ben M. Groth
A professional cover letter is the first step toward your new job!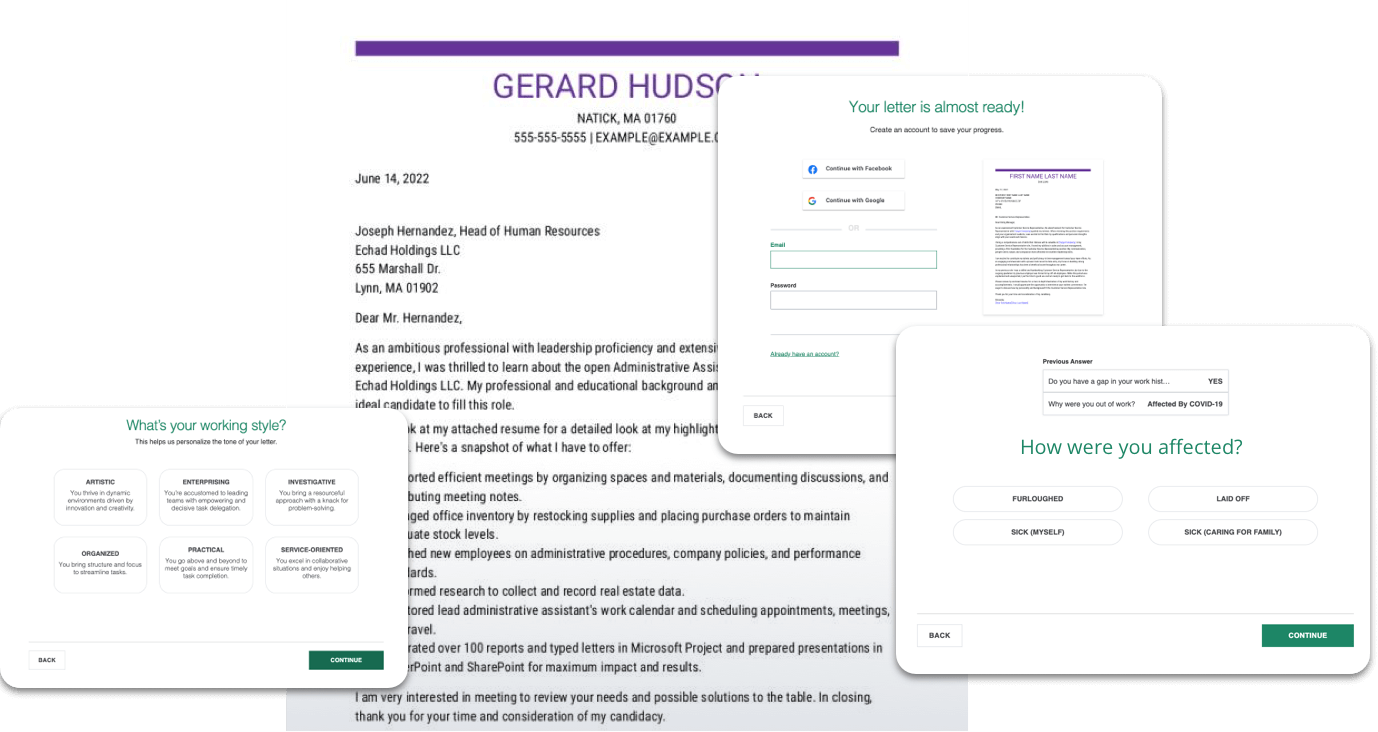 IT cover letter template
An IT cover letter is an exercise in presenting a balanced view of your high-level technical experience as well as your ability to work collaboratively with a range of different staff, clients and stakeholders. In an IT role you are often tasked with explaining complex ideas and systems to those with significantly less knowledge or understanding, so it's important that this element is captured as well. Here's how to write an IT cover letter that shows off all your strengths, and helps you secure an interview.
IT cover letter do's
Do keep it short. One page is the maximum for cover letters, with the ideal length between 250 - 350 words, or around four paragraphs
Do ensure your technical skills and proficiencies with relevant software and systems are detailed clearly in your IT cover letter
Do show that you're constantly learning, improving and updating your skills
Do detail any side projects or start-up work you're doing
Do show your passion for the work you do and for the industry at large
Do customise your cover letter for each IT role you apply for
Do always run a thorough spelling and grammar check before submitting your cover letter
IT cover letter don'ts
Don't use out-dated or unprofessional contact details
Don't use company-specific language or terminology. Stick to what is known and understood at an industry level
Don't neglect to mention your communication and people-based skills to highlight only the technical. Consider the other qualities that are useful in IT roles, and desirable from an employer's perspective
Don't exaggerate about your level of experience of competency. Refined technical skill is a critical part of IT roles, so it's important you're honest about what you can do, and what you can't
Download IT cover letter sample
Download Cover Letter Template
Submit resume
IT cover letter example
This cover letter for an IT role is strong because overall it follows cover letter writing best practice. The cover letter runs no longer than a page and is within the optimum work length, the contact details for both candidate and employer are neatly presented and professional, and links to both websites links are included - an important component in IT job applications.
The cover letter is also strong because it lists the core software and programming abilities desired by the industry, another key element for any IT cover letter. He also details the industries and types of clients he is experienced with, giving an assurance that he has strong communication skills and experience translating the technical into the practical on a regular basis.
This IT cover letter sample also exhibits passion, and the candidate's reference to working with a start-up in his own time shows he has ambition, determination and purpose.
The way in which you write and communicate key messages in your IT cover letter is just as important as the actual experience and content you include, so make sure yours is suitably formatted, neat, and easy to read for every role you apply for.
Take a look at our cover letter tips hub for more cover letter writing tips and examples.
Privacy preference center
We care about your privacy
When you visit our website, we will use cookies to make sure you enjoy your stay. We respect your privacy and we'll never share your resumes and cover letters with recruiters or job sites. On the other hand, we're using several third party tools to help us run our website with all its functionality.
But what exactly are cookies? Cookies are small bits of information which get stored on your computer. This information usually isn't enough to directly identify you, but it allows us to deliver a page tailored to your particular needs and preferences.
Because we really care about your right to privacy, we give you a lot of control over which cookies we use in your sessions. Click on the different category headings on the left to find out more, and change our default settings.
However, remember that blocking some types of cookies may impact your experience of our website. Finally, note that we'll need to use a cookie to remember your cookie preferences.
Without these cookies our website wouldn't function and they cannot be switched off. We need them to provide services that you've asked for.
Want an example? We use these cookies when you sign in to Kickresume. We also use them to remember things you've already done, like text you've entered into a registration form so it'll be there when you go back to the page in the same session.
Thanks to these cookies, we can count visits and traffic sources to our pages. This allows us to measure and improve the performance of our website and provide you with content you'll find interesting.
Performance cookies let us see which pages are the most and least popular, and how you and other visitors move around the site.
All information these cookies collect is aggregated (it's a statistic) and therefore completely anonymous. If you don't let us use these cookies, you'll leave us in the dark a bit, as we won't be able to give you the content you may like.
These cookies allow us to provide you with better functionality and personalization. They may be set up by us or by third party providers whose services we've added to our pages.
The purpose of these cookies is to give you a more personalized experience, based on your previous visits and choices. If you don't wish to allow these cookies, these services may not work.
We use these cookies to uniquely identify your browser and internet device. Thanks to them, we and our partners can build a profile of your interests, and target you with discounts to our service and specialized content.
On the other hand, these cookies allow some companies target you with advertising on other sites. This is to provide you with advertising that you might find interesting, rather than with a series of irrelevant ads you don't care about.
IT Cover Letter Examples
How to write a job-winning it cover letter.
Information technology – more commonly referred to as IT – is a vast industry encompassing everything from creating computer networks and systems to providing vital tech support for businesses of all kinds. To become an IT professional, you will need a cover letter that showcases your professional drive and dedication to the field.
In this guide, we will teach you everything you need to know about writing a cover letter as an IT professional. Keep reading to learn:
How to format your IT cover letter header & headline
Why you need a personalized greeting on your IT cover letter
What to say in your IT cover letter introduction
Ways to emphasize your professional value as an IT professional
How to conclude your cover letter with a strong closing statement
Still looking for a job? These 100+ resources will tell you everything you need to get hired fast.
1. How to properly format your IT cover letter header & headline
The first essential step to writing an effective IT cover letter is to create a well-formatted header and headline.
Your cover letter header is the block of text at the top of the document – commonly found in the top-left corner- that includes all the identifying details about you (the applicant) and the company you are applying to (the employer).
Following your header is a cover letter headline , a brief title statement used for hooking the attention of an employer with a compelling and accurate preview of the information to come.
To better demonstrate how to write each of these cover letter elements, we have provided more in-depth explanations and examples below:
Formatting the Header
There is no singular formatting style required for a cover letter header and most applicants will vary the header's appearance depending on their own stylistic preferences.
However, a good header will typically have between 3 to 4 lines of text that include:
The name of the company you are applying to (& the name of the department, when applicable)
Your name and professional title
Your professional contact information (phone number, email address, LinkedIn, etc.)
Here is an example of what a well-formatted header on an IT cover letter looks like
To: Dynamic Software Solutions, IT Department From: Jane Doe , IT Specialist (123) 456-7890 | [email protected] | linkedin.com/in/jane-doe
Writing the Headline
To write the headline of your cover letter, you should always include a keyword related to the position, an eye-catching number or trigger word , a powerful adjective or verb , and a promise .
Here is an example of an effective IT headline, followed by a brief breakdown of its key components
My 3 Best Skills as an IT Specialist & How They Can Improve Your Company's Efficiency
Trigger Word/Number : 3 Skills Keyword: IT Specialist Adjective/Verb: Best, Improve| Promise: Your Company's Efficiency – this last detail in the headline shows the employer that you will relate your skills directly to the needs of their company. In this example, the applicant likely read that efficiency improvement was one of the company's goals and chose to highlight this in their headline.
2. Include a personalized greeting in your IT cover letter
With the header and headline of your cover letter in place, your next step is to create a greeting.
We recommend always using a personalized greeting over a generalized greeting . Unlike generalized greetings – such as "To Whom It May Concern" – a personalized greeting will address a specific person or department by name. In doing so, this shows employers you have excellent attention to detail.
If you have done your part in thoroughly researching the company but cannot pinpoint an exact person or department who will review your cover letter, try out one of the following alternatives:
To the [Company Name] Team
To the [Company Name] Hiring Manager
Find out your resume score!
3. How to craft an effective IT cover letter introduction
The headline and greeting of your cover letter do a lot of the heavy-lifting when it comes to initially attracting an employer's attention. To keep the employer interested, however, you will need a powerful introduction that includes:
A brief overview of your professional history and goals
A statement on why you are enthusiastic about applying to this company
A mutual acquaintance (when possible)
Here is an example to help demonstrate how to write an IT cover letter introduction
To the [Company Name] Hiring Manager,
I am an IT Specialist with 4+ years of experience working in academic and classroom settings. As a part-time IT support professional for [Former Employer], I had the pleasure of meeting your company's Assistant IT Manager, John Smith. After observing my work, Mr. Smith highly recommended I apply for this position.
4. Emphasize your professional value as an it professional
With the employer's attention now firmly hooked, you can delve into a more in-depth explanation of your professional strengths and qualifications in your body paragraphs. An effective IT cover letter should contain between 2 to 4 body paragraphs that answer these key questions:
What excites you about working at this company?
What do you hope to learn from working at this company?
What accomplishments or qualifications make you stand out as an applicant?
What key skills do you possess that are relevant to the position?
Focusing on accomplishments is particularly important, as they help immensely with showing employers the real-life value you can offer their company.
Here is an example of how to describe an accomplishment in an IT cover letter
As an IT Specialist for [Former Employer], I assisted in the design and implementation of a new business computer network that connected all departments through a singular digital platform. As a result of this implementation, communication efficiency rose by 65%, and time to complete projects decreased by nearly 50%.
5. How to conclude your IT cover letter with a strong closing statement
The final element of any good cover letter is a strong closing statement. In this statement, you should aim to include:
An enthusiastic sentence saying you are looking forward to hearing from them
An additional sentence stating you will follow up, including how you will contact them or how they can contact you
A formal sign-off
Here is an example of a well-written closing statement from an IT cover letter
As your new IT Specialist, I will bring a high level of quality and professionalism to help your company reach its digital goals. I am eager to further discuss this opportunity with you directly and am available to meet any weekday from 9 a.m. to 4 p.m. The best way to reach me is at (123) 456-7890.
I look forward to hearing from you within the week and will reach back out to touch base after that time has passed.
Best Wishes,
[Applicant Name]
Follow this cover letter outline for maximum success. 
Julia Gergelova
Julia is a professional writer, translator and graphic designer. She holds degrees in translation and interpretation, and has international work experience from a number of different countries in Europe as well as China and Panama. Julia formerly taught academic writing and as a graphic designer contributed to outlets such as The Business of Business . She has a passion for lifelong learning and good coffee.
Subcategories
Database Administrator
Game Designer
Information Security Analyst
IT Support Officer
Network Engineer
All IT cover letter examples
Let your resume do the work.
Join 2,000,000+ job seekers worldwide and get hired faster with your best resume yet.
IT cover letter
As an IT specialist, you're in high demand, so make sure you put your best foot forward in the job search process if you want to land the most coveted positions. Your cover letter should demonstrate your skills and experience, as well as your passion for your work. To be considered for top IT jobs, it helps to have a well-crafted cover letter. For writing tips, view this sample cover letter for IT, or download the IT cover letter template in Word.
Because the tech industry doesn't show signs of slowing down, jobs for IT professionals are projected to grow by 13% (or 557,100 jobs) from 2016 through 2026, which is faster than average, according to the Bureau of Labor Statistics (BLS). Want to know where your skills are most in demand? You'll find the highest level of employment for this job in the following states: California , Texas , New York , Virginia , and Florida ; and in the following metropolitan areas: New York City , Washington D.C. , Dallas , Los Angeles , and Chicago .
And when it comes to salaries, as an IT professional, you can expect to earn a median wage of $84,580 per year, according to the BLS.
Additionally, you can search for IT jobs on Monster and prepare for your job interview by reading through our sample IT interview questions and answers .
IT cover letter template
Maria Frankel Sometown, DE 55555 | (555) 555-5555 | [email protected]
July 27, 2017
Mr. Thomas Jones HR Manager ABC Corp 15 Elm Street Sometown, DE 55555
Re: IT Helpdesk Technician, Advertised on Monster
Dear Mr. Jones:
I am interested in joining your tier 1 helpdesk team. A longtime fan of ABC Corp's commitment to customer service, I bring to the table a strong customer service mindset combined with technical skills honed throughout my 15 years of helpdesk experience .
Key strengths include:
High-volume ticket management. In my current position as helpdesk support specialist for XYZ Co, I handle 1,725+ tickets per month, fully resolving and documenting issues for future reference.
A track record of consistently meeting or exceeding performance targets correlated with call handling and customer satisfaction goals.
Technical knowledge:
Windows (all versions); Windows Server 2003, 2008 R2 and 2012; macOS; Unix
Microsoft Active Directory Services
LAN, WAN and WiFi network technology (DNS, DHCP, NTP, SNMP and Nagios)
MS Office 365/Exchange
Recognition for exceptional service delivery through "ACE Team Member" awards.
Mr. Jones, if you are seeking an experienced, tech-savvy and customer service-oriented helpdesk technician with the proven ability to establish excellent relationships with customers, employees, vendors and manufacturers, we should speak.
I look forward to learning more about this position and can be reached at (555) 555-5555 or [email protected] Thank you for your time.
Maria Frankel Enclosure: Résumé
See all sample cover letters on Monster.
How's that resume looking?
Now that you know how to get your cover letter into shape, it's time to focus on the other document you need in order to get a job: your resume. Unlike your cover letter, your resume is less conversational and more formulaic (in tech parlance, resumes have their own "language"). Not sure your resume is in strong enough shape? Get a free resume evaluation today from the experts at Monster's Resume Writing Service . You'll get detailed feedback in two business days, including a review of your resume's appearance and content, and a prediction of a recruiter's first impression. It's a quick and easy way to QA your job search.
Most Helpful In Cover Letters
Nursing Cover Letter Example
By Martina Mascali, Monster Contributor
Graphic Designer Cover Letter Example
By Jennifer Verta, Monster Contributor
Sample Sales Cover Letter
Administrative assistant cover letter sample, how to write a police officer cover letter - with example.