Human Resources (HR) Cover Letter Examples in 2023
On this page:
Downloadable Examples
Cover Letter Text Version
Cover Letter Tips from Experts
Create a professional resume in minutes for free.
Human resource specialists' employment is expected to increase by 7% between 2019 and 2029, leading to approximately 47,000 new jobs. Just because more jobs will be available doesn't mean you don't have to do everything in your power to get ahead of other job applicants. One way to stand out is to submit a strong cover letter.
For tips on improving your human resources cover letter, download one of the four templates below. We have cover letter templates for entry-level HR professionals as well as applicants with several years of experience. You'll also find tips for making sure your accomplishments are noted.
Downloadable Cover Letter Examples
Example #1 Entry-level
Example #2 Mid-career
Example #3 Senior-level
Human Resources (HR) Cover Letter Examples (Text Format)
Years of experience.
Entry-level Entry-level
Mid-career Mid-career
Senior-level Senior-level
Olivia Jones Human Resources | [email protected] | (123) 456-7890 | 555 Main St., Cleveland, OH 09876
January 25, 2021
Damon Smith Hiring Manager XYZ Corporation (987) 654-3210 [email protected]
Dear Mr. Smith,
At ABC Company, I trained a 50-member management team on interviewing techniques, teaching best practices through coaching sessions and group workshops, resulting in successful hiring decisions. I combined my organizational skills with excellent interpersonal abilities to become an employee leader in my company. I look forward to bringing that same work ethic to XYZ Corporation as a Human Resources Generalist.
With my two years of experience as a Human Resources Assistant, I have grown and developed my HR knowledge and abilities. I believe the position of Human Resources Generalist at XYZ Corporation will help further my growth in human resources.
Some of my previous successes include:
Identifying and implementing payroll software that cut company costs by $5,000 per month.
Coordinating a health fair to launch a new employee wellness program and raise awareness regarding employee health.
Assisted at revising new-hire orientation to include a warm welcome and provide critical company resources for onboarding employees.
I'd love to speak more with you about my previous successes and how I can make a positive contribution to your company. Please feel free to contact me with a meeting time that works well for you.
Best regards,
Olivia Jones
P.S. I'd also like to tell you how I effectively resolved conflicts between employees and insurance carriers.
Kate Miller Human Resource Officer | [email protected] | (134) 634-9789 | 234 Job St., Houston, TX 77022
February 9, 2021
Sally Peters Senior Hiring Manager The Big Company (934) 304-8264 [email protected]
Dear Ms. Sally Peters,
I am a Human Resource Management graduate with seven years of experience at The Medium Company. During my time at The Medium Company, I implemented a highly successful incentive program, which resulted in a 28% improvement in employee satisfaction. I believe this is a great example of my initiative and the benefits I could bring to The Big Company team.
The key factor that attracted me to the Human Resource Officer role at The Big Company is the firm's approach to employee well-being to improve staff retention. I believe that I could thrive in such a dedicated and high-performing environment.
If offered a role at The Big Company, I am confident that I will take your team's success rate to even greater heights. My previous accomplishments within the sector include:
A 45% reduction in company turnover rate as a result of the introduction of employee wellness and incentive programs.
30% speed increase in applicant processing time.
I am looking forward to discussing further how my unique skills and dedication to HR can help your team, and I am available for an interview at your convenience.
Best wishes,
Kate Miller
P.S. — I'd also love to discuss the events that led me to win an HR Excellence award!
John Smith Human Resource Manager |  [email protected]  | (1654) 739-9183 | 678 Location Rd., San Antonio, TX 78206
Julie Jefferson Senior Hiring Officer The People Company (346) 024-7536 [email protected]
Dear Ms. Jefferson,
In my current position, I implemented a new employee retention plan, which resulted in a 50% reduction in the total employee turnover rate within the company. The retention plan included an employee wellness program, additional staff benefits and an internal promotions program. I believe this is a great example of my success and demonstrates that I could be a great asset to The People Company's team.
With 12 years of experience in Human Resources and a degree in Human Resource Management, I was drawn to The People Company because of the firm's impressive employee retention rate and reputation for high-performing staff.
If I were to secure a role at The People Company, I assure you I will bring an even greater rate of success to the team. My previous accomplishments include:
Improved employee satisfaction by 28% via an incentive program.
Increased the speed of paperwork processing time by 30% in one year.
Established new application requirements to increase the quality of interviewees.
I would like to set up an interview to discuss further my capabilities, work experience and the benefits I can bring to The People Company team.
P.S. — I'd also like to tell you all about how I was shortlisted for an HR Excellence award!
Human Resources (HR) Cover Letter Checklist
Your human resources (HR) cover letter should have five elements:
1. Heading. Your letter's heading should include your contact information, the date, and the hiring manager's contact information. Make the header stand out by using a stylized template.
2. Salutation. If possible, use the hiring manager's name in the salutation: Dear Mr. or Ms. [Last Name]. When you don't know the recipient's name, use "Dear Hiring Manager."
3. Introduction. Use the introductory paragraph to introduce yourself and explain why you're interested in the job. Tailor this section for each specific employer or industry to avoid sounding vague.
4. Body paragraphs. The next two paragraphs should explain why you're qualified for the job. Describe your educational background, relevant skills, and work experience. To make it easier for the hiring manager to keep track of your qualifications, consider using a bulleted list instead of one large block of text.
5. Closing section. In your conclusion, ask the hiring manager to contact you for an interview. This is known as a call to action. To make a lasting impression, consider adding a postscript (P.S.) to highlight one additional achievement.
Introduction
The introduction to your cover letter is the place to let the hiring manager know why you're interested in the job. To do this effectively, choose one of your top accomplishments and incorporate it into your opening paragraph. Avoid choosing generic statements that could apply to almost any applicant, such as "Collaborated with colleagues to increase revenue." Instead, go with something quantifiable — something that can be measured. You want the hiring manager to understand exactly why you're interested in the job and why you're a strong candidate.
One of my greatest achievements as a human resource specialist was increasing my firm's retention rate without a corresponding increase in hiring and training costs. I'm committed to achieving the same results in the Recruiter II role at Creavey Plastics.
I'm qualified for the role of Recruiter II because I have five years of experience in the human resources field and understand current recruiting practices.
Body Paragraphs
Start off the body of your cover letter with a statement about why you admire the hiring organization and an explanation of why you want the specific position. Next, go through your resume and identify the achievements you want to include in your human resources (HR) cover letter.
Examples include relevant degrees, promotions, professional certifications, or completed projects. For each item, describe a positive outcome to demonstrate why you have what it takes to succeed in the new position. Make sure each achievement is relevant to the job opening and has a quantifiable outcome.
After 10 years of recruiting for a small manufacturing company, I'm drawn to Creavey's success in expanding into the European market and doubling its client base over a three-year period.
I'm looking forward to applying my 10 years of experience as a recruiter to the human resources department at Creavey Plastics. Some of my past accomplishments include:
Increasing my firm's 90-day retention rate from 17% to 26%, a significant achievement in a high-turnover industry
Reducing time to hire by 23%, preventing hiring managers from losing promising candidates due to a drawn-out hiring process
Implementing a referral program that increased the average number of applications received for each opening by 38%
Your advertisement states that you're looking for someone with at least five years of recruiting experience. I've been a recruiter for 10 years and want to work for Creavey Plastics. I'm currently responsible for the following:
Writing job descriptions and job advertisements
Scheduling interviews
Making offers to top candidates
Completing new-hire paperwork
Conducting orientation sessions for new employees
A strong closing gives you one more chance to make a good impression on the hiring manager. Instead of thanking the reader for his or her time, end with a call to action. Ask the hiring manager to contact you to schedule an interview.
To strengthen your closing, add a P.S. right below your signature. The P.S. should highlight one more achievement that you want the hiring manager to know about, drawing positive attention to your success as a human resources professional.
I would appreciate the opportunity to meet with you and discuss why my qualifications are an excellent match for the Recruiter II role at Creavey Plastics. Please contact me to schedule an interview at your earliest convenience.
Michael Talbot
P.S. I'd love the chance to tell you about the time I negotiated a discount on video-based training for new hires, saving my company more than $14,000 in a single year.
Thank you for your time and attention. I look forward to hearing back from you.
Other Resume & Cover Letter Examples
HR Resume Examples
Recruiter Cover Letter Examples
Recruiter Resume Examples
Skip to main content
Skip to primary sidebar
Skip to footer
Resume Genius
The World's Smartest Resume Builder
Home Cover Letter Examples Human Resources (HR) Cover Letter
Human Resources (HR) Cover Letter Example
April 20, 2021 | By the Resume Genius Team | Reviewed by Samuel Johns, CPRW
Not sure how to begin your cover letter? Follow our example below to learn what an ideal human resources cover letter should include.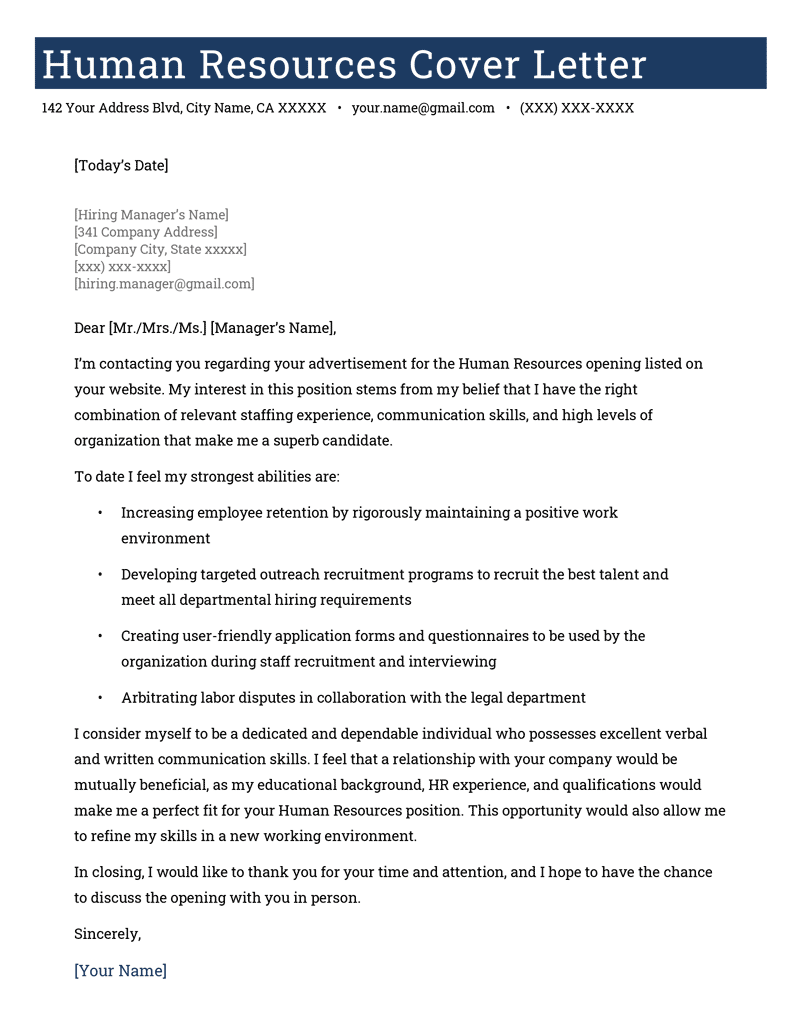 Don't like the look of this cover letter? Find a new design in our collection of free cover letter templates .
Other Samples Related to a Human Resources (HR) Cover Letter
Human Resources (HR) Resume
Office Manager Cover Letter
Office assistant cover letter, executive assistant cover letter, hr cover letter template (text format).
Pay attention to the formatting used on your cover letter to guarantee it's both readable and professional.
[Today's Date]
[341 Company Address]
Company City, State xxxxx
(xxx) xxx-xxxx
[[email protected]]
Dear Mr./Mrs./Ms. (Manager's Name),
I'm contacting you regarding your advertisement for the Human Resources opening listed on your website. My interest in this position stems from my belief that I have the right combination of relevant staffing experience, communication skills, and high levels of organization that make me a superb candidate.
To date I feel my strongest abilities are:
Increasing employee retention by rigorously maintaining a positive work environment
Developing targeted outreach recruitment programs to recruit the best talent and meet all departmental hiring requirements
Creating user-friendly application forms and questionnaires to be used by the organization during staff recruitment and interviewing.
Arbitrating labor disputes in collaboration with the legal department.
I consider myself to be a dedicated and dependable individual who possesses excellent verbal and written communication skills. I feel that a relationship with your company would be mutually beneficial, as my educational background, HR experience, and qualifications would make me a perfect fit for your Human Resources position, and would also allow me to refine my skills in a new working environment.
In closing, I would like to thank you for your time and attention, and I hope to have the chance to discuss the opening with you in person.
[Your Name]
Human Resources (HR) Cover Letter Writing Tips
Learning how to put together a cover letter for the specific job(s) you want will help you land more interviews.
You're probably familiar with the best practices to recruit talent, but do you need help showing off your own talents in a cover letter? Catch an HR recruiter's attention by presenting your HR skills in a well-written cover letter, and you won't be far from landing a spot on the other side of the hiring process.
Follow these three writing tips to write your own job-winning human resources (HR) cover letter:
1. Highlight your HR skills
An outstanding HR cover letter showcases HR experience, clerical knowledge, computer literacy, and most importantly, a passion for understanding a company's hiring objectives and improving its structural culture.
Because your duties can vary depending on your role within the department, focus on highlighting job-specific skills throughout your cover letter.
For example, if you're applying to be an HR representative, communication skills and attention to detail are essential for providing accurate information to employees and resolving any questions about a company's policies or benefits.
When discussing your HR background and work history in the cover letter body, include key HR technical skills to show employers you meet their basic requirements.
Here are important HR hard skills recruiters seek:
Data analysis
Applicant screening
Performance management
Clerical procedures (paperwork)
Employee relations
Employee onboarding
Background checks
Payroll ( Kronos Workforce Payroll )
Knowledge of company policies (employee benefits, compensation, and health regulations)
Accounting software ( Intuit QuickBooks and Sage 50 Accounting )
Human Resources Information System (HRIS)
In addition to proving you have the right skill-set, include a number of fundamental HR soft skills in your cover letter to show employers you're a strong candidate. Here are soft skills to complement your HR expertise:
Negotiation
Interpersonal skills
People skills
Active listening
Approachability
Critical thinking
Conflict management
Problem-solving skills
Collaboration
Here's a great example of how to mention these skills in your cover letter body:
My interest in this position stems from my belief that my combination of relevant staffing experience, communication skills, and high levels of organization make me a superb candidate.
You may also emphasize your hard and soft skills in bullet points like this:
To date, I feel my strongest abilities are: Increasing employee retention by rigorously maintaining a positive work environment Developing targeted outreach recruitment programs to recruit the best talent and meet all departmental hiring requirements Creating user-friendly application forms and questionnaires to be used by the organization during staff recruitment and interviewing Arbitrating labor disputes in collaboration with the legal department
2. Use the proper cover letter format
Because you work in HR, you're probably well aware of how competitive the job market is. To show employers you're capable of being on the other side of the hiring process, it's important to reflect a high level of professionalism with your cover letter. Use proper cover letter format to ensure your cover letter is neat, presentable, and optimized for easy readability.
Here's how to correctly format your HR cover letter:
Include a header with your full name, email address, and phone number
Choose a conventional cover letter font and set your font size at 10.5–12 points
Set your cover letter margins to 1"–1.5"
Sign off with a professional cover letter closing, such as "Best Regards," or "Sincerely,"
If you're applying to the job electronically, submit your job application in either PDF or DOCX format
3. Make sure your cover letter isn't too long (or too short)
As an HR professional, it only makes sense for you to consider your job application from an HR perspective. With countless job applications to screen through, recruiters will welcome a cover letter that isn't overly long — or short.
Avoid going into great detail with an essay-like cover letter, which may cause the hiring manager to lose interest before they finish reading through. However, a cover letter that's too short might give off the impression you didn't invest much time or thought into it.
To write a cover letter that appeals to employers, keep it straightforward and concise. The best cover letters are usually 250–400 words in length.
Here are ways to achieve the perfect cover letter length :
Include relevant information only. When hiring for an HR professional, recruiters seek people who can understand their recruitment goals and help them achieve their hiring objectives. To show them you're a perfect match, showcase job-specific skills and experience throughout your cover letter.
When detailing your HR background and work history, focus on your achievements rather than providing a job description
Use bullet points to list strong examples of your HR skills and achievements
Other Human Resources (HR) Cover Letters, Resumes, & CVs:
Cover letters:.
Recruiter Cover Letter
Entry Level HR Resume
HR Business Partner Resume
HR Coordinator Resume
HR Generalist Resume
Recruiter Resume
Click to rate this article
Related Articles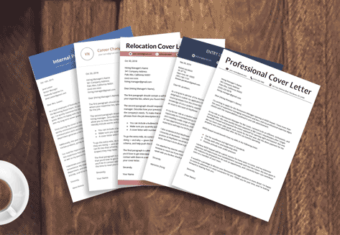 Cover Letter Examples for All Job Applications in 2023
February 2, 2023 | By Conrad Benz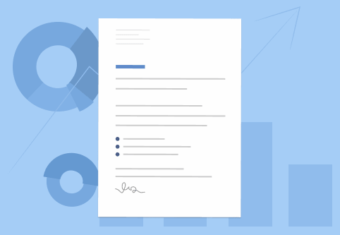 Cover Letter Statistics for 2023
January 12, 2023 | By Rebecca Tay, Ph.D.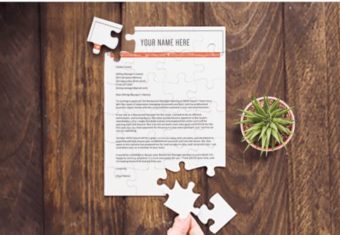 How to Write a Cover Letter for a Job
December 22, 2022 | By Ida Pettersson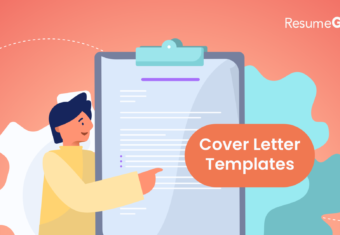 September 18, 2022 | By Pauline Delaney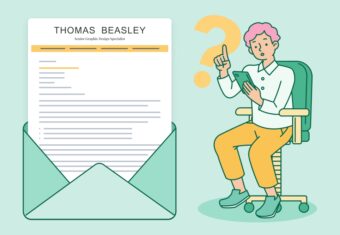 Are Cover Letters Necessary in 2023?
January 11, 2023 | By Corissa Peterson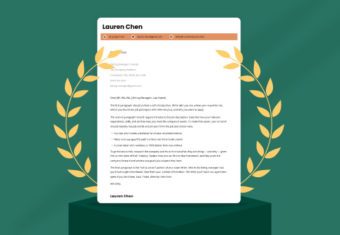 Best Cover Letter Examples of 2022 & Why They're So Good
May 18, 2022 | By Aaron Case, CPRW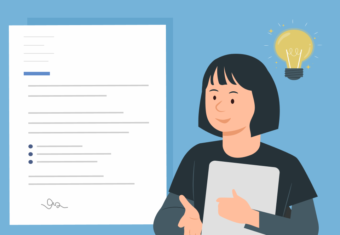 How to Write a Cover Letter With No Experience
July 26, 2022 | By Eva Chan, CPRW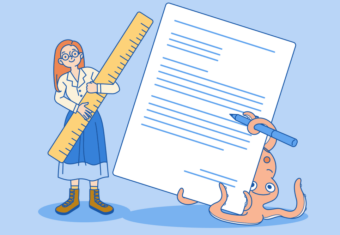 Cover Letter Format: How to Format Your Cover Letter in 2023
December 8, 2022 | By Emily Crowley
Resume Tools
Resume Builder
Resume Templates
Resume Examples
How to Make a Resume
Resume Format
Resume Summary Generator
Resume Help
Cover Letter Tools
Cover Letter Builder
Cover Letter Examples
How to Write a Cover Letter
Cover Letter Format
Cover Letter Help
What Is a CV?
How to Write a CV
CV Templates
CV Examples
Career Tools
Thank You Note Samples & Templates
Resignation Letter Samples
Letter of Recommendation Templates
Business Letter Formats
Career Advice
Forgot Password
Terms & Conditions
Privacy Policy
Accessibility
© 2023, Sonaga Tech Limited. All rights reserved
ResumeGenius.com is owned and operated by Sonaga Tech Limited, Hamilton, Zweigniederlassung Luzern with offices in Luzern Switzerland.
Cookie settings
This site uses cookies to ensure you get the best experience on our website. To learn more visit our Privacy Policy
Human Resources Cover Letter: Examples & Templates (2023)
I had an interview yesterday and the first thing they said on the phone was: "Wow! I love your cover letter." Patrick I love the variety of templates. Good job guys, keep up the good work! Dylan My previous cover letter was really weak and I used to spend hours adjusting it in Word. Now, I can introduce any changes within minutes. Absolutely wonderful! George
1. Human Resources Cover Letter Examples
Example #1: mid-level human resources candidate, example #2: human resources assistant cover letter (no experience), 2. how to write a cover letter for human resources jobs step by step (template), 1. format your human resources cover letter in a professional way, 2. list your contact information in the hr cover letter header, human resources cover letter header template, 3. identify the job you're applying to in your introduction, human resources cover letter sample: introduction, 4. showcase your relevant strengths, human resource generalist cover letter: middle paragraph, 5. tell them why they're special, human resources cover letter example: your motivation, 6. end with a clear call to action and a proper sign-off, sample cover letter for a human resources: call to action & formal closing, was it interesting here are similar articles.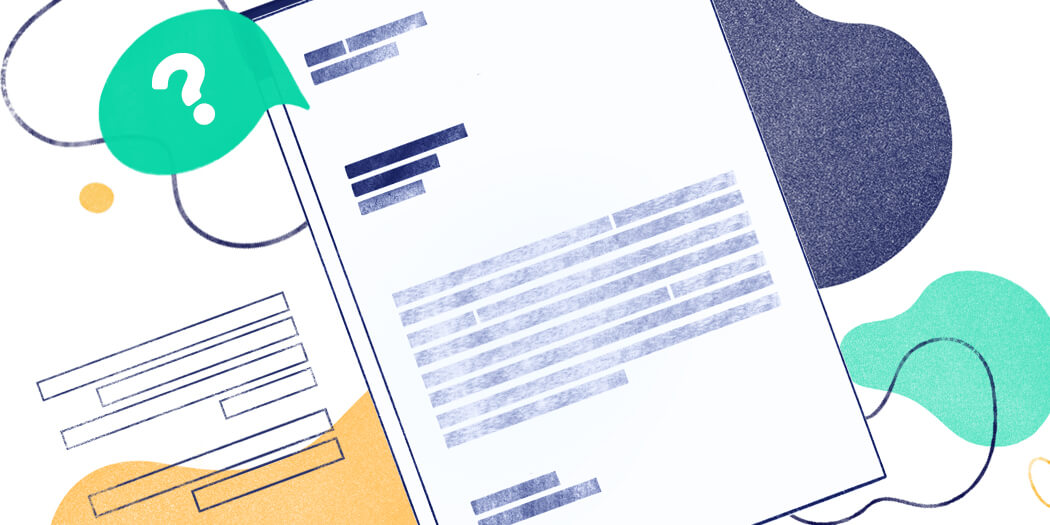 Is a Cover Letter Necessary in 2023? Do I Need a Cover Letter?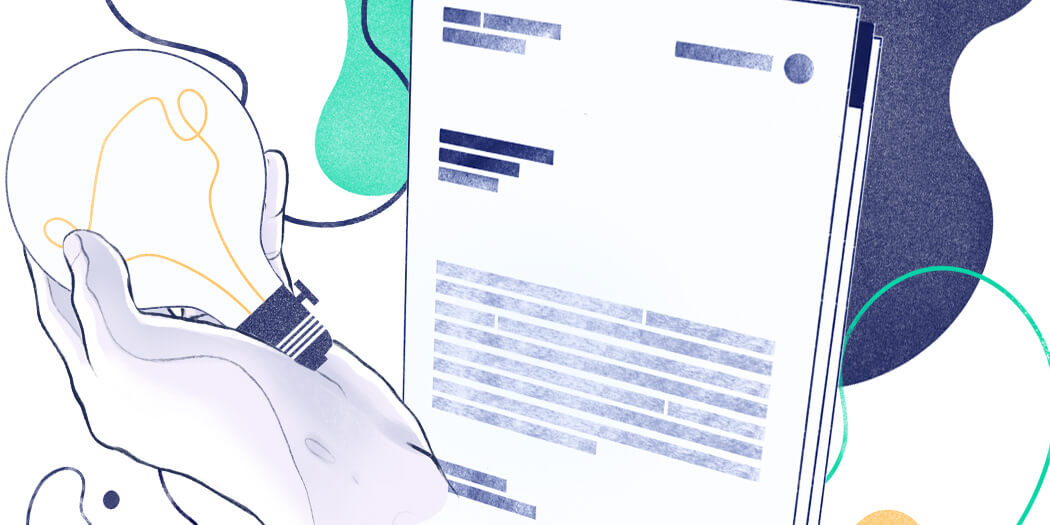 33+ Cover Letter Tips and Advice to Stand Out in 2023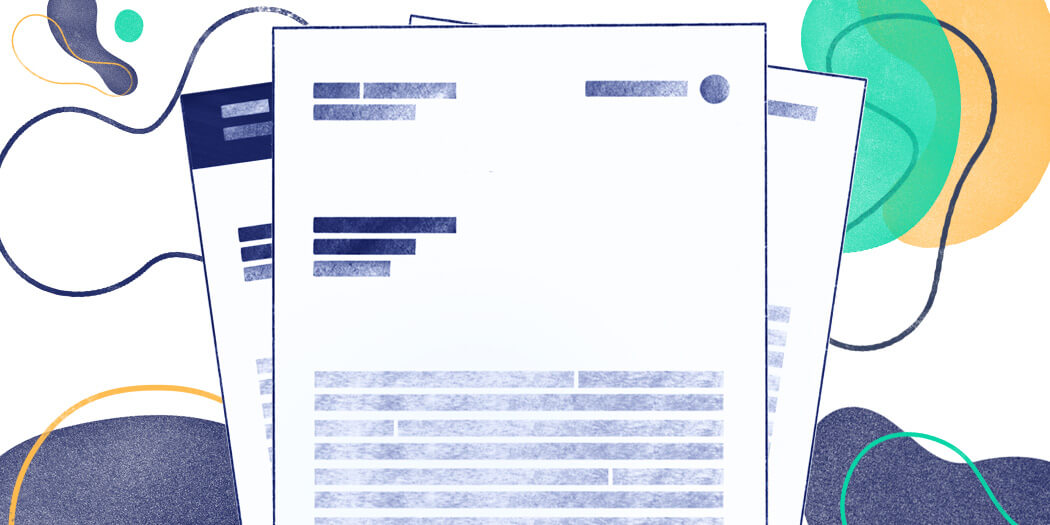 Entry-Level Cover Letter Examples & Writing Guide
3 Human Resources (HR) Cover Letter Samples, Tips—2023
Human Resources Cover Letter
Human Resources Manager Cover Letter
Human Resources Director Cover Letter
Write a Human Resources Cover Letter
As an HR professional, you know how to make employees and the corporation happy, especially when you bring in new talent. But even though you know the ins and outs of the hiring process, getting hired yourself is tricky.
It's maddening to fill out hiring paperwork and assess other candidates' job skills all day only to head home to perfect an HR resume , cover letter, and application for yours truly.
We understand that getting hired isn't easy—even if you're familiar with the process. Our guide, complete with three HR cover letter examples, will walk you through how to write a cover letter that will land you an interview and, hopefully, your dream job.
Human Resources Cover Letter Example
USE THIS TEMPLATE
Microsoft Word
Google Docs
Block Format
Why this cover letter works
Find a way to link the company to you. Derek does this by demonstrating values both he and the employer share, like his belief that employee relationships are at the heart of HR.
You can tell a short story, laugh at the witty HR job ad , explain how you found the company, or state your enthusiasm for the high-impact position.
Human Resources Manager Cover Letter Example
Don't be afraid to use a narrative style in your cover letters when it's applicable, especially if you've had a good experience with the company.
Aidan starts his cover letter with a story about how he visited PLANTA and later states how he's looking forward to "enjoying some amazing vegan meals."
Remember what you've written in your body paragraphs when writing your conclusion and support your points. Don't overthink it.
Human Resources Director Cover Letter Example
In your cover letter, address what the company offers, such as amazing software or a killer hotel experience, and express your wish to experience more of what makes them unique.
If you decide to implement this technique, pay attention to tone and word choice. You never want to make it sound as if the company was poorly managing its employees, even if that was the case.
For example, Julian explains Cedar Garland's need for updated procedures for experienced employees and how The National Hotel needed modernized programs for payroll.
Build your human resources resume for a complete application
Before we dive into the specific ways you can write your cover letter, don't let writing your resume slip through the cracks. We make it simple with professional resume templates just like this one.
Human Resources Resume
Need a resume to pair with your human resources cover letter?
or download as PDF
Write a Winning Human Resources Cover Letter
Writing a stunning human resources cover letter is difficult, so let's break it down into three simple factors: research, details, and presentation.
Step 1: Research the organization and its needs
As an HR professional, you know that reading generic cover letters is exhausting and annoying. They fail to show initiative or explain how the candidate will help you once they get hired.
So, in your cover letter, show you care about the company and can help them reach its goals. But you'll only know what to write once you know what the business wants.
Start by reading the human resources job description to get a feel for their personality. Then scan their website to find their mission statement, vision, and goals.
Assure the employer that you can deliver the results they desire by addressing their unique concerns and applying your relevant qualifications.
Step 2: Share the details about one or two accomplishments
As you know, reading redundant paperwork is a complete snooze-fest. So, your human resources cover letter can't be a repeat of your resume, or the recruiter will be snoring before they hit the second paragraph.
Think of your cover letter as a presentation. Pick one to two of your accomplishments that echo the job description's requirements and give the full scope of those experiences. You could:
This example stays focused on one goal or talent (photography/videography). Although the candidate could have just focused on responsibilities, they focus instead on how their efforts helped the company.
Address your work and successes in revamping the onboarding process for seasonal hires
Share how you listened to employees and made lasting changes via surveys, check-ins, evaluations, etc.
Talk about how you decreased the employee turnover rate
Step 3: Convey the right tone and a clear message
Your cover letter should strike a balance between unique and professional, personal but not sentimental. Easier said than done, right?
Start by limiting your cover letter to one page . Then you can start modifying your message. Present a logical argument with enough ethos (credibility) and pathos (emotion) to sell anyone on your skills.
Then adjust your tone. Your cover letter can be funny, heartfelt, or candid—but moderation is key. Let the job description help you choose your content, your words, and how you phrase your message. Most of all, shoot for a tone that matches the company.
Present a logical argument with enough ethos (credibility) and pathos (emotion) to sell anyone on your skills.
Don't despair if this is difficult; next up is revision, where you can fix any errors and tweak the content. Now is also a perfect time to let someone else read your cover letter to recommend improvements.
Outlining Your Human Resources Cover Letter for Success
Starting any project with a blank slate is intimidating, so use this HR cover letter outline to get you started on the right foot!
How to start a human resources cover letter
Your contact info: Give employers a helping hand and provide your contact information right from the get-go. List your name, number, email, and physical address right at the top of your cover letter template.
Formatting : If you're using a block format, only include your physical address, and save your name for the signature.
Date: Even in a virtual letter, you should include a date. It makes your cover letter look more professional, and it gives the hiring manager a timeline for your application.
Just make sure the date on your cover letter reflects the day you submit it, especially if you re-work your cover letters based on previous submissions.
Formatting : Write out the full date, e.g., January 5, 2023.
Inside address: Your address isn't the only one that matters; also include the inside address, aka the employer's address. It should have the hiring manager or recruiter's name, their title, and the company's physical address. This shows the employer you've researched their company and know to whom you're speaking.
If the company doesn't list its address or has multiple locations, check sites like LinkedIn, Glassdoor, and the company's website (you can also check Google Maps).
Min Ju Ha, Director of Talent Acquisition 50 Eggs Hospitality Group 7350 Biscayne Blvd Miami, FL 33138
Formatting : Each part of the address should be on a new line. Double space between the inside address and greeting.
Greeting: A polite greeting is always in vogue, so start your human resources cover letter with a formal, yet personal, salutation. Use the tried-and-true "dear," followed by "Ms." or "Mr." and the hiring manager's last name to avoid ruffling feathers (some businesses don't appreciate casual introductions).
Finding the person in charge of hiring can be a pain, but people love to be addressed by name, so it's worth it to spend the time to make a great first impression. Worst case scenario, address either the whole HR team ("Dear HR Hiring Team") or the department head ("Dear HR Manager").
Formatting : After your greeting, you'll need either a comma or a colon; a colon is the preferred business option, but if the business is more casual, you can get away with a comma. Let the job description guide you.
How to write your human resources cover letter
Body: This is the hardest part to get right, but we have you covered. First, focus on cutting your letter down to three to four short paragraphs.
Within those paragraphs, express your enthusiasm for the job, your qualifications, and your desire for future discussion.
Opening paragraph: Remember the last time you read a book that started like, "I am writing to inform you of my purpose, which is to write a really good book?" Yeah, us neither. Yet, most people begin their cover letters with similar statements that are polite but boing, like this:
I read your job post on LinkedIn, and I am eager to apply. This human resources director position sounds like a perfect fit for my experience, and I know I can help your department reach its goals. My years of experience in human resources and management makes me an ideal candidate.
This information might not be wrong , but it's vague and generalized—and like 95% of other cover letters in the stack of applications. A good opening is unique and exciting while still being formal. It should address the company and express personality immediately, like this opener:
Central New Mexico Community College's core values of connection, compassion, and inspiration resonate with my values as a human resources professional. Your unique value-based approach has unsurprisingly made CNM one of the top 5 community colleges in the U.S. That, combined with your defined vision plans, inspired me to apply because my work would make a concrete difference for students and staff.
From the start, this candidate explains what they appreciate about the company and how they align with its beliefs and goals.
Paragraphs 2-3: These paragraphs should provide evidence for your qualifications and dig deep into your achievements; it's time to define your part of the project and how you turned it into a success.
However tempting, don't try to tackle a job's worth of success. Your letter will just sound cluttered and unfocused. Instead, focus on one accomplishment at a time, and provide plenty of details about that experience.
I also have experience solving complex employee relations issues. As the HR manager with Cygna Labs, positive mediation was roughly 50% of my role. I investigated complaints, ensured compliance with legal employment requirements, and developed new policies and procedures. By the end of my position, our retention rate had increased by 45%, our human capital return on investment had improved by 23%, and the number of promoter-level NPS scores had increased by 42%.
Although 50% of their role focused on other tasks, this candidate only mentioned mediation/resolution and their successes with such.
Closing paragraph: Don't quit while you're ahead—finish strong with a closing paragraph that summarizes your values, qualifications, and eagerness for an interview. This can sound like a lot, but rest assured, it can be done.
Start with a sentence summary of what you value based on the work experience you've described and how that adheres to the company's values. Next, describe what you hope to accomplish in the position. Lastly, thank the employer and reassure them of your willingness to talk further.
Just remember: you are an ideal candidate, but you shouldn't sound like this:
As you can see, I have done everything you require (and more) at my previous jobs, which makes me the perfect candidate for this position. I know I can handle all employee relations responsibilities and ensure complete compliance as I have done at every HR job so far. Please give me a call or email at your earliest convenience; I look forward to making your day at my interview. 
Even if all this was true, it's self-centered and doesn't address the company at all. Instead, remind the employer of what they stand to gain when they hire you. Further establish how your goals align with theirs and what you'll do for their HR department.
I strive to improve the lives of employees by implementing modern practices and offering practical solutions to common problems. As your HR director, I desire to develop new training programs, ensure compliance, and increase employee engagement/satisfaction. Thank you for considering me for this position, and I hope to experience your restaurants first-hand soon.
This candidate explains their competency and their goals without sounding brash. It's a delicate balance, but we know you can find it!
Formatting : Single space in your letter but double space between paragraphs.
Signature: All that's left is to sign off and say "thank you" if you didn't in the closing paragraph. Use a professional closer along with your name.
Derek Annais
Formatting : If you're presenting any hard copies of your human resources cover letter, quadruple space at the bottom to leave room to sign your name.
Enclosure(s): Many people don't know about this section, but it's important. It lists the other documents you're submitting, reminding employers there's more to come. It also helps them keep track of what you've included.
HR positions usually require a job application and a resume, but some also require a supplemental questionnaire or references. Carefully scan the job description and application to make sure you provide everything requested.
Enclosures: Resume Application
Formatting : Use the singular or plural form of "enclosure" depending on how many documents you're enclosing. Most of the time, it will be plural, but you should check it every time.
Is Your HR Resume on Par with Your Cover Letter?
Now that you've written your human resources cover letter, you'll likely want to hit "submit" immediately. But don't forget you still need to outline your resume and polish it to shine.
You have a great persuasive argument, aka your cover letter, but you still need a document that quantifies your work experience, aka your resume. When combined, they paint a glowing picture of your career.
Want to know how to make your HR resume just as impressive as your cover letter? A look at our  resume examples  will give you the boost you need, and you can even edit this HR resume directly. 
Human Resources Director Resume
Need a resume to pair with your human resources director cover letter?
If you've already started, try out our resume checker to get AI-powered advice to make your resume the best it can be.
Now go snag the dream job you've always wanted!
Human Resource (HR) Executive Cover Letter Example
Career Guides
Cover Letter Samples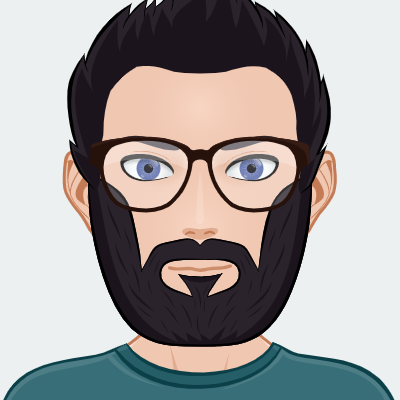 Sashika Dilshan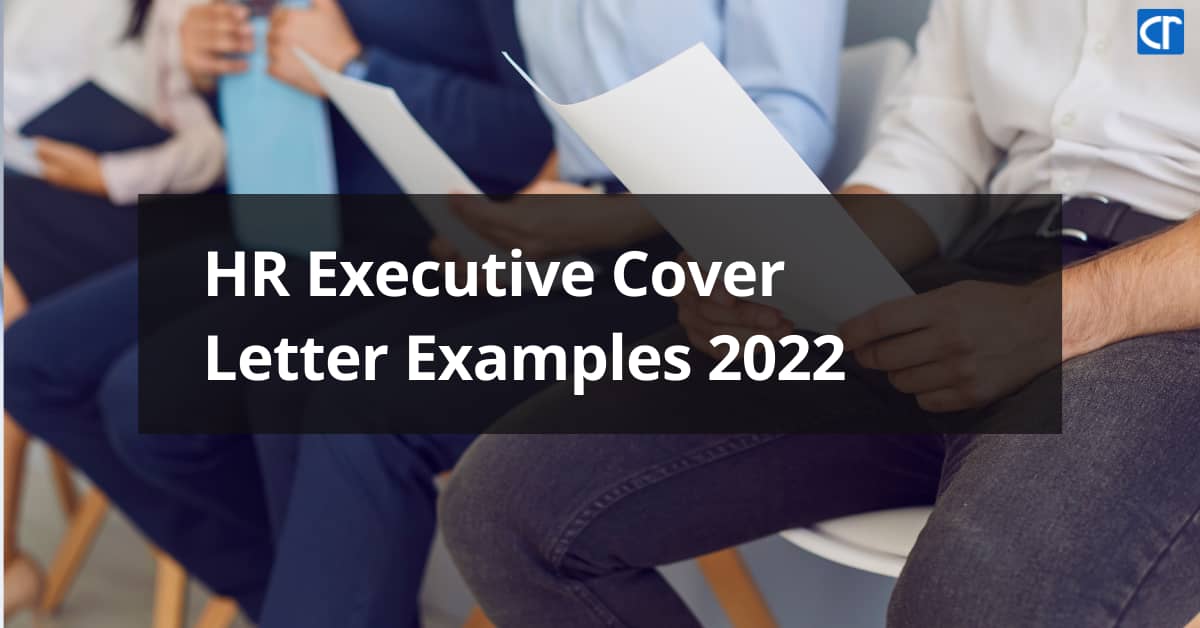 HR Executives' major role is to hire the best talents into their organization and satisfy the existing employees. They are mostly responsible for human resource functions in an organization. So, as you are going to apply for a very responsible job, you as an HR candidate should be brilliant personnel with a brilliant human resource executive cover letter to win the job.
Sample Human Resource (HR) Executive Cover Letter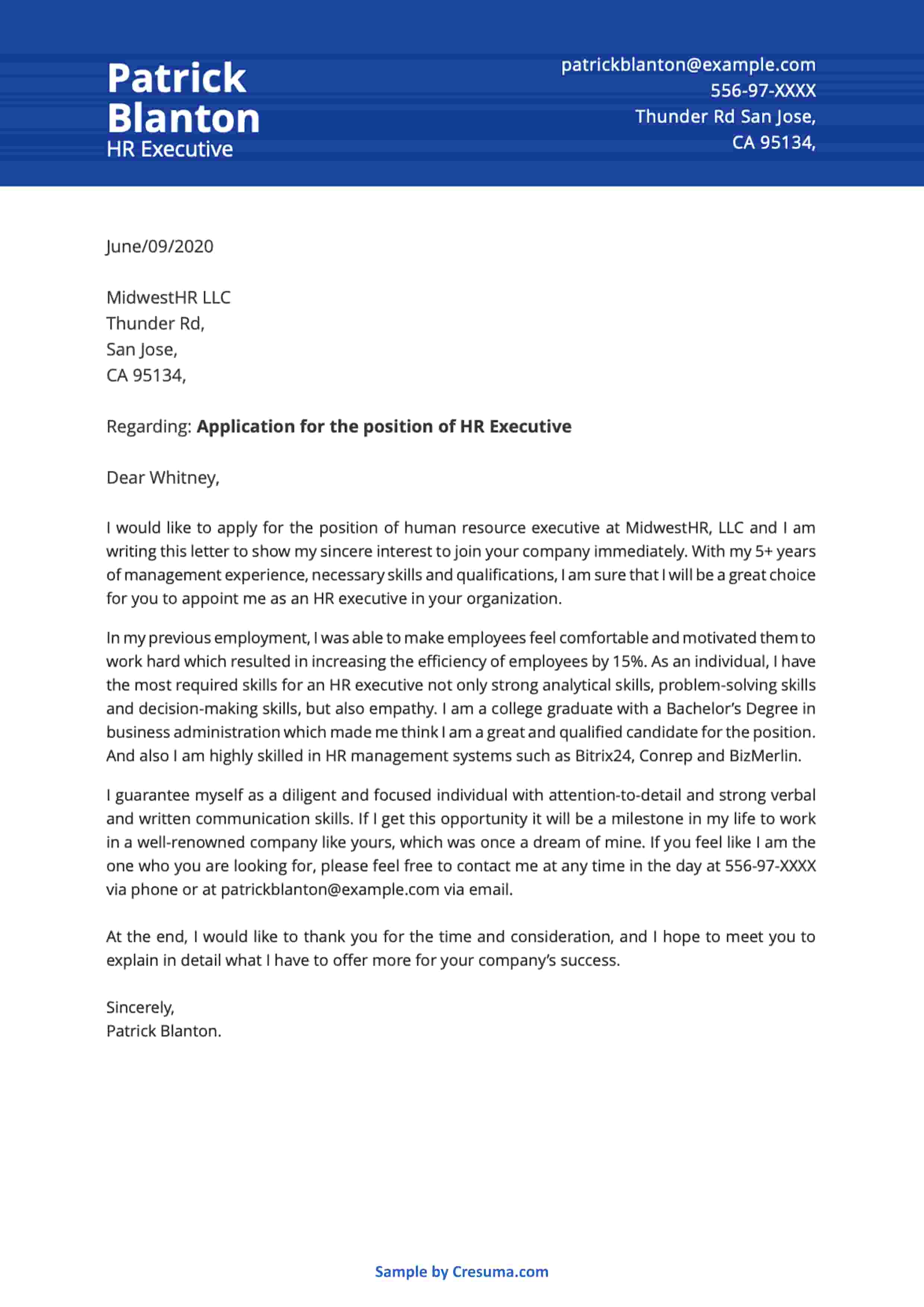 HR Executive Cover Letter Example (Text Version)
Patrick Blanton, Thunder Rd, San Jose, CA, 95134. 556-97-1234 [email protected]
Whitney Markey, Hiring Manager, Midwest HR LLC, Fresno, CA, 76102.
RG: Application for the position of HR Executive
Dear Whitney,
I would like to apply for the position of human resource executive at Midwest HR, LLC and I am writing this letter to show my sincere interest to join your company immediately. With my 5+ years of management experience, necessary skills and qualifications, I am sure that I will be a great choice for you to appoint me as an HR executive in your organization.
In my previous employment, I was able to make employees feel comfortable and motivated them to work hard which resulted in increasing the efficiency of employees by 15%. As an individual, I have the most required skills for an HR executive not only strong analytical skills, problem-solving skills and decision-making skills, but also empathy. I am a college graduate with a Bachelor's Degree in business administration which made me think I am a great and qualified candidate for the position. And also I am highly skilled in ERP payroll software and HR management systems such as Bitrix24, Conrep and BizMerlin.
I guarantee myself as a diligent and focused individual with attention-to-detail and strong verbal and written communication skills. If I get this opportunity it will be a milestone in my life to work in a well-renowned company like yours, which was once a dream of mine. If you feel like I am the one who you are looking for, please feel free to contact me at any time in the day at 556-97-1234 via phone or at [email protected] via email.
In the end, I would like to thank you for the time and consideration, and I hope to meet you to explain in detail what I have to offer more for your company's success.
Patrick Blanton.
Get Custom HR Executive Cover Letter
As stated, this article provides a unique cover letter sample and tips to write a cover letter for the HR Executive field. However, you can also create your own cover letter by downloading cover letter samples here for free. And if you require a professional to write your cover letter, you can request a custom cover letter in multiple formats for $4.99
Please continue with Paypal / Credit card for our specialist Premium Cover Letter Builders to work on customized HR Executive Cover Letter exclusively for you.
Free Cover Letter
By choosing this, you will get a pack of free cover letter samples to download in different formats (eg.doc. pdf.txt) for FREE and create your own by editing.
Customized Cover Letter
You will have a cover letter uniquely written by one of our cover letter experts. This will increase the chance of your resume being picked by recruiters in 80%
Human Resource (HR) Executive Cover Letter Tips
You must have good knowledge of writing cover letters as you are going to apply for an HR position. And also, if you don't have an impressive cover letter specifically targeted to the HR Executive job, you will be in danger of losing your job opportunity. So it's always important to know great cover letter tips that can be helpful to make your job search a success. Here are the most important tips to make your HR cover letter stand out from the crowd.
Tip #01 – Address to the right person and the right company
Addressing the wrong person when writing a cover letter will be a serious issue. Therefore, you need to address the cover letter to the exact person who will read it.  You may find the name of that person by contacting the company, or by research.
Tip #02 – Start with an enthusiasm
Show your passion and excitement for being an HR executive in the company by showing your knowledge of that company and the work environment. Tell the recruiter by providing some proof that you have done the company research. By this way, you can let the recruiter feels that you are a passionate candidate.
Tip #03 – Prove yourself as a best HR Executive
It's great to tailor your cover letter specifically to the job advertisement. What you can do for this is personalize the cover letter with keywords and key phrases from the job description. Then also try to mention specific skills to your cover letter so you can use your expertise to impress the recruitment manager. Here's the list of skills most in demand for an HR executive role.
Accountability skills
Customer service skills
Excellent written and verbal communication
Interpersonal skills
Leadership skills
Organizational skills
Performance management
Presentation skills
Project management skills
Time management skills
Familiarity with Human Resources Information Systems (HRIS)
Tip #04 – Use Action Verbs in your Human Resource Executive Cover Letter
When you write your job description with the key accomplishments don't forget to start those with some powerful action verbs . And you must be wise enough to place the correct action verb in the right place. Further, you can make your cover letter stand out by quantifying your performances and results. This is one of the best ways to impress a typical recruiter. Here is the best set of action verbs which you can use in an HR executive cover letter.
Coordinated
Facilitated
Interviewed
Tip #05 – Grab the recruiter's attention with a great postscript
Many of the candidates do not include a postscript in their cover letter, even though it is a brilliant hack. Postscript is a brief paragraph that you should write at the bottom of your cover letter. That may be something which increases your value or else something about you can give the employer in return for having you the job.
The aim of writing a postscript is to draw the recruiter's interest in us. As far as hiring professionals are interested in reading this, there is a higher possibility of getting a successful job sooner for applicants than for others who do not have a postscript in the cover letter.
Tip #06 – Choose a professional font
When you apply for a Human Resource Executive position, you can submit your cover letter while retaining your professionalism. So always create your cover letter with one of the suggested resume fonts like Calibri, Lato, Open Sans are some of the best fonts that can be used in your cover letter.
Though now you have a full understanding of how to write a perfect cover letter, it is equally important to know how to craft a perfect resume . for an HR executive position.
Download Free HR Executive Cover Letters
Find the available free templates and download Gdoc, Word (docx) or PDF files for free.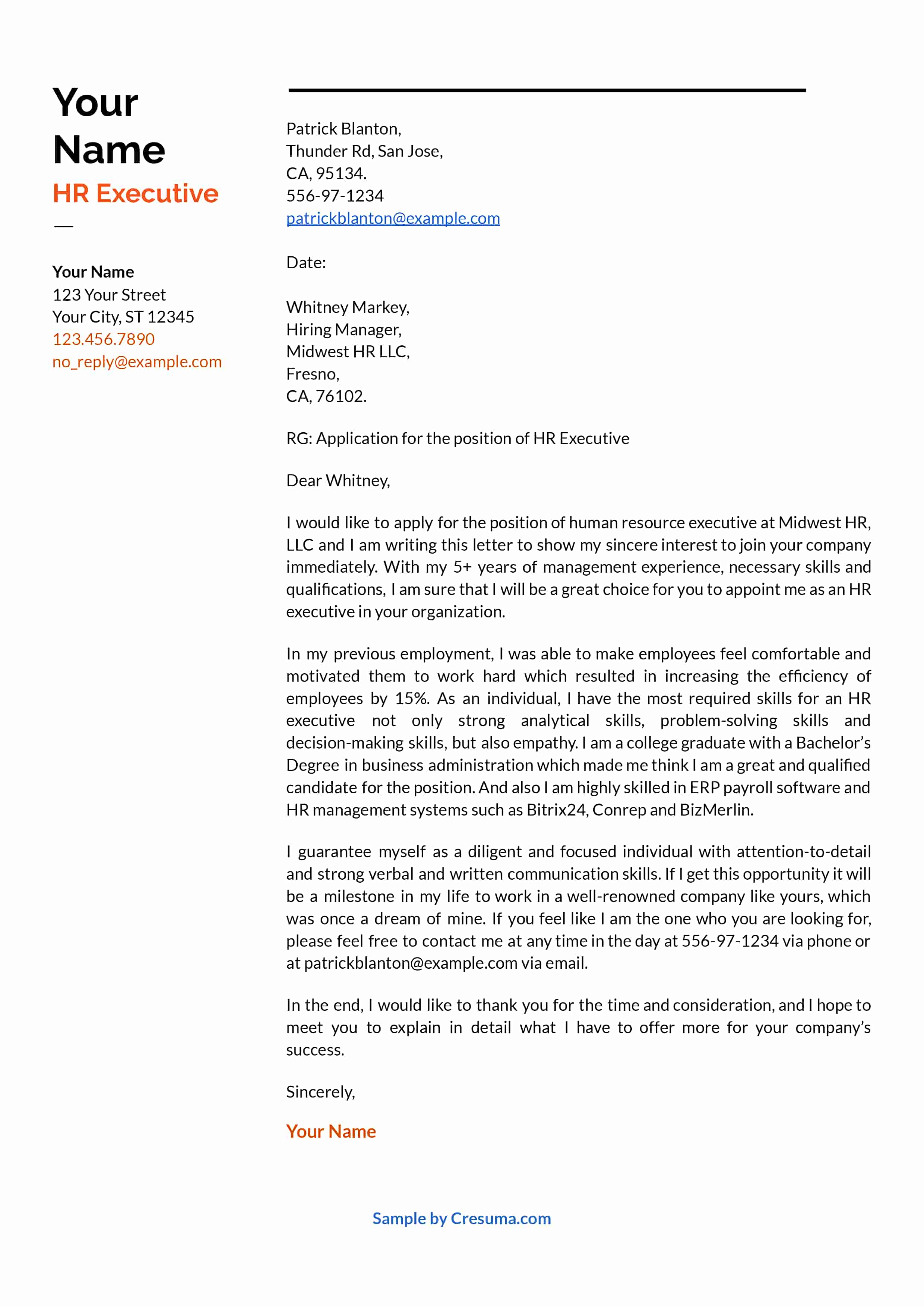 Now you know how to make a perfect cover letter for an HR Executive job. Now it's your turn to learn the expert cover letter tips . and shorten your job search cycle.
Looking for a custom cover letter? Get unique one crafted specially for you from Cresuma experts
People who read this article also read: Top 7 Hacks to Tweak your Resume Instantly
HR Executive Resume Example
Want to see cover letter examples for other job positions and industries, head over to Cover Letter Samples 2023
Enjoyed Reading?
Help Cresuma cover the server and other costes to continue this 100% Free Service. Show your support below.
Sign up for more like this.
Privacy Policy
Term & Condition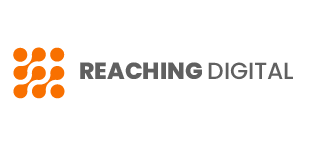 Home » HR Cover Letter: 09 Samples & Examples ideas
HR Cover Letter: 09 Samples & Examples ideas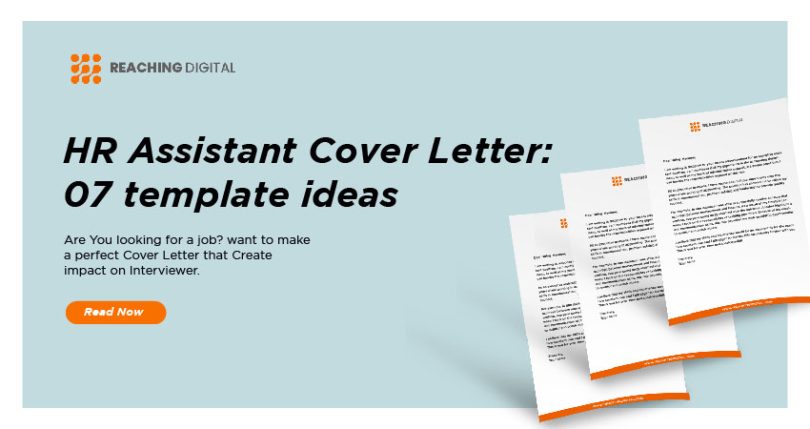 In order to apply for most jobs, you will be required to submit a cover letter with your resume. A cover letter is like a sales pitch – it's your opportunity to show the employer why they should hire you. In most cases, your HR Cover Letter will be the first thing an employer sees, so you want to make sure it's strong and engaging.
When writing a cover letter for a job in HR, it's important to be specific and highlight your skills and qualifications. Chances are there are many other candidates vying for the same position, so you want to make sure your letter stands ou t. Check out these 09 samples and examples to get ideas on how to write your own letter. Each sample is unique, but they all share some common elements that will help you create a strong letter. Be sure to personalize each letter to fit the specific job opening, and don't forget to proofread before sending! Good luck with your job search!
It's no secret that writing a strong HR cover letter is key to landing your dream job. But what exactly goes into a great cover letter? And where do you start? In this blog post, we'll walk you through the basics of writing an HR cover letter, as well as give you some examples to help you get started. So read on for all the info you need to create a stunning and attention-grabbing HR cover letter!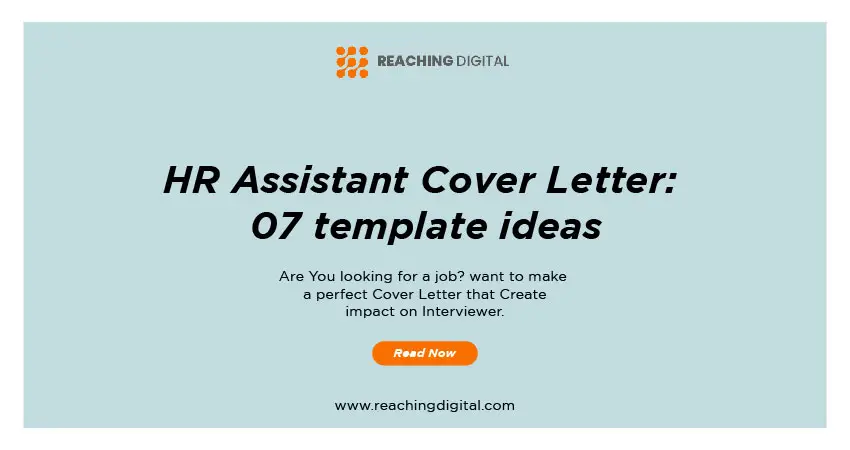 Table of Contents
Human Resources Cover Letter
Dear Sir/Madam,
I am a hardworking and diligent man who is looking to begin a career in human resources. Throughout my education I have been involved in many clubs that have required me to interact with numerous people from different cultures, backgrounds, and skill sets. Being able to manage teams of individuals has always been one of my strong points as proven by the fact that I served as a peer tutor and represented my institution in quite a few different international and domestic academic competitions.
I am confident that I would be able to adeptly handle this position with ease. If you have any questions, please feel free to contact me at your earliest convenience. Thank you for your time and consideration.
Sincerely, Name, Email, Address, Contact #
Cover Letter for HR Job
Respected Sir,
I am highly capable and can deliver better results. So, I have extensive experience in sales and marketing industry. I have been working as a sales executive for the past seven years. Within this period, I have successfully managed to achieve the target of our company for three consecutive years.
Having a team management experience of around five years, my ability to understand and adapt to any position or task is something that I am admired for. My communication skills and discretion will help you in working as a part of the team.
Nowadays, with great advancement in technology, it has become easy to access information about almost everything. With experience on using internet tools such as Google Analytics, SEO, WordPress and social media tools such as Twitter, Facebook etc., I am confident enough to say that no business can now prosper without using internet marketing techniques. My knowledge on this subject will help you generate leads for the company.
Ultimately, being able to use my communication skills and professionalism within a work environment will be an asset to your company. I look forward to sharing with you my competence and expertise.
Thanks for your time.
Yours faithfully, Name, Email, Address, Contact #
HR Manager Cover Letter
I'm writing to express my interest in the Marketing Expert position advertised recently on Indeed.com. In the course of a sixteen-year career as a marketer I have acquired thorough understanding of digital marketing, lead generation, direct marketing and data analysis.
I'm confident t writing to express my interest in the Sales Associate position advertised recently on Indeed.com . In the course of a nine-year career as a sales consultant I have acquired thorough understanding of customer relationship management, lead generation, direct marketing and competitor analysis. As for lead generation – I have proven track record of developing paid acquisition strategies to achieve impressive ROI across a number of channels.
As you can see________ is from the attached resume, hard work and dedication have been key aspects of my career thus far. I am inspired by new challenges and opportunities that help me develop my skills further in an industry that intrigues me.
So, I would be happy to provide any references or additional information to support my application- simply contact my references on LinkedIn, or via email.
I look forward to hearing from you to discuss the Marketing Expert role at your company in greater detail. I can be reached on 555-555-5555. Thank you for your time and consideration.
Best regards, Name, Email, Address, Contact #
Letter to HR Manager for Job Application
I have seen your advertisement for the post of HR Executive in one of the leading newspapers. I am writing to you with reference to the job posting.
As you are looking for a HR Executive, I feel that my experience and skills can be best utilized by your company. My experience over the past few years has been related to recruitment of staff for different companies. I have full faith in the work that I will be doing for your organization, if given an opportunity.
My work involved the following:
Tracking and updating leads through various social media platforms (including LinkedIn) and call tracking software; making sure they were contacted within a timely manner and educated about company services;
Handling incoming phone calls from potential clients – taking down information and providing quotes;
Engaging with existing clients on social media platforms to find out feedback on services and products, as well as provide help and support on using company's website or tools. Also, I was responsible for suggesting new features or services that potential clients might be interested in.
The resume that is attached with this letter supports my candidature. I hope to hear from you soon
Cover Letter for HR Position
I'm writing to apply for the position of Human Resources Administrator recently advertised on your website.
I feel that this role would provide me with ample opportunity to utilize my experience in HR processes, while developing other key areas of the business. These are outlined below.
Responsibilities Include:
Coordinating payrolls for fixed term contract employees;
Completing compliance review forms;
Data input into recruitment software to ensure compliance with the Employment Equity Act;
Organizing an internal display to award winners of your "Excellence in Teamwork" campaign.
Developing HR policies and procedures manuals;
Amending employment contract templates to meet new legislation.
During my time as a Human Resources Officer at ABC Ltd, I gained valuable experience in mitigating labor disputes between staff and management. While these were often emotionally charged situations, I always strove to minimize the impact of such incidents on the business.
I am looking forward to discussing the position with you further.
Cover Letter for HR internship
Please accept my application for the Human Resources Administrator position advertised on your website recently. I possess excellent communicative skills and organizational abilities. As such, I believe that i would be an asset to your company. I have enclosed my curriculum vitae for you to review.
I understand that the position requires a high level of accuracy and attention to detail, but i also know that it is important to keep one's mind open to new ideas and alternative ways of doing things. This is something I believe i would bring to the role.
In addition to my current position, I am a part-time student pursuing Bachelor of Business Administration at Victoria University of Wellington. This qualification will allow me to gain a more in depth understanding of the issues surrounding personnel management, which i believe is crucial for this industry.
I would welcome the opportunity to meet with you and discuss how my skills and experience can benefit your company. Please feel free to contact me at any time or to arrange a suitable meeting time. I look forward to hearing from you soon.
Sample Cover Letter for HR Position
I am currently looking for a new position in the Human Resources (HR) department. I was very excited when I saw your posting on Monster and wanted to make sure you received my resume right away.
As you will see from my attached CV, I have 7 years of experience in HR positions with international organizations. During that time, I developed a strong understanding of all aspects of HR and was able to use my skills and qualifications to benefit each company I worked for.
My education and proactive approach make me the ideal candidate for this position. If you would like, we can set up a time to talk on the phone so that we may discuss how we can work together.
I look forward to hearing back from you and please do not hesitate to contact me if you have any questions.
Cover letter for HR Position With no Experience
Please accept my application for the position of Personal Assistant as advertised on your website. I am really excited about this opportunity and I believe that my experience would make me the best candidate for this job.
I consider myself to be a hard-working person who gets on well with others. My CV is enclosed for your review. Thank you very much for taking the time to read my letter and look at my resume. If you need any further information, please do not hesitate to contact me.
I look forward to meeting you in person. Thank you for your time and consideration,
Kind regards, Name, Email, Address, Contact #
HR Cover Letter no Experience
It brings me immense pleasure to be applying for the post of "Trainee HR Executive" open in your esteemed organization (Name of Organization). I am confident that I will be able to contribute my best towards the organization's growth and expansion.
So, I hold a Bachelor's degree in Commerce with first division from an accredited academic institute (Name of Institute). I have a good command over MS Office and can easily learn new software's. During my tenure at college, I was the President of "Fashion Club" and Vice-President of "Cultural Affairs".
I would also like to add that in my previous company (Name of Company), I worked as a part time HR executive.
I will be waiting eagerly to work with you and your esteemed team. Thanking you!
Yours Sincerely, Name, Email, Address, Contact #
That's it! We hope these HR cover letter samples and ideas have been helpful. Now it's your turn to put your own spin on things and create a document that will make you stand out from the competition. Remember, the goal is to demonstrate how you can solve the company's specific HR needs, so be sure to do your research ahead of time. And as always, let us know if you need any help getting started. We love hearing from our readers and are always happy to offer advice or answer questions. So what do you think? Are you ready to write your very own HR cover letter? If so, we wish you luck and look forward to seeing your finished product.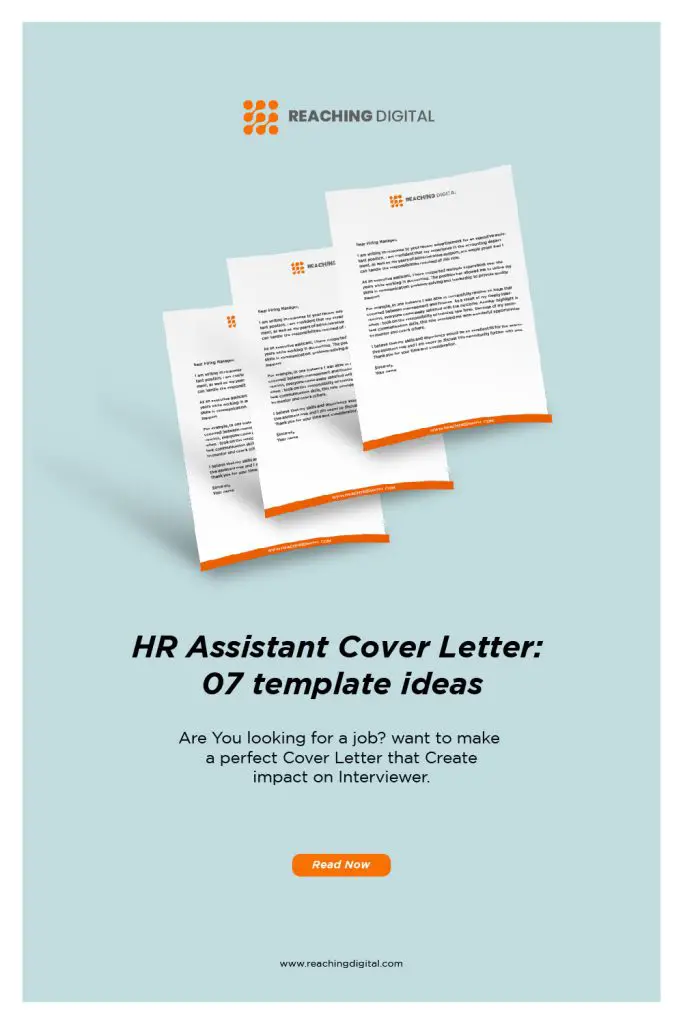 You may also like

Cover Letter for Ph.D. Application: 5 Template ideas

Customer Service Representative Cover Letter: 09...

Waitress Cover Letter: 07 Template Ideas

Computer Science Cover Letter: 05 Ready Template

9 Best Associate Cover Letter Samples [Free]

Creative Inspiring Cover Letters: 7+ Template
About the author.
administrator
Leave a comment x.
Save my name, email, and website in this browser for the next time I comment.
How to Write a Great HR Cover Letter
Members may download one copy of our sample forms and templates for your personal use within your organization. Please note that all such forms and policies should be reviewed by your legal counsel for compliance with applicable law, and should be modified to suit your organization's culture, industry, and practices. Neither members nor non-members may reproduce such samples in any other way (e.g., to republish in a book or use for a commercial purpose) without SHRM's permission. To request permission for specific items, click on the "reuse permissions" button on the page where you find the item.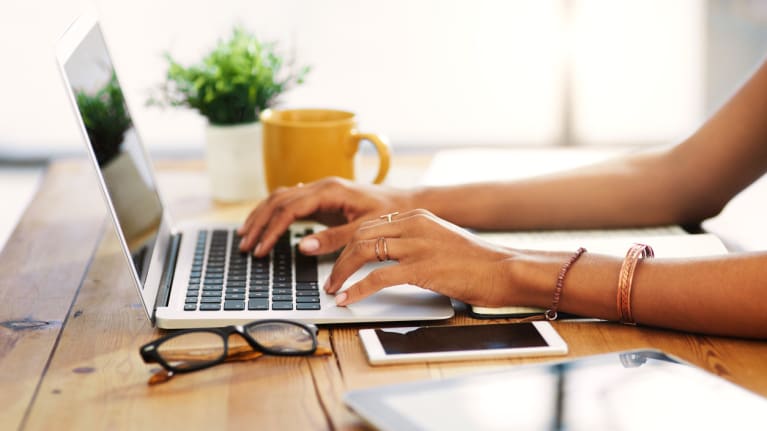 ​While you might read hundreds (or thousands) of cover letters as part of your HR job, it can be a challenge to write one of your own. Where do you begin? What should you include? How do you get someone to read it carefully? And probably the most important question: Do you still need one?
The answer is yes . A cover letter is still an important tool in an effective job search. The cover letter's job is to give the reader specific information tailored to the open position. It is also the perfect place to show passion for your career. You want to go above and beyond what's on your resume by giving a personal touch to your achievements and stories of success.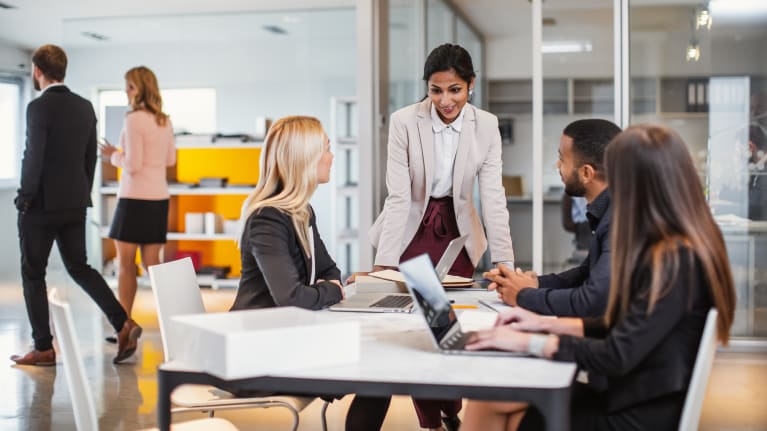 You're likely familiar with the basics of a cover letter. You should have a strong opening that highlights an accomplishment, talks about your excitement for the job or shares a networking connection. The body should showcase your most relevant stories of success and skills (using either paragraphs or bullet points), and your closing should thank the reader for their time. But a cover letter is also an opportunity to stand out by tailoring your message.
What follows is an overview of the various types of cover letters, how to decide which one you should use and how to best personalize your cover letter to capture your reader's attention.
Types of Cover Letters
Did you know there are many types of cover letters? You're likely familiar with the traditional cover letter that responds directly to a job posting, but there are actually several versions you might need to utilize in your job search. Some of the more common types include:
Job-Posting Reply Letters
Your "normal" cover letter. This cover letter is tailored to a specific job posting and company.   Key Tip: Focus on demonstrating why you are the best candidate for the role by showcasing specific skills and achievements tailored to the open position.
Cold-Call Letters
A letter used to reach out to a company or recruiter to explore potential opportunities. You're not responding to a particular job posting but instead introducing yourself to a company you'd like to work for.   Key Tip: A cold-call letter needs to grab the reader's attention. Consider a powerful first sentence highlighting your best result or answering a specific problem: "Does your organization need a proven diversity and inclusion expert with 20+ years of experience?"
Recruiter Letters
A recruiter letter is simply a letter sent to a recruiter or search firm. You'll use this kind of letter when you want to respond to job postings placed by a search firm or to explore potential roles the recruiter is trying to fill.
Key Tip: Similar to a traditional cover letter, you'll want to talk specifically about your best achievements related to the job you're targeting.
Networking Letters
This letter's purpose is exactly as it sounds: to network with a colleague, an acquaintance, a former manager and anyone else who can help your search.
Key Tip: Immediately let your contact know why you're reaching out and how they can help you. Are you seeking a recommendation? A new connection to get your foot in the door at a company? Keep the letter brief and to the point.
Should You Write an E-Note or Traditional Letter?
An e-note is simply a letter sent in the body of an e-mail rather than a stand-alone letter in a separate attachment. There's no need to let the recipient know you're enclosing a cover letter—just write it in the e-mail itself.
An e-note is shorter than a traditional cover letter attachment and doesn't have the normal heading (with your name, contact info and formatting that matches your resume). Both an e-note and a traditional cover letter should be customized to the job and focused on your achievements.
In most cases, an e-note is the best approach with just a few exceptions. If you're submitting your documents to a database or e-mailing a top executive (like a CEO or member of a board), you'll still want to use the traditional cover letter. If you're simply e-mailing your resume, use an e-note instead.
Key Tip: I recommend writing a traditional cover letter and then copying and pasting the body of the letter when you need to use an e-note (simply remove the format/heading). Then read through it to make sure it isn't too long for an e-mail.
Write Separate Cover Letters for Specific Jobs
There's no doubt that an effective cover letter needs to be written for individual jobs and companies. But how? Focus on your best achievements, relevant skills and something that the resume may not have: a personal touch!
Look through your resume for some of your best stories and proudest moments. Maybe you reduced the average time-to-hire by weeks or lowered the monthly health insurance premiums by 36 percent. Consider using these results within your cover letter by sharing the story in detail, with information on how you went above and beyond.
Also, consider showcasing your best skills, whether they are talent sourcing, creating job descriptions, preparing budgets, onboarding, benefits coordination, project management or any other HR-related function. Don't forget about leadership, mentoring and training—key skills for many HR positions. You can also share your relevant education, training, certifications, credentials and organizational activities, including being a member of the Society for Human Resource Management (SHRM).
Lastly, don't forget the human touch. Write about why you are passionate about what you do. Why do you love HR? What skills are you fantastic at? Why are you the perfect fit for this role? How can you help transform the organization's HR efforts?
The best piece of advice when writing a great cover letter is to tailor it to your goal . Think about your best, most relevant skills and achievements that you want to showcase. Then add a personal touch about why are you excited about this opportunity. Taking a few minutes to customize your cover letter will improve your chances of achieving your goal: to earn an interview.
DOWNLOAD A SAMPLE COVER LETTER
Laura Fontenot, ACRW, CPRW, is an award-winning expert resume writer who has helped thousands of clients excel in their job search for more than 15 years. She offers a complimentary resume review at www.masterworkresumes.com and at linkedin.com/in/laura-fontenot-acrw-cprw .
You have successfully saved this page as a bookmark.
Please confirm that you want to proceed with deleting bookmark.
You have successfully removed bookmark.
Delete canceled
Please log in as a SHRM member before saving bookmarks.
Your session has expired. Please log in as a SHRM member.
Please purchase a SHRM membership before saving bookmarks.
An error has occurred
Email A Friend
Shrm hr jobs, hire the best hr talent or advance your own career..
Most popular

Member Benefit: Ask-An-Advisor Service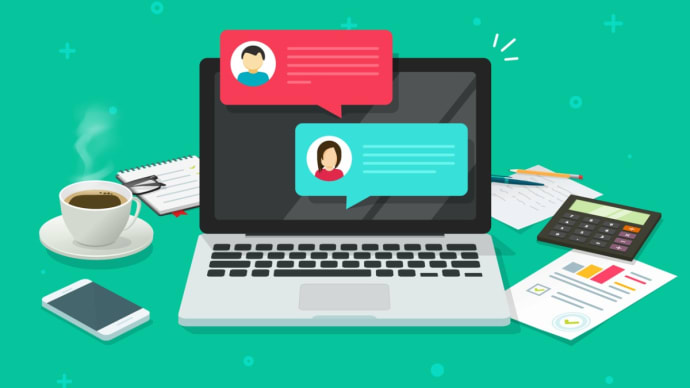 SHRM's HR Knowledge Advisors offer guidance and resources to assist members with their HR inquiries.
You may also like
Interview Guide Builder
Student & emerging professional resources, ask hr: is it a problem if all of my workers are the same age, ask hr: should job applicants disclose criminal convictions, sponsor offers, hr daily newsletter, join the conversation.
Bylaws & Code of Ethics
SHRM Executive Network
SHRM Global
Linkage, Inc.
WORK AT SHRM
Career Opportunities
SHRM Foundation DONATE
WORK WITH SHRM
Speakers Bureau
Copyright & Permissions
Advertise with Us
Partner with Us
Find an HR Job
Privacy Policy
Your California Privacy Rights
Terms of Use
Accessibility
Page Information
Page Properties
Skip to main content
Skip to primary sidebar
Human Resources Cover Letter Examples
Benefits Administrator Cover Letter Example
Benefits Analyst Cover Letter Example
Benefits Specialist Example
Compensation and Benefits
Corporate Recruiter Example
Information Technology
Media & Entertainment
Human Resources Advice
Create My Cover Letter
As an HR generalist, you'll be helping people find the jobs they want, and companies find the qualified workers they need. To get hired as an HR generalist, a solid cover letter is essential, and our cover letter examples can help. Designed to show what hiring managers are expecting from an HR generalist cover letter, these cover letter examples are the perfect starting point for creating your cover letter. Click on any of the samples shown here to start now.
Cover Letter Tips for Human Resources
Just as with a job hunt anywhere, looking for employment in [industry] is much easier when you follow these tips for a successful job search.
Take charge of your search. Don't wait for jobs to come to you; get out and find them. Your chances of success depend on your ability to take a commanding lead and work till you find a new position.
Mentally prepare for disappointment. If you aren't expecting success, you won't be too let down if it doesn't happen. Positivity can keep you going long enough to find that perfect job.
Consider how you can benefit a company. Coming up with ways you can increase revenues or decrease costs will make you a more valuable employee and likely hire.
Have a plan to generate funds while you're on the hunt. Use online sources to freelance your skills or advertise your abilities in the local paper. This may help you gain experience and could even lead you to a full-time position.
Talk more. Ask questions to everyone you know and tell them you're searching for a job. Make a point to request advice from those within your industry and be sure to listen to their responses.
Human Resources Job Seeking Tips
Once you've put in the hard work of finding jobs in [industry] that you can apply for, don't ruin your chances by submitting a poorly written cover letter. This is a vital time to put your best foot forward and show what you are capable of, so be sure to follow these guidelines to create a winning cover letter and secure an interview.
Make sure the education section is properly ordered. The name of the degree always goes first, with the most recent one at the top of the list.
Don't skimp on information about your education. Include specialized courses and any minors.
Order points chronologically in the experience section.
When listing work experience, place job title first, followed by subheadings with company name, city and state. Follow this with the dates of employment and a bulleted list of accomplishments.
Use action verbs in your job experience as well as other accomplishments.
Human Resources Cover Letter
Benefits Administrator Cover Letter
Benefits Analyst Cover Letter
Benefits Specialist Cover Letter
Compensation And Benefits Manager Cover Letter
Corporate Recruiter Cover Letter
Employment Advisor Cover Letter
Administrator Cover Letter
Analyst Cover Letter
Assistant Cover Letter
Business Partner Cover Letter
Consultant Cover Letter
Coordinator Cover Letter
Director Cover Letter
Executive Cover Letter
Trainee Cover Letter
Specialist Cover Letter
Generalist Cover Letter
Manager Cover Letter
Officer Cover Letter
Organizational Development Manager Cover Letter
Recruiter Cover Letter
Recruiting Assistant Cover Letter
Recruitment Coordinator Cover Letter
Recruitment Officer Cover Letter
Staffing Coordinator Cover Letter
Technical Recruiter Cover Letter
Training And Development Manager Cover Letter
Human Resources Resume
Administration Manager Resume
Administrative Assistant Resume
Benefits Administrator Resume
Benefits Analyst Resume
Compensation And Benefits Manager Resume
Diversity Officer Resume
Employee Relations Manager Resume
Employment Consultant Resume
Enterprise Resource Planning Specialist Resume
Equal Opportunity Officer Resume
Enterprise Resource Planning Administrator Resume
Administrator Resume
Advisor Resume
Analyst Resume
Benefits Specialist Resume
Coordinator Resume
Officer Resume
Trainer Resume
Human Resource Information System Analyst Resume
Human Resource Specialist Resume
Human Resources Assistant Resume
Associate Resume
Manager Resume
Trainee Resume
Job Development Specialist Resume
Medical Recruiter Resume
Onboarding Specialist Resume
Organizational Development Manager Resume
Pension Administrator Resume
Personnel Specialist Resume
Recruiter Resume
Recruiting And Employment Manager Resume
Recruiting Assistant Resume
Recruitment Specialist Resume
Reimbursement Specialist Resume
Relocation Specialist Resume
Shop Steward Resume
Sourcing Specialist Resume
Staffing Coordinator Resume
Staffing Recruiter Resume
Talent Acquisition Manager Resume
Talent Acquisition Specialist Resume
Talent Development Manager Resume
Technical Recruiter Resume
Trainee Recruitment Consultant Resume
Training And Development Manager Resume
Workers Compensation Specialist Resume
Workforce Analyst Resume
Human Resources CV
Generalist CV
Assistant CV
Recruiter CV
Technical Recruiter CV
*As seen in :

CAREER GUIDES
HR Specialist Overview
How to Write an HR Specialist Resume
HR Specialist Skills
HR Specialist Interview Questions
HR Specialist Salary
HR Specialist vs. HR Generalist
HR Specialist Cover Letter
Human Resources Career Path
HR Resume Examples
HR Situational interview Questions
HR Operations Interview Questions
HR Operations Skills
Human Resources Intern Overview
HR Intern Resume
How to Become an HR Intern
HR Intern Job Description
HR Intern Skills
HR Intern Interview Questions
HR Assistant Overview
HR Assistant Cover Letter 
How to Write an HR Assistant Resume
HR Assistant Job Description
HR Assistant Salary
HR Assistant Interview Questions
Human Resources Administrator Overview
HR Administrator Salary
HR Administrator Job Description
HR Administrator Resume
How to Become an Human Resources Administrator
Human Resources Administrator Skills
HR Coordinator Overview
How to Become an HR Coordinator
HR Coordinator Interview Questions
HR Coordinator Skills
HR Coordinator Job Description
HR Coordinator Salary
HR Coordinator Resume
HR Generalist Overview
HR Generalist Career Path
How to Become an HR Generalist
HR Generalist Salary
HR Generalist Job Description
HR Generalist Skills
HR Generalist Interview Questions
HR Generalist Resume
HR Generalist Cover Letter
HR Generalist vs. HR Administrator
HR Generalist Behavioral Interview Questions
HR Manager Overview
HR Manager Career Path
How to Become a HR Manager
HR Manager Interview Questions
HR Manager Resume
HR Manager Cover Letter
HR Manager Skills
HR Manager Salary
HR Manager Job Description
HR Specialist vs. HR Manager
HR Operations Manager Overview
HR Operations Manager Salary
HR Operations Job Description Examples
HR Operations Specialist Overview
HR Operations Specialist Salary
Senior HR Manager Overview
Senior HR Manager Salary
Senior HR Manager Job Description
Onboarding Specialist Overview
HR Onboarding Specialist Job Description
Onboarding Specialist Interview Questions
Onboarding Specialist Salary
HRIS Analyst Overview
HR Analyst Career Path
HRIS Analyst Career Path
How to Become an HRIS Analyst
HRIS Analyst Interview Questions
HR Analyst Job Description
HR Analyst Salary
HR Business Overview
HR Business Partner Career Path
HR Business Partner Skills
HR Business Partner Interview Questions
How to Become an HR Business Partner
HR Business Partner Salary
HR Business Partner Job Description
HR Business Partner Resume
HR Business Partner Cover Letter
Google HR Business Partner Interview Questions
HR Business Partner Behavioral Interview Questions
HR Business Partner Model
Senior HR Business Partner Overview
Senior HR Business Partner Salary
Senior HR Business Partner Job Description
Human Resources Director Overview
How to Become an HR Director
HR Director Skills
HR Director Interview Questions
HR Director Salary
HR Director vs HR Manager
HR Director Cover Letter 
HR Director Resume
Director of People Overview
How to Become a Director of People
Director of People Skills
HR Executive Overview
HR Executive Skills
How to Become an HR Executive
HR Executive Interview Questions
HR Executive Job Description
HR Executive Resume
HR Executive Cover Letter
VP of HR Overview
How to Become a VP of HR
How to Write a VP of HR Resume
VP of HR Skills
VP of HR Job Description
VP of HR Salary
Change Champion Overview
Change Manager Overview
Operational Change Manager Overview
How to Become a Change Manager
Change Manager Salary
Change Management Interview Questions
Change Manager Skills
Change Manager Job Description
Change Manager vs. Project Manager
HR Consultant Overview
HR Transformation Consultant Overview
HR Technology Consultant Overview
HR Consultant Job Description
Performance Management Overview
Employee Performance Metrics
Performance Improvement Plan
Onboarding Overview
Employee Onboarding Checklist
Talent Management Overview
9 Box Talent Review Grid
Best Behaviorally Anchored Rating Scale
Skill Matrix
Job Evaluation Methods
Full Life Cycle Recruiting
HRIS Systems
Performance Management Software
Employee Onboarding Software
HCM Software
HR Analytics Software
Change Management Software
Change Management Tools
HR Analytics Overview
People Analytics Overview
HR Metrics Dashboard Examples
Predictive Analytics in HR
Employee Turnover Rate
Employee Engagement Overview
Employee Appreciation Ideas
Employee Incentive Programs
Team Building Activities
Turnover Rate
Employee Misconduct
What is Employee Feedback?
Positive Employee Feedback
Employee Exit Interview Questions
HR Training Overview
Diversity, Inclusion, and Belonging Overview
Inclusion vs Diversity
Diversity and Inclusion Training Programs
Diversity and Inclusion Mission Statement
Diversity and Inclusion Discussion Topics
Diversity and Inclusion Survey Questions
Diversity and Inclusion Initiatives
Discrimination Training Programs
Best Sensitivity Training Programs
Sexual Harassment Prevention Training Programs
HR Certifications
Human Resources Management Certification
Diversity and Inclusion Certification
HR Generalist Certification
HR Business Partner Certification
Diversity and Inclusion Certification Harvard
Cornell University Diversity Certification
SHRM Certification CP and SCP
Strategic Human Resource Management Overview
Organizational Design
Leadership Development Plan
Leadership Competencies
HR Scorecard
HR Operations
HR Policies
HR Audit Overview
HR Audit Checklist
Payroll Tax Holiday
Flexible Benefits Overview
Employee Assistance Programs
Time Off Request Form
Bereavement Leave
Sabbatical Leave
How to Calculate Fringe Benefits
Fringe Benefits Examples
Flexible Benefits Examples
Disadvantages of Flexible Benefits
How to Implement Flexible Benefits
Benefits Specialist Overview
Benefits Coordinator Overview
Interview Appointment Letter Templates
Verification of Employment Letter Templates
Employee Handbook Templates
Letter of Recommendation for Employee Template
Termination Letter Templates
Incident Report Template
New Hire Paperwork Templates
Exit Interview Template Examples
How to Write HR Specialist Cover Letter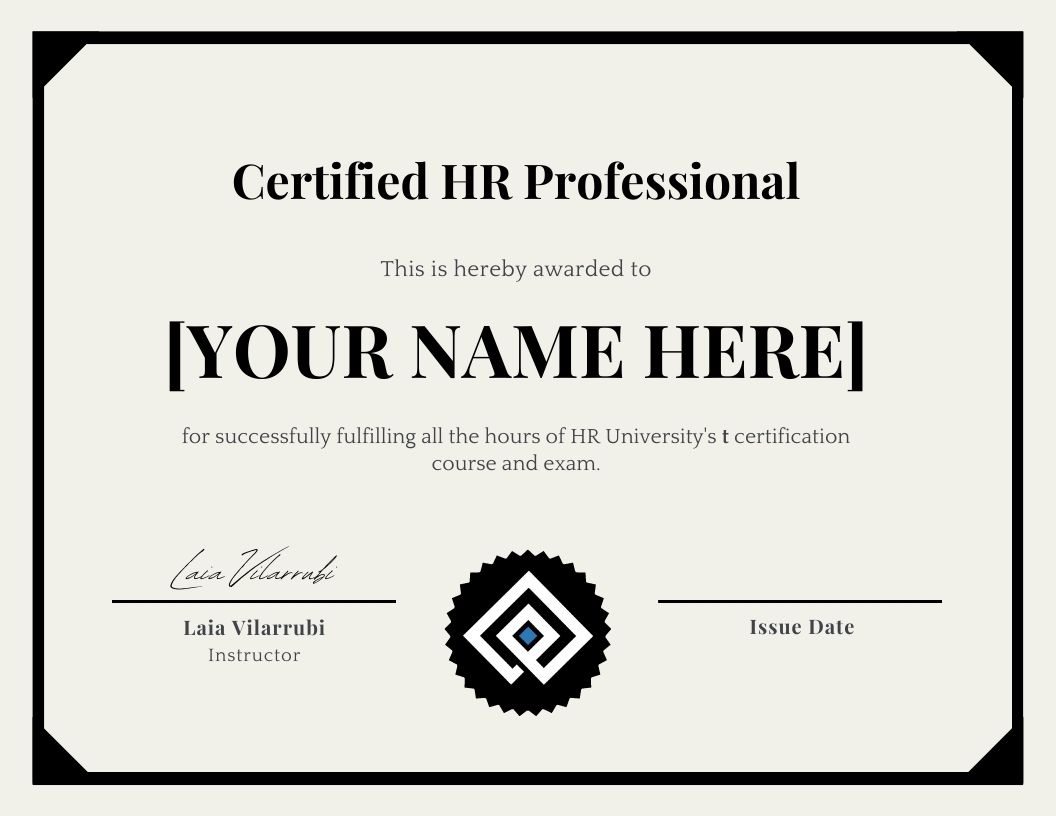 Become a Certified HR Professional
Table of contents.
HR University's career guide intends to help you excel in the HR specialist career. This article contains a thorough overview of creating an exceptional HR specialist cover letter to increase your chances of passing the application process towards the interview round. In addition, the article contains a few samples and templates for you to create an outstanding HR specialist cover letter.
What Are HR Specialist Cover Letters?
An HR specialist cover letter is a brief but critical document that helps employers shortlist potential candidates for the role. A cover letter must focus on your most relevant credentials, skills, and achievements.
A cover letter aims to add value to your job application. It helps the recruiter identify your core skills and experiences that can add value to the HR specialist role. Ensure that you don't replicate all the content from the resume to the cover letter, but it should highlight the most relevant experiences. 
A Step-by-Step Guide to Create an HR Specialist Cover Letter
This section will outline the best practices and steps to help you produce an excellent HR specialist cover letter.
Before drafting your HR specialist cover letter, make sure you take care of these important points:
Conduct Research
Before writing your cover letter, look into the company's vision and values. This will help you add relevant skills and experiences that fulfill the company's ideal candidate criteria. 
Be Specific
If you are applying to various companies, draft a specific HR specialist cover letter relevant to each company's job description. A standard and repetitive cover letter won't stand out or engage the hiring manager.
Stick to the 2 C's
Hiring managers don't have time to read through several pages with numerous applications and cover letters to review. Ensure to keep your cover letter CLEAR and CONCISE – limited to a single page and featuring your relevant success-defining expertise and experiences in handling the required roles and responsibilities.
Keep it Simple
Don't spend much time making the cover letter look fancy. Stick to a simple format; pick a standard font, and keep the language simple. Anything complicated can lower the significance of your cover letter and make you appear an amateur to the employer.
Include Unique Information
Suppose you are a fresh graduate or are new to the role with relatively little or no experience. In that case, you can make your cover letter appealing by mentioning academic achievements, transferable skills, prominent internships, and training programs.
Edit and Proofread
Once your cover letter is complete, proofread it carefully for spelling, grammatical, and structural mistakes. Then, you can either edit it yourself or have your friends, peers, or seniors review and finalize it for you. In addition, you can use online grammar-checking tools such as Grammarly . 
What is the Purpose of an HR Specialist Cover Letter?
A cover letter guides the hiring manager to move further with your application to the next stage. You can use your cover to highlight the most prominent and relevant skills, experiences, and accomplishments as an HR specialist. 
A winning HR specialist's cover letter answers the following questions:
Why are you a suitable candidate for the role? 
What is your motivation for an HR specialist career? 
What interests you about the company? 
Basic Outline for an HR Specialist Cover Letter
An HR specialist's cover letter must have the following structure (in order):
Professional header (your name and contact information)
The hiring manager's details (name and designation)
The company's details (name and address)
Introductory paragraph
Sign off (signature, name, and contact information)
What to Include In Your HR Specialist Cover Letter?
Mention your full name in the top-left-hand corner of the header. You can mention your personal information (contact number, email address, LinkedIn profile, and your personal website's URL). After your personal information, add the date.
Introductory Paragraph
Open the letter with 'Dear Mr./Dear Ms.' or the hiring person's name. You can find the hiring person's name in the job description or on the company website. 
Begin the starting paragraph by stating the position you are applying for. Lead on with a hook to engage the hiring manager from the first sentence. For instance, share an exceptional professional achievement/skill to grab the reader's attention. 
Personalize your cover letter according to the job description. Make sure you:
Specify and emphasize your expertise and experience
Assure the hiring manager about your ability to handle challenging situations and enforce human resources strategies
Highlight your seamless track record
Talk about essential aspects of HR specialist job requirements and human resource management, such as performance management, employee development, and more
Mention authentic metrics to certify your accomplishments
State any relevant certifications or training you have 
End with a closing paragraph (2-3 lines) stating your excitement about the potential role and the company. You can share your admiration for the company's values and culture and that your skills can add value to the organization. 
Signing Off
End the letter with 'Best Regards' or 'Yours Sincerely,' and write/sign your full name. Include a digital signature.
Formatting Guidelines
Margins: One inch on both sides
Line-spacing: Single
Font Size: 12
Font: Simple (e.g., Calibri or Times News Roman)
HR Specialist Cover Letter Examples
Now let's look at some samples of an HR specialist cover letter.
Dear [Hiring Manager]
Monitoring human resource functions is my motivation, and I am thrilled to know about the HR specialist vacancy at ABC Company. As an experienced, determined, and qualified candidate, I believe my expertise in the field will lead ABC Company's HR department to success. 
In my current role as an HR specialist, my responsibilities are preparing compensation and benefits packages for employees, setting up company policies, maintaining end-to-end employee records, and streamlining human resource procedures to ensure a healthy work environment. 
I specialize in human resource policy creation, implementation, and monitoring. For example, my initiative of introducing alternative methods of outreaching prospective candidates has reduced the $36000/annual HR overhead cost. 
ABC Company's HR structure, work ethics, and culture fascinate me as an HR professional. I have been following and learning about HR innovation from your activities, postings, articles, and community on LinkedIn. And as an HR specialist with a passion for developing HR communities, I can add more value to ABC Company's HR structure.    
I would be happy to further discuss my skills with you and how I would be a valuable asset to your team. 
Please feel free to contact me at [contact information] . Thank you in advance for considering my application.
Kind Regards,
[Your Name]
Dear [Hiring Manager],
As an experienced and ambitious HR specialist with 3+ years of experience in forecasting, implementing and monitoring HR strategies, I am certain that my expertise, dedication, and enthusiasm as an HR Specialist will be a valuable asset to ABC Company.
In my current role, I am responsible for preparing compensation and benefits packages for employees, setting up company policies, maintaining end-to-end employee records, planning annual and quarterly performance review sessions, and streamlining human resource procedures to ensure a healthy work environment.
I excel at managing human resource operations and requirements under pressure. For example, I onboarded and trained 5 offshore teams in a 2-month period.  
I admire your employee motivation programs. Your recent program of awarding "Pride of Performance" to the best HR personnel in your team is an inspiration for me. I look forward to adding my experience and skills with employee incentive programs and taking ABC Company's human resources to the next level. 
You can contact me at [contact number]. I am attaching my resume to this letter with more information about my qualification and experience. Thank you.
HR Specialist Cover Letter Template
[Full Name]
[Contact Number]
[LinkedIn, Website URL]
[Address, Date]
[Hiring Person Name]
[Hiring Person Job Title]
[Company Name]
[Company Address]
Dear [Hiring Manager Name] ,
I am excited to join [company] as a . I have expertise in [list of relevant expertise] and [list of skills] . I am happy to share that I can add value to the HR specialist position.
As the [current/past job] at [current/previous company] , I am responsible for [list main roles/ responsibilities] . During my career as a [current/previous job title] , I [showcase major accomplishments as an HR specialist] .
Your [talk about any of the company's recent projects] articles/speech/structure/initiative is inspiring. I look forward to joining the position because [state why you want to join the company] . 
I wish to contribute my expertise and experience in [list relevant expertise to the position] .
I'm attaching my resume with more details about my qualifications, certifications, and experience. 
Please feel free to contact me at [contact information] . Thank you, and I look forward to hearing from you. 
Related Posts
Published in What Does an HR Specialist Do?
Please check your email for a confirmation message shortly.
Join 5000+ Technical Writers
Get our #1 industry rated weekly technical writing reads newsletter.
Your syllabus has been sent to your email
HR generalist cover letter
As an HR generalist, you know what it takes for a candidate to get the job—and having a solid cover letter is a big advantage. To be considered for top HR generalist jobs, your cover letter must demonstrate your skills and experience, as well as your passion for working with people. For writing tips, view this sample cover letter for an HR generalist, or download the HR generalist cover letter template in Word.
Jobs for hr generalists are projected to grow by 7% (or 38,900 jobs) from 2016 through 2026, according to the Bureau of Labor Statistics (BLS). When it comes to where the most positions are located, you'll find the highest level of employment for this job in the following states: California , Texas , New York , Florida , and Pennsylvania ; and in the following metropolitan areas: New York City , Washington D.C. , Los Angeles , Chicago , and Atlanta .
As an hr generalist, you can expect to earn a median wage of $60,350 per year, or $29.01 per hour, according to the BLS.
Additionally, you can look for HR generalist jobs on Monster and read through our sample answers to common HR interview questions to prepare for your interview.
HR generalist cover letter template
Lacey Perez Sometown, IA 55555 | Phone: (555) 555-5555 | Email: [email protected]
Human Resources Generalist Develop and support HR solutions that impact all levels of the organization
November 8, 2017
Ms. Janet Dixon HR Manager ABC Company 55 West Ave. Sometown, IA 55555
Re: HR Generalist t Advertised on Monster
Dear Ms. Dixon:
As you know, a day in the life of an HR generalist is multifaceted. We can go from managing full-cycle recruitment of talented team members to investigating FMLA or EEO compliance matters within the span of an hour. While confident in my skills across multiple HR practice areas, the driving force is my desire to elevate the performance and job satisfaction of our most valuable asset—the employees.
I've spent the past six years working in the HR Department of DEF Company's corporate headquarters in support of the 1,500-member global engineering group. After initial success as an HR assistant, I was promoted to my current HR generalist role.
My passion for people—combined with an understanding of HR best practices—has contributed to numerous HR initiatives delivering exceptional results. For example, my team and I:
Increased the employee satisfaction index 16% by spearheading a "Flexible Work Solutions" employment program (a first within the company). This innovative program promotes non-traditional work schedules, work-at-home options and job-sharing partnerships.
Created an ongoing training program on HR policies and SOPs that strengthened compliance, boosted morale and improved recordkeeping.
Conceptualized, launched and staffed DEF Sales, a new department that provided needed sales and marketing support to field workers.
Backed by a BBA in human resources, I'm committed to helping companies create winning work cultures and top-performing teams. I take pride in providing value-adding advisory and support services to my employers, and strive to serve as a catalyst for continuous improvement.
Please contact me at (555) 555-5555 or email [email protected] to set up a meeting. Thank you.
Lacey Perez Enclosure: Résumé
Now, about your resume
A cover letter is a great way to establish a connection, but a hiring manager is also going to carefully examine your resume before determining whether or not to call you in for an interview. Need some help making sure yours is up to the task? Get a free resume evaluation today from the experts at Monster's Resume Writing Service . You'll get detailed feedback in two business days, including a review of your resume's appearance and content, and a prediction of a recruiter's first impression. Consider it a resource to help your job search feel more human.
Most Helpful In Cover Letters
Nursing Cover Letter Example
By Martina Mascali, Monster Contributor
Graphic Designer Cover Letter Example
By Jennifer Verta, Monster Contributor
Sample Sales Cover Letter
Administrative assistant cover letter sample, how to write a police officer cover letter - with example.
Get Results in This Year With an HR Cover Letter
The Best HR Cover Letter Tips for 2023. Writing a cover letter can be easier if you have a copy of your resume to refer to.
OUR USERS HAVE BEEN HIRED BY
Table of Contents
HR Cover Letter Example
Hr cover letter sample, great hr cover letter example, three tips for writing your hr cover letter using this example, faq: hr cover letters.
The first impression a hiring manager will often get of you is from your cover letter. A cover letter gives you a chance to communicate some of your most valuable skills to the hiring manager, while demonstrating them at the same time through the quality of your letter. Communication skills are one of the key parts of an HR job description, so make your cover letter count!
If you are ready to apply for an HR job, then use ResumeHelp's Resume Builder to write the perfect resume. Writing a cover letter can be easier if you have a copy of your resume to refer to.
This guide will give you:
Writing tips for the perfect cover letter
Advice on how to format a professional cover letter, including the header
Human resources cover letter examples that you can use
Managing payroll for a company of 400 people
Conducting background checks and onboarding for new employees
Using Intuit QuickBooks and Human Resources Information System (HRIS) to analyze information and make informed decisions for the HR department
Introducing HR initiatives to increase employee retention
In addition to this, I am a responsible and proactive individual who takes pride in my excellent communication skills and attention to detail. With my unique background and prior HR experience, I feel that I would be able to greatly contribute to XYZ company in the human resources position. I think that I would also gain invaluable experience in a new working environment and aspire to learn from XYZ company to build upon my existing skill set.
Is a cover letter necessary to get an HR job?
How long should my cover letter be to get an HR job?
Does this cover letter example work if I don't have a lot of experience?
Q: Is a cover letter necessary to get an HR job?
Gaps in employment
When you're moving from a different area
When you're making a career change
Your  personal referral to the company or job position
Q: How long should my cover letter be to get an HR job?
The ideal cover letter will be about 3/4 of a page long or 250-400 words. This is long enough to include all of the necessary information. At the same time, keeping your cover letter short shows that you can communicate effectively. If your cover letter is too long, then it may seem like you are unable to filter your thoughts down to convey important information.
Q: Does this cover letter example work if I don't have a lot of experience?
Yes. If you don't have a lot of work experience, then you can still use this cover letter example to get a job. You can use academic, volunteer, or internship experiences to make the same point and show you are capable of doing the job. You can apply for an entry-level human resources job, such as a human resources assistant.
Move your cover letter to the top of the yes pile!
We personalize your experience..
We use cookies in our website to ensure we give you the best experience, get to know our users and deliver better marketing. For this purpose, we may share the information collected with third parties. By clicking "Allow cookies" you give us your consent to use all cookies. If you prefer to manage your cookies click on the "Manage cookies" link below.
Manage Cookie Settings
Select which cookies you'd like to accept. Disabling cookies may negatively impact your experience on the site. For more information visit our Privacy Policy and Cookie Policy .
Performance cookies allow us to gather statistical data on how the website is performing to make improvements. Web Analytics cookies allow us to gather information regarding how you access the Site, for how long you stay and what parts of the Site you have visited. These cookies don't collect identifiable information from you, which means all the data is collected is anonymous and only used to improve the functionality of a website.
Marketing cookies allow us to gather information to display advertisements based on topics that are relevant to you, allowing us to send you tailored offers. They also allow our partners to display relevant advertisements based on your interests.
Functional cookies are essential for the Site to function properly. These cookies allow websites to remember the user's site preferences and choices they make on the Site, including username, region, and language. They are anonymous and don't track browsing activity across other websites. These cookies remember your preferences on our website.
Type above and press Enter to search.
You control your data
We use cookies to tailor the experience of creating resumes and cover letters. For these reasons, we may share your usage data with third parties. You can find more information about how we use cookies on our Cookies Policy . If you would like to set your cookies preferences, click the Settings button below. To accept all cookies, click Accept.
Cookie settings
Click on the types of cookies below to learn more about them and customize your experience on our Site. You may freely give, refuse or withdraw your consent. Keep in mind that disabling cookies may affect your experience on the Site. For more information, please visit our Cookies Policy and Privacy Policy .
Choose type of cookies to accept
These cookies allow us to analyze our performance to offer you a better experience of creating resumes and cover letters. Analytics related cookies used on our Site are not used by Us for the purpose of identifying who you are or to send you targeted advertising. For example, we may use cookies/tracking technologies for analytics related purposes to determine the number of visitors to our Site, identify how visitors move around the Site and, in particular, which pages they visit. This allows us to improve our Site and our services.
These cookies give you access to a customized experience of our products. Personalization cookies are also used to deliver content, including ads, relevant to your interests on our Site and third-party sites based on how you interact with our advertisements or content as well as track the content you access (including video viewing). We may also collect password information from you when you log in, as well as computer and/or connection information. During some visits, we may use software tools to measure and collect session information, including page response times, download errors, time spent on certain pages and page interaction information.
These cookies are placed by third-party companies to deliver targeted content based on relevant topics that are of interest to you. And allow you to better interact with social media platforms such as Facebook.
These cookies are essential for the Site's performance and for you to be able to use its features. For example, essential cookies include: cookies dropped to provide the service, maintain your account, provide builder access, payment pages, create IDs for your documents and store your consents.
To see a detailed list of cookies, click here .
This site uses cookies to ensure you get the best experience on our website. To learn more visit our Privacy Policy

Cover Letter Examples
Human Resources (HR) Generalist Cover Letter Samples & Guide
Human Resources (HR) Generalist Cover Letter Samples & Guide
You're a great HR generalist. But can you prove that to the hiring manager? Do it right with this human resources generalist cover letter that spotlights your finest attributes.
As seen in:
This HR generalist cover letter sample puts you above the rest.
Getting hired as an HR generalist is tricky.
You need to prove skills in recruitment, retention, health & safety, communication, and employment law.
Even more important, a good human resource generalist cover letter catches the hiring manager's eye. It shows you've used those skills to hand big wins to past employers.
A letter like that will get hiring managers excited about interviewing you.
This guide will show you how to write your own great cover letter for HR generalist jobs.
Want to write your cover letter fast? Use our cover letter builder. Choose from 20+ professional cover letter templates that match your resume. See actionable examples and get expert tips along the way.
Create your cover letter now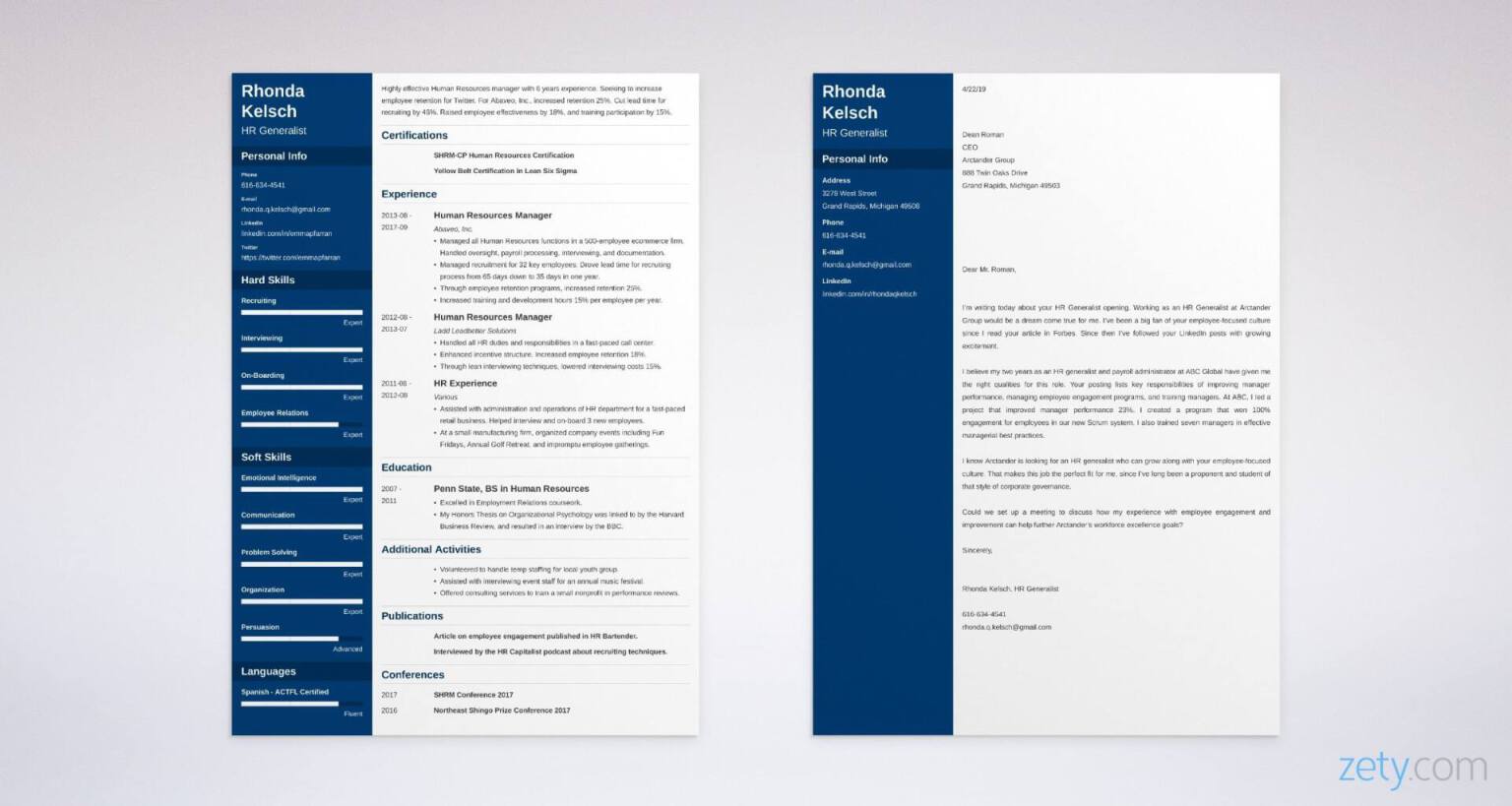 Sample cover letter for a resume— See more cover letter samples and create your cover letter here .
Even the best HR generalist cover letter is worthless without a great HR generalist resume alongside. Read this guide to make sure yours is ready: Human Resources Generalist Resume Sample & Writing Guide.
Here are a few other cover letter examples to consider related to HR jobs:
Recruiter Cover Letter Sample
Marketing Cover Letter Sample
Marketing Manager Cover Letter Sample
Public Relations Cover Letter Sample
Customer Success Manager Cover Letter Sample
Product Manager Cover Letter Sample
Sales Associate Cover Letter Sample
Sales Cover Letter Sample
Sales Representative Cover Letter Sample
Want to explore your options further? See our full selection of cover letter examples for every career: Cover Letter Examples
Here is a phenomenal HR generalist cover letter example:
Sample Cover Letter for HR Generalist
Rhonda Kelsch
HR Generalist 3278 West Street Grand Rapids, Michigan 49508 616-634-4541 [email protected] linkedin.com/in/rhondaqkelsch
Dean Roman CEO Arctander Group 888 Twin Oaks Drive Grand Rapids, Michigan 49503
Dear Mr. Roman,
I'm writing today about your HR Generalist opening. Working as an HR Generalist at Arctander Group would be a dream come true for me. I've been a big fan of your employee-focused culture since I read your article in Forbes. Since then I've followed your LinkedIn posts with growing excitement.
I believe my two years as an HR generalist and payroll administrator at ABC Global have given me the right qualities for this role. Your posting lists key responsibilities of improving manager performance, managing employee engagement programs, and training managers. At ABC, I led a project that improved manager performance 23%. I created a program that won 100% engagement for employees in our new Scrum system. I also trained seven managers in effective managerial best practices.
I know Arctander is looking for an HR generalist who can grow along with your employee-focused culture. That makes this job the perfect fit for me, since I've long been a proponent and student of that style of corporate governance.
Could we set up a meeting to discuss how my experience with employee engagement and improvement can help further Arctander's workforce excellence goals?
Sincerely, Rhonda Kelsch, HR Generalist
616-634-4541 [email protected]
That's a well-groomed HR generalist cover letter. Now let's write your version. But—
Every great cover letter for HR generalist jobs needs a resume. See our guide here: How to Write a Professional Resume [Sample & Tips]
Check out our sister guide for HR cover letters: Human Resources Cover Letter Sample & Guide
HR Generalist Cover Letter Template
Here's how to write a human resource generalist cover letter that shines:
1. Use the right HR generalist cover letter format
Arial or Cambria font
11pt or 12pt font
1" margins
1 or 1.15 line-spacing
Read more: The Only Proper Cover Letter Format
2. Start with a professional cover letter header
In your HR generalist cover letter header, list:
Name (top left)
Email & phone
Date of letter
Employer address
Not sure about the hiring official's name? Call the company, check the staff page, or use LinkedIn to find it.
Read more: How to Address a Cover Letter
3. Start with a hook
Use "Dear," and the hiring official's last name.
Use "Ms" with female managers.
State the position you're applying for.
Say why you're so excited to apply.
Read more: How to Start a Cover Letter the Right Way
5. Show you're the right HR generalist for the job
Talk up 2–3 big achievements from past jobs.
Make them count by showing they leveraged skills the job wants.
Find those skills by carefully investigating the job offer and company.
Make them more impressive with numbers like "23%" or "seven managers."
What's the right HR generalist cover letter length? The Perfect Cover Letter Length
6. Make an offer
To end your cover letter for HR generalist jobs:
Suggest a call or meeting.
Keep your reader interested with a promise to expand on how you'll help.
Read more: The Best Cover Letter Ending Examples
7. End with a professional signature
Wrap up with, "Sincerely," your full name, and your title.
In an email cover letter, include your digital signature.
Finish with phone and email.
Writing an entry-level HR generalist cover letter? Entry-Level Cover Letter with No Experience
Don't ghost after you send a human resource generalist cover letter. Job Application Follow-Up: Examples, Dos, & Don'ts
A good HR generalist cover letter can ramp up your human capital. Complement it with the perfect resume.
When making a resume in our builder, drag & drop bullet points, skills, and auto-fill the boring stuff. Spell check? Check . Start by picking a resume template here .
When you're done, Zety's resume builder will score your resume and tell you exactly how to make it better.
Thanks for reading! Now it's your turn. What's been toughest for you about writing a cover letter for HR generalist jobs? Tell us your least favorite part of applying for HR generalist jobs. We'd love to hear from you!
Don't miss out on exclusive stories that will supercharge your career!
Get a weekly dose of inspiration delivered to your inbox
Similar articles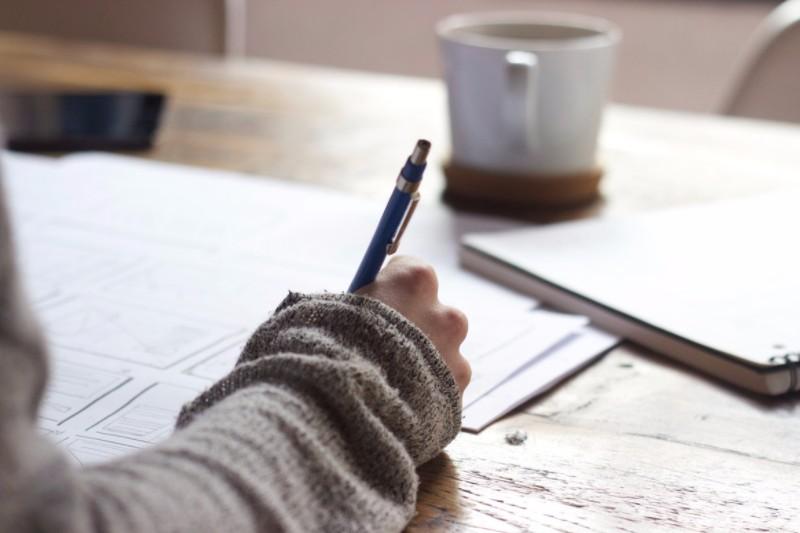 35+ Successful Cover Letter Tips & Advice (With Examples)
Cover letter writing tips—sure to turn any boring letter into something employers want to read.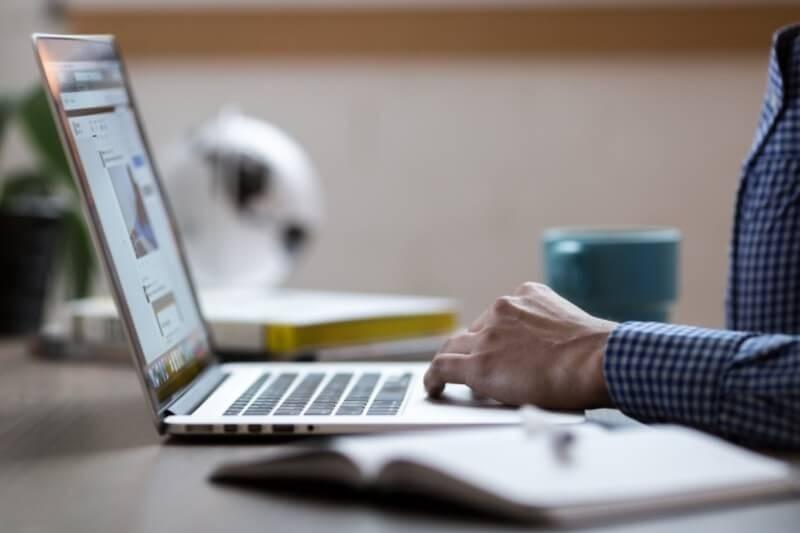 How to Write a Letter of Interest for a Job: Samples & Guide
Your dream workplace never advertises job openings? Send them a letter of interest that will help them notice you and make you a VIP candidate for the next open position.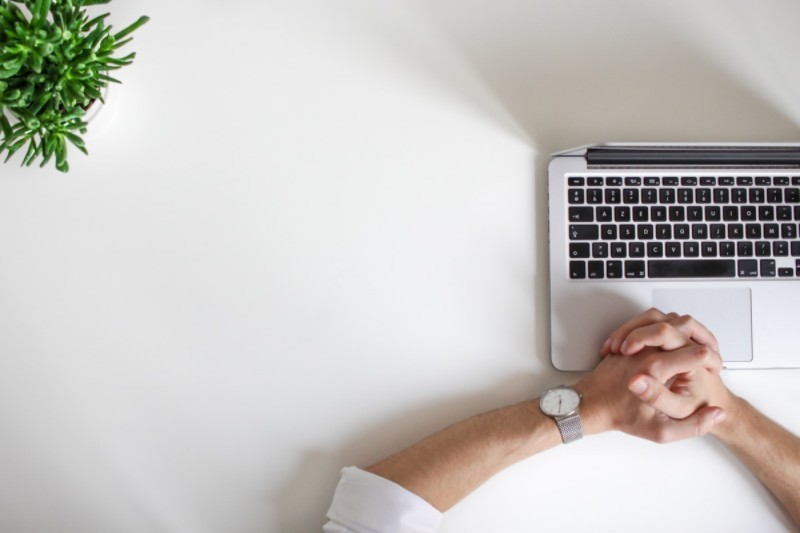 How to Explain Gaps in Employment (Resume & Cover Letter)
An employment gap is a period of time (months of years) when a job seeker didn't have a job. While out of work, employees use their time to have children, travel or go to school full time.
Talent Acquisition Partner Cover Letter Example
A recruitment expert who collaborates with the talent acquisition team and HR is known as A Talent Acquisition Partner. To provide a steady stream of qualified applicants for the company's present and future needs, they design and put into action specialized recruiting strategies.
To create an ever-lasting impression on your hiring employer, you will first need an amazing Cover Letter! Get on board with our free Talent Acquisition Partner Cover Letter Sample and expert writing tips to write your perfect cover letter.
Cover Letters
Human Resources
The task of recruiting and hiring new personnel falls to Talent Acquisition Partners. To find people who would be a suitable fit for the organization's culture, mission, and values, they collaborate closely with human resources departments. Along with scheduling interviews, analyzing resumes, and performing phone screenings, talent acquisition partners assist with other facets of the hiring process.
What to Include in a Talent Acquisition Partner Cover Letter?
Roles and responsibilities.
Act as a subject matter expert on ATS and other technologies linked to recruiting.
Assist the hiring manager as a business partner and dependable advisor by offering knowledgeable direction on all facets of the hiring procedure.
Create innovative sourcing plans to locate and entice outstanding people in line with corporate goals.
Keep all employee, applicant, and business-related information strictly confidential.
Oversee the whole recruiting lifecycle for the given requisitions, including sourcing, screening, offer negotiation, and onboarding.
Produce regular reports on hiring metrics and performance attributes to predetermined benchmarks.
Stay up to date on market trends and best practices to keep the talent acquisition function's effectiveness and quality high.
Take part in special initiatives and carry out additional tasks as necessary.
Thoroughly screen candidates and interview them to see whether they are a good fit for available positions.
To maintain compliance in all stages of the hiring process, keep understanding of EEO laws, regulations, and standards up to date.
Work on developing and implementing process changes with team members.
Work together with recruiters to draft job descriptions that completely capture the qualifications needed for the position.
Education & Skills
Talent acquisition partner skills:.
Thorough knowledge of adherence to employment law.
Excellence in sourcing, screening, and interviewing applicants.
Proven track record in building and managing talent pool.
Strong interpersonal and communication abilities.
Well organized, with a keen eye for detail.
Talent Acquisition Partner Education Requirements:
A Bachelor's Degree in Business, Human Resources, or a related subject.
4+ years of experience with the entire recruiting cycle.
Talent Acquisition Partner Cover Letter Example (Text Version)
Dear Mr./Ms.
I was elated to learn about the vacancy for a Talent Acquisition Partner and was prompted to communicate with you to show my interest in being considered for Talent Acquisition Partner. I have a strong work ethic, am driven, and have outstanding communication abilities. And I firmly feel that my 6+ years of work experience and desire to succeed at Talent Acquisition Partner make me the ideal fit for this position.
I have a Bachelor's Degree in Human Resources from a reputable university, and I am a passionate and qualified professional. Recruiting the finest talent for my clients is a task that inspires me, and I have a successful track record in this regard. I am an expert negotiator and have an excellent eye for spotting outstanding talent. Additionally, I have experience overseeing the full hiring procedure, from identifying prospects to onboarding fresh hires.
The following achievements demonstrate my qualifications –
Performed behavioral-based interviews, met with management to discuss candidate skill sets, and made selection recommendations.
Developed weekly reports on hiring activity for management.
Conducted all verification processes and pre-employment physicals before hiring.
engaged in recruitment sessions with hiring managers on a monthly & weekly basis.
Recruited potential employees through social media, job fairs, email marketing, etc.
I think that fostering a productive workplace requires effective communication. My key competencies are communication, relationship building, and strategic thinking. I enjoy collaborating with individuals from all organizational levels to create plans that will enable them to realize their objectives. I am also adept at speaking clearly with both candidates and staff.
My range of experience coupled with my ability to be an enthusiastic, compassionate professional would make a positive contribution to your institution. I would welcome an interview and hope to hear from you at your earliest convenience.
Sincerely, [Your Name]
Show your hiring manager what you're capable of with your Talent Acquisition Partner Cover Letter. Some pointers to consider when writing this cover letter include:
Demonstrate to potential employers how you can evaluate job candidates swiftly, correctly, and efficiently.
Don't repeat points that you have already stated in your resume.
Even though experience counts in this profession, a good recommendation would further your chance of landing the job.
Showcase your abilities, such as verbal and written communication skills.
For more tips, and how to write your resume, do check out our Talent Acquisition Partner Resume Samples website!
Customize Talent Acquisition Partner Cover Letter
Get hired faster with our free cover letter template designed to land you the perfect position.
Related Human Resources Cover Letters
HR Assistant Cover Letter Example
What goes into making a great HR assistant cover letter? Some people think of Human Resources as the office where they go to update their tax forms, choose an insurance plan, or (God forbid) get a talking-to about appropriate workplace behavior. 
But HR is a fast-changing field that is increasingly proactive and less reactive, not just putting out fires but preventing the fires from starting in the first place. HR professionals are not there just to implement directives from management, but to play a leading role in long-term strategic planning, in employee recruiting and retention, training and development, performance appraisal and rewards.
HR professionals are responsible for managing a company's most important asset, its human capital. They deal with issues involving new hires, departures, salary and benefits, and they are a key liaison in facilitating communications between management and staff. 
According to Glassdoor , human resources assistants earn an average annual base pay of $41,379. According to Payscale , HR assistants make an average of $17.35 an hour. 
But according to the U.S. Bureau of Labor Statistics , human resources specialists of all kinds earned median annual pay of $63,490 in 2020. The BLS projects job growth for these specialists of 10% from 2020 through 2030, which is about average for all occupations.
Many Human Resources departments play a key role in recruiting new talent, processing job applications and interviewing job candidates. So if you work in this field, you may be intimately familiar with what a good job application entails. 
It starts with just two one-page documents, a resume and a cover letter. Resume.io, a leading provider of templates for these documents and occupation-specific advice on how to prepare them, has published several guides on resume preparation for HR workers. But to get a job in this field, you'll also need a cover letter to go with your resume. And that's what we'll discuss in this guide, specifically:
Why an HR assistant needs a cover letter
How to structure and write an HR assistant cover letter
How to design an eye-pleasing HR assistant cover letter
The psychology of writing a persuasive cover letter
Common cover letter mistakes that you need to avoid
Let's dive in.
A resume without a cover letter is like a hammer without nails — you've got half of what you need, but it's hard to get anything accomplished.
It's important to understand that except in rare cases, a cover letter is not optional. Although there are a handful of employers that for some reason prefer to receive a resume only, in most cases a cover letter is considered an essential part of a job application. So if you don't include one, employers have an excellent reason to ignore you.
In fact, one recent survey of hiring managers found that the failure to include a cover letter is among the top reasons resumes are rejected.
It's true that resumes and cover letters often include much of the same material, including work experience, education and job skills. However, a resume is a relatively impersonal document that isn't addressed to anyone, doesn't include the word "you," and often doesn't even contain complete sentences.
A cover letter, on the other hand, is an attempt to establish a personal relationship with a hiring manager — the very person whose help you need to get the job. A good cover letter is addressed to a recruiter by name, and it speaks to the needs of the employer and describes how the job applicant can help fill those needs. 
A cover letter enables you to tell stories about your past successes in your field. And it enables you to showcase your personality, passion, likeability and perhaps even sense of humor — all of which can endear you to a recruiter in a way that a resume cannot.
Unless you're specifically asked not to, always include a cover letter with a resume. If well-written, correctly structured and attractively designed, a cover letter can only increase your chances of getting the job.
For additional inspiration, here are some cover letter writing guides for Human Resources professionals and related fields:
HR cover letter example
Recruiter cover letter example
HR assistant cover letter example
Human Resources cover letter example
Consulting cover letter example
Office Administrator cover letter example
Administrative assistant cover letter example
Office administrator cover letter example
Office assistant cover letter example
How to structure and write your cover letter
Cover letters are not necessarily easy to write, but they have a defined structure that's easy to follow. A cover letter should almost always be one page only, a maximum of 400 words, so you need to choose your words wisely. Use this blueprint to build your cover letter on the proper framework:
Cover letter header
Greeting/salutation
Introduction
Cover letter conclusion
The top of your letter should have a header (once known as a letterhead) that contains your name, occupation, address, phone and email. 
Sometimes people omit their snail-mail addresses, which are rarely used these days, but the employer you're targeting may have legitimate reasons for wanting to know where you live. And sometimes people add additional material like the URL of their LinkedIn profiles.
The obvious reason for the header is so that employers know how to contact you if they're interested. But the header also serves an important function as an attractive design element on your page. 
Your header may include a splash of color (but don't overdo it) and an eye-pleasing use of typography and layout. The header gives you an opportunity to provide critical information in a format that makes the entire page look better. 
Align document styles
Your resume and cover letter should be a "matching set," designed to go together, so they should have a similar visual style. You should use the same fonts, colors and other formatting choices in both documents. This will give your job application package a visual brand and will demonstrate that you pay attention to detail. 
Headers on resumes and cover letters should be similar if not identical, so make your header choices carefully. We recommend that you use a professionally designed template for both that ensures a uniformity of style.
Cover letter greeting/salutation
The cover letter greeting is the line in your letter that says "Dear Mr. [last name]" or "Dear Ms. [last name]" — usually with a colon at the end rather than a comma in business correspondence.
It's always a good idea to find out the name of the appropriate person to address when sending a cover letter. Help-wanted posts often don't include the name of the hiring manager, and so applicants frequently write more generic salutations like "Greetings Acme Corp." or "Dear Hiring Department." This is acceptable if there's no way around it, but it's not ideal. 
If a web search doesn't turn up the name of the person who is processing the applications for the job you want, consider making a phone call to the company to find out. It shows professionalism, respect and attention to detail on your part if you've gone to the trouble of finding out the name of the right person to address. 
Dear Ms. Liddle,
Cover letter introduction
The first paragraph of your letter, the cover letter introduction, is possibly the most important — because it determines whether the recipient will keep reading or not. Busy recruiters spend just a few seconds reviewing a cover letter, and they're often looking for any excuse to set it aside. You won't give them that excuse if you write a compelling, provocative first paragraph that virtually compels them to read on.
Your first paragraph should both identify the job you're seeking and make an intriguing opening statement about why you're the right person for the job. Whether you have years of experience as an HR assistant or you're still in college, you need to identify your most important qualification and mention it here.
Here's a sample cover letter introduction:
My four-year tenure as an HR Assistant with Pondmill Construction threw every conceivable people challenge my way – we merged with another business, restructured the management team, eliminated redundancies, revamped the training, undertook a national H&S audit, and began automating our HR functions.
Cover letter body
The central two or three paragraphs of your letter must expand on this introduction by fleshing out your critical job qualifications, leading with the most important first. Usually this will involve your on-the-job experience, though if you have little or none, it may be better to start with your education and/or any certifications you hold.
In discussing past jobs, don't just say where you worked or for how long, but be specific about your achievements, using facts and figures where possible. Try to include at least one anecdote about a difficult challenge you faced in the past, what action you took to resolve it and how you achieved a successful outcome.
It's often helpful to mention the name of the company you're writing to, anything you may know about the competitive challenges it faces, and the skills you can bring to the table to help the company solve its problems. This adds value by showing that you're not just mass-mailing the same cover letter to 100 employers, but that you're interested in this company specifically.
Here's a sample cover letter body:
I strive to guide my colleagues through everything that work throws their way – with sound planning, thoughtful communication and effective execution. HR's knowledge of people matters has to be encyclopedic because the range of demands on our service are so varied. As you will be embarking on an imminent restructuring, my experience with Pondmill will prove instrumental. HR is a bastion of calm advice and reflection when everything around is fluid and uncertain. I have conducted appraisal processes with 120+ people, planned the restructuring of purchasing and supply departments, managed an end-to-end redundancy process with 40 employees and was awarded a 15% annual bonus for my efforts. I am a keen student of HR practice, having received my degree in Human Resource Management from Boston University, and I've since taken over 25 courses, with a particular interest in how technology is changing the people function. I ran a mobile comms training course at Pondmill, which resulted in people spending 23% less time in meetings. I left Pondmill due to my family relocation to Seattle, and I understand from a couple of industry contacts that Galton Construction is a similar family-run business. Past colleagues would describe me as reliable, adaptable, tech-savvy and curious.
Wrap up your cover letter with a conclusion: a thank you and a call to action — for example, say that you are looking forward to a response, that you would be happy to talk on the phone, that you would be delighted to come in for an interview, etc. 
Plant the thought that your reader should do something as a result of your letter, and not just lay it aside. You need some kind of follow-up for your letter to succeed, and it's helpful to suggest that some next step be taken.
Here's a sample cover letter conclusion:
I would love the opportunity of an interview to learn more about your HR challenges.
Cover letter sign-off phrase
No need to overthink this part: Type "Sincerely," add a return, and type your full name. Feel free to use a phrase other than "Sincerely" if you wish, but keep it simple and professional. 
Sincerely, Gerard Rodriguez
How to design an attractive cover letter
Like a gourmet chef who delivers a dish that's not only delicious but looks great, bear in mind that presentation matters when creating a cover letter. Follow these tips to make sure your good writing isn't ruined by bad design.
Use a font that's easy to read and doesn't look strange in any way. Take a moment to read our suggestions on the best fonts for cover letters.
Use a font size between 10 and 12 points. Too small and it's hard to read, too large and it looks childish. Do not try to cram a wordy letter onto one page by reducing the font size — cut the fat from your text first.
Align text left, not justified from margin to margin. Justified text looks fine in books, but flush-left text is best for short letters to avoid a blocky look.
Keep paragraphs short. Don't indent them, and leave a space between them. Short paragraphs are easier to read. Like this one.
Use 1-inch margins on the top, bottom, left and right. Wider margins are also acceptable in some letter designs, but tiny margins make a letter look too cramped.
Save your letter as a PDF. It might seem logical to paste your cover letter into the body of an email, with a resume attached, but it's better to attach both as PDFs, or otherwise all your careful formatting is going to go to hell. PDFs preserve the formatting of all documents so they look the same on any device, while other file types can make your text jump all over the place.
Use a professional cover letter template. Using a pre-designed template can save you a world of hurt on all the issues mentioned above.
It's possible to write a cover letter that YOU think is perfect, but then the person you send it to just isn't impressed. How do you defeat this disconnect, where what looks like a perfectly aimed arrow totally misses the target? You factor in the psychology of the reader that will view your cover letter on the other end.
First of all, it's not always possible to knock a jaded recruiter off his seat with a one-page letter. Sometimes your job qualifications just aren't going to make the grade, no matter how well you write. 
But at times, candidates who are less qualified than others get the job just because they're better writers. And that doesn't mean they write florid prose worthy of literature prizes — it means they're more effective at the art of persuasion.
There are said to be three reasons for writing — to inform, to entertain and to persuade. Your letter, ideally, should do a little of all three.
Persuasive writers tend to use direct language, as if speaking to another person face to face. They are skilled at creating rapport with their readers, and at establishing their authority by the competence that imbues their confidence.
Persuasive writers are not focused on their own needs, but on the needs of the people they need to persuade. Remember that you are not writing this letter to convince anyone that you need a job. You are writing to convince the company that you can help improve its processes in a way that will make the company stronger and ultimately improve its bottom line.
Always try to put yourself in your reader's shoes, and imagine that you are the hiring manager who is receiving this letter. Would you like the person who wrote it? Would you want to meet that person, and perhaps work with him or her for years to come?
Nobody wants to hire someone they don't like, no matter how well-qualified that person may be. So you need to come across as both competent and likable, and you need to make sure you don't strike any sour notes. 
How (not) to write a bad cover letter
There are many ways to write a bad cover letter, all of them tested and true — and doomed to fail. Here are some of them:
Typos and other writing mistakes. Nobody is looking for an HR assistant who can't write a one-page letter without typos, grammatical errors or basic mistakes in punctuation. If this is not your long suit, find an editor to review your letter.
Clichés that are "old as the hills." If you're a "team player" who "thinks outside the box", delete the first draft of your letter and write another in original language that you haven't read anywhere else before.
One letter, 100 copies. A cover letter is not a one-size-fits-all document that you write once and send out for the rest of your life. Tailor each letter to each employer.
Design fails. So you've crammed your 800-word letter onto one page by micro-sizing the font, minimizing the margins and banning all paragraph breaks? The chances are good that the recruiter won't even bother to read it.
Key takeaways
Jobs for HR assistants are expected to grow 10% in the next decade, but you'll need a superior pitch to compete for the best jobs.
Unless you're specifically asked not to, always include a cover letter with a resume.
Follow the blueprint for good letter structure and you'll be building on a proven foundation.
Follow the principles for good design to make your letter look as good as it reads.
Put yourself in your reader's shoes to write a persuasive letter with irresistible appeal.
Avoid common fails like typos, clichés and bad design that will doom your letter at a glance.
Use a professional cover letter template that takes care of all the design issues so that you can focus on the content.
Best of luck in your job search!
Free professionally designed templates